Soccer is a very dynamic as well as an exhausting game. This is the reason for which soccer players go for the best haircuts and hairstyles to keep their look intact throughout the 90 minute game. Many famous footballers do a simple haircut and later it becomes a trend for the years to come. Also there are popular soccer players like Messy, Ronaldo, Neymar, Dale, Beckham etc who set the hairstyle trend whenever they change the haircut no matter what it is or how it looks! These superstars are the style divas for their fans that follow their each and every move and style. We are going to list some of the most amazing soccer player hairstyles that are still trending and also stylish.
Best Soccer Player Haircuts To Try in 2016
Soccer players are famous among guys for exceptional skill, but the reason they are famous among most of the girls is because of their looks, styles, and especially hairstyles. They not only spend the time to practice for their game but spend as much time to style their unique hairstyle that later become their signature styles. Below are 20 soccer player haircuts and hairstyles you'll love to try.
#1: Cristiano Ronaldo Signature Haircut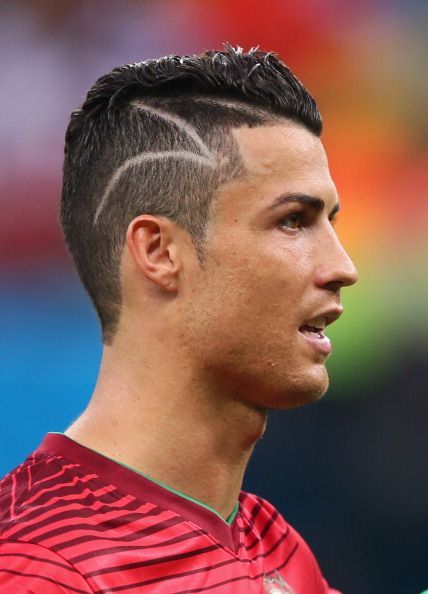 Cristiano Ronaldo is known as one of the best football players in the world. Well, he is not only famous for his brilliant skill on the field but also for his extremely handsome looks. In this particular haircut, he has sexy tramline to the slight undercut.
15 Best Haircuts Ever by Cristiano Ronaldo
#2: Messi's Faux Hawk
Lionel Messy, Barcelona's star player is considered to be the best soccer player through the time, who doesn't know his name! Lionel Messi is not only famous for his best soccer career but also famous for his cute look and on the top of it his attractive hairstyle, as this one in the below image shows.
List of some epic hairstyles perfect for teenage guys
#3: Half Shaved Head Hairstyle by The Genius Ronaldo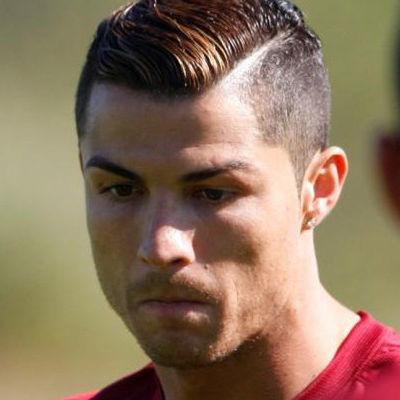 It is another excellent look by Cristiano Ronaldo having a perfect blend of highlights in it to give a sleek and shine to the hair. It has half shaved head style to give a very compose look to the entire thing.
#4: Neymar's Pointed Bangs Haircut
This soccer player haircut is still trending and loved by young guys. Neymar is known to be one of the sexiest Brazilian soccer players with amazing haircuts and styles. So if you are a fan of Neymar then do not give it a second thought to go for this look especially because it has excellent thick layers and it is extremely easy to style it.
#5: Beckham's Faux Hawk Hairstyle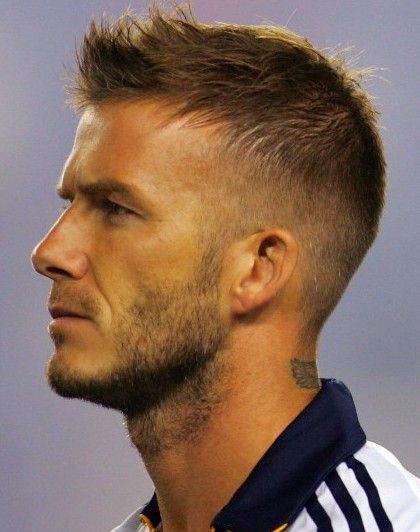 Till now David Beckham is one of the most prominent and well-known soccer players even if he is not on the field. The reasons for him being the most famous player is not only because of his excellent talent but also for his handsome looks. Beckham is also known to be having the best hairstyles and the picture below surely proves that right.
#6: Gareth Bale's Layers Cut
You might want to go for your favorite haircut but always remember that if you do not style it properly, then it is not worth to take a shot. In look, you can see Gareth Bale with a unique yet stylish haircut and also with the perfect styling.
#7: David Luiz's Coils to Extreme
This Brazilian player David Luiz has hair with extreme coil and curls that give a high volume to his hair. If you have the same hair texture, don't be shy to flow you favorite soccer player with the most dynamic haircut.
#8: The David Villa Style
Are you a fan of David Villa, a talented striker in Spanish soccer team? If yes then you better be having this particular hairstyle. The best thing about this entire look is that it doesn't need a lot of time to style is the shorter layers themselves give the volume you want.
#9: Dashing Faux Hawk by Gerard Pique
This style is very catchy to the eye not only because of the styles but also the person in the below image. Gerard Pique an extremely dashing Spanish soccer looks magnanimous in the short very nice haircut with a sexy faux hawk.
#10: Olivier Giroud's Half-Shaved Hairstyle
Giroud is a French player currently also playing in Arsenal. His haircut looks great with sleek combed back hair to make a puff on the crown for a full look. This soccer player haircut looks even more, magnanimous with an undercut on the side.
#11: Marco Reus's Pointy Spikes
If you want a fuller look in your hair, Marco Reus's hairstyle is the best option for you. With the hint of highlights on the edges of each spike, it shows an impeccable and sleek look. It has thick layers on the top and longer on the front to have a concentrated look, which is magnanimous.
Exclusive old school hairstyles for men
#12: Javier Pastore's Perfection of Tramlines
Tramline looks epic on all men, but when it comes to soccer players, it looks even better. Javier Pastore known for his cute and handsome appearance looks magnanimous with a gentle touch of spiked hair and perfection of tramlines on the sides.
#13: Cool Highlighted Layers by Roger Robbie
Roger Robbie, a classy American Soccer player, looks handsome in the highlighted layers on the front to give a perfect style a very sleek and shiny look. With a slight undercut on the side, it gets even better.
#14: Olivier Giroud's Side Parted Look
Here comes another look from the coolest Olivier Giroud the French heart-throb soccer player. In this style, he has side parted with sleek combed back hair. This style shows that side parted look when combined with undercut not looks sexy but also very decent.
Best short hairstyles for school boys
#15: Gareth Bale's Perfect Tramlines
Gareth Bale is having a great time in 2016 with his amazing skills & becoming a trend-setter for young hairstyle lovers. The best thing about tramlines is that you can always create new things with them and also that tramline gives a very compose style to the entire look. Below there is another classy hairstyle by Gareth Bale with the perfection of tramlines to give it a tidy look.
#16: Sergio Aguero's Black Faux Hawk Haircut
Sergio Aguero is an Argentinean soccer player and is a striker in English Club Manchester sure does have a striking appearance with jet black hair color and a faux hawk with a slight undercut to the sides.
#17: Sexy Mohawk by Vidal
Arturo Vidal is a Chilean soccer player with is famous for his extremely tedious hairstyles including Mohawk, military cuts, etc. so if you are looking for a short yet sexy haircut for you then this might be your choice.
#18: Intense Mohawk by Hamsik
This style is very decently carried by Slovakian soccer player Marek Hamsik; he plays as an attacking midfielder and sure does have an attacking hairstyle. With the extreme pointed mixed layer, this haircut looks very dynamic.
#19: Wild Layers Hairstyle by David Beckham
Here comes another bold look from not only style diva but an outstanding player David Beckham. In this particular look, Beckham has a number of layers with very random lengths that give out a total heart-throb personality.
#20: Messy's Faded Faux Hawk
Messi mostly has faux hawk with a bit of alteration. In the below image you can clearly see a very classy yet decent faux hawk with a light blend of faded style on the back.
#21: Wild Thorns
This hairstyle is carried by El Shaarawy a professional player in Italy national team is known for his incomparable hairstyles. This hairstyle is one of the toughest to make. If you are going for this haircut, so make sure you know how to style it right.
#22: Ivy League
If you are a soccer player, it doesn't mean your haircut must be too short or too outrageous. Ivy league cut is perfect for any occasion. It stays neat during heavy duty soccer action and looks just as good at a press conference.
#23: Short Comb Over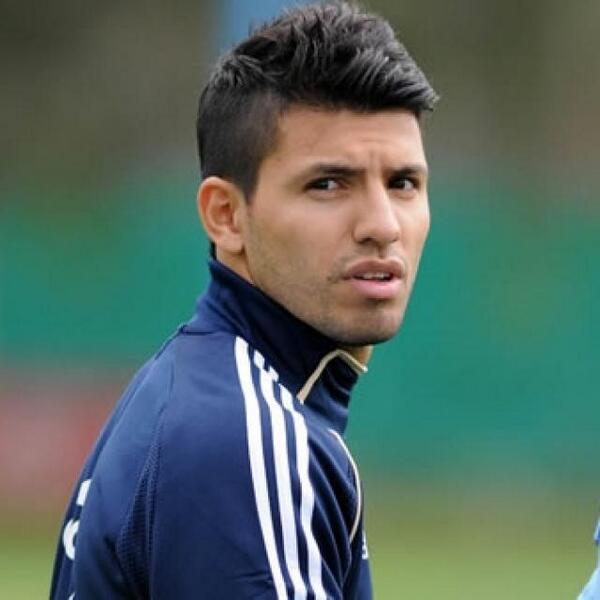 This hairstyle is very easy to make. You need an undercut with about 4 inches left on top. The top part is either brushed back or to one side. It might be a little hard to keep neat, but it looks and feels amazing.
#24: Hight and Tight
Hight and tight hairstyle is the perfect choice for men who are into sports. It is easy to make, simple to maintain and great to look at. It is essentially a taper fade with not more than a couple of inches left on top.
#25: Undercut with a beard
It might be hot to play soccer with a beard, but for some men style is more important. If you want to look fashionable and manly at the same time, try this incredible undercut and beard mix. You will surely love the way you look in the mirror.
#26: Long and Floppy
Like a great soccer player, a great hairstyle should have good movement. A longer hairstyle will bounce in a very satisfying way as you run up and down the pitch. You should not try to tame it.
#27: Buzz Cut with Short Spikes
Keep your style very short at the sides and the back, but allow some more length at the top. Put a little gel in the longer sections of your hair and then run a comb upwards through it to create sharp spikes.
#28: Mohawk with Tramlines
Close shave the sides of your hair so that only a little bit of stubble remains but make sure that you leave the central reservation long. Style the longer hair up into a soft peaked Mohawk style. Cut in tramlines at either side of the Mohawk to create a sharper style which is the height of fashion.
#29: Short Back and Sides
A short back and sides is a classic style both on and off of the pitch. It is also an easy style to create and maintain. All that you need to do is shave the back and sides of your hair to a short length whilst leaving the top of your hair longer and lusher.
#30: Side Styling
In this hair, most of the styling is focused around the crown of the head. Use a light hold gel to grease most of your hair across in a comb over style, but use a stronger hold gel to flick some strands up into position around your crown.
Hope you have enjoyed our list of best soccer player haircuts. If you are planning to copy a soccer player, then do not forget first to look for the perfect styling for the particular look. Because if you aren't able to style it the way it should be, it will not appear as good as it does on your style guru, your favorite soccer player.