Do you own a medium length hair and want to try box braids? Medium box braids might take a while to do but the results are amazing. There are many benefits to such box braids, including low-maintenance and hair revival. If your locks are damaged, getting them into box braids can be very beneficial.
They are simple to remove and have to be touched up only once every 3 to 4 weeks. Girls love these braids for their versatility and impressive look which can be suitable for just about any occasion possible. You can wear medium box braids to the office, to a girl's night out and even to a wedding. They will look gorgeous anywhere.
Remarkable Box Braids for Any Occasion
If you are bold enough to make box braids, you will really appreciate your own effort. Girls who wear these braids forget about frequent washing and damaged hair. While cornrows might make your locks break, box braids have a reversed effect. Hair tends to grow better when tied into these braids. They are less exposed to the chemicals in the hair products and dirt in the air.
If you grow tired of these braids, you can easily get them removed without any hassle and enjoy the way your new and improved hair looks.
1. Cornrow mix
If you want box braids but still have some longing for the way cornrows look, you can make the cornrows at the base of your hairstyle and continue with box braids style.
Top Picks: Box Braids Hairstyles
2. Box braid accessories
Your medium box braids will look even more stunning if you use special accessories. Cornrows and box braids have been popular for a while, that's why there are many different rings and clips to choose from.
3. Highlights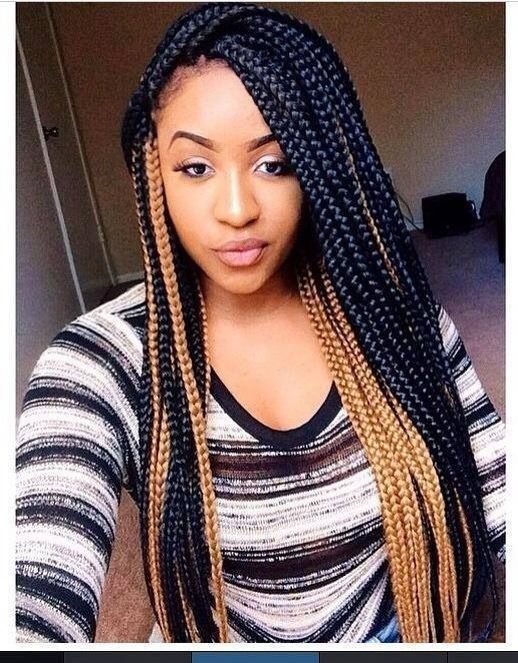 Highlights are always a great choice for any hairstyles and they look especially well with braids. Make about a quarter of your braids a lighter color than the rest and the result will be impressive.
4. Crazy colors with the box braids
If you are not afraid of such a bold hairstyle as box braids, you can go even further by making them look more intense by dyeing them some outrageous colors. Violet is a great shade of choice.
5. Subtle shades
If wild colors are too bold for you, dye your locks some subtle shade that can be discovered only when you look really close. Tint your braids with a shade of burgundy and you will love the look.
6. Get a weave
If you are not satisfied with the thickness of your hair and are hoping for voluminous medium box braids, you can get hair extensions for a better appearance. But remember that they can damage your tresses.
7. Thick braids
Thin box braids are very popular but if you want to get some diversity, play around with the thickness of each braid. Thick braids look even more stunning than thin ones.
8. Raven black braids
Box braids look amazing when they are natural. Raven black hair color is a good choice for the braided hair. You might need to use a dye to get the best results.
100 Hand Picked Black Braided Hairstyles
9. Thicker cornrows
The thicker your medium box braids or cornrows are, the more special they look and the easier they will be to undo. If you want a fast hairstyle that looks close to the box appearance, get thick cornrows.
10. Bow fun
Such braids often create an aggressive appearance. Lighten it up by some girly bows or scrunches. Don't forget, you can make many different hairstyles out of these braids.
11. Matching accessories
If you are accessorizing the right way, your braids will look even more amazing. Make sure the accessories in your hair match the accessories on your neck and fingers. Go with golden rings.
12. Creative box braids
The best way to go for box braids with your medium length hair is to experiment with them. Allow your imagination to run wild with the new and impressive hairstyles. Start with simple ponytails and buns and go from there.
Trying new and fun hairstyles is a smart way to go about your appearance. These amazing corn braids are a great choice for any woman who is looking for an image change. Try them and you might even get addicted!