A line up hairstyle is a cut which relies on well defined angles and curves.It has become a very popular style among guys who want to have a very clean look. Instead of using your natural hairline, you can cut your hairline into whatever shape you want. Get your barber to shape your hairline using clippers or a razor, so that you can have this cool and sharp style too.
Maintaining your Line Up Cut
If you want to keep your line up looking sharp, you must maintain it regularly. Even a few stray hairs can blur the sharp lines of your style. There are plenty of tools available to help you to keep your lines straight if you do not have a steady hand, but you can just keep it easy by using a straight edged piece of plastic or card. Simply hold the tool in place and then draw your razor up to it. This will shave any stray hairs but will prevent you from cutting into your style.
#1: The Ivy League Look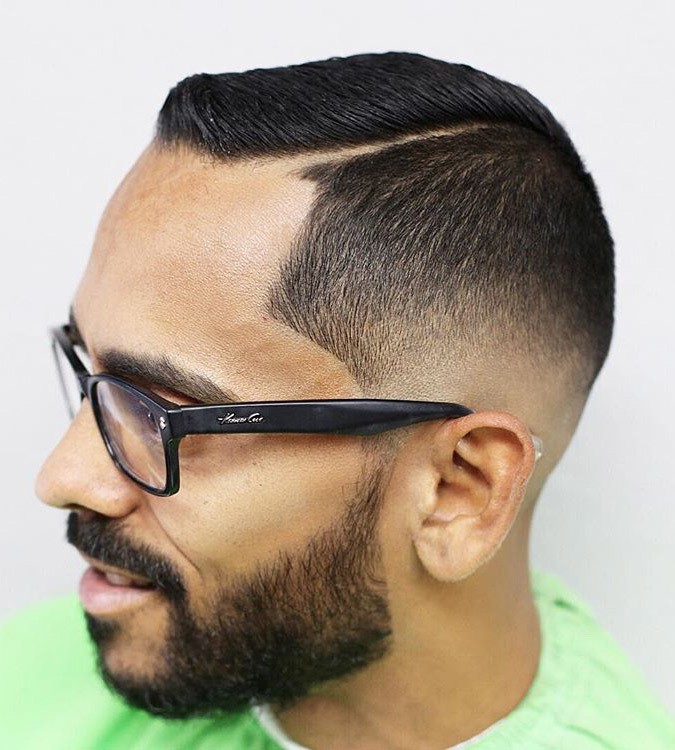 A line up look can be really smart and educated. This cut is reminiscent of a lot of the Ivy League haircuts which were popular in previous decades. Keep your sides short and grow the middle section of your hair just a little longer. Thick tramlines will enhance your look.
#2: Lines and Curves
Geometric patterns and strong lines/curves are really in point for a line up hairstyle. Use a razor to cut these shapes into your hair, keeping all of the lines sharp. You will have to maintain the style regularly to prevent hair regrowth from blurring your edges.
#3: Short Hair, Big Beard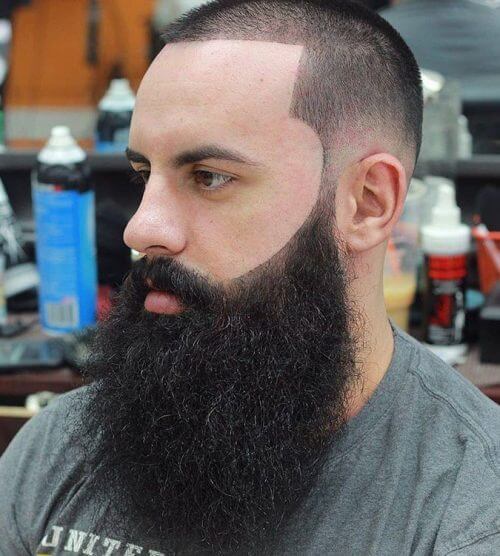 A thick beard will help to create a rugged manly look. Although your beard itself may look wild and unkempt, you should keep your lines looking sharp by trimming the hair at the edge of your beard. Give the top of your hair a number 1 cut to keep it short.
#4: Fading Line Up
A fade style is a great look for guys who want something that is both sharp and subtle. As your hair goes further down the back of your head, your hair should get shorter or "fade out". You will have to work hard to maintain an even fade.
#5: Greaser Style
This line up cut takes inspiration from the greaser style. Apply plenty of hair styling gel to your hair and then style it with a comb. The gel will allow you to cut strong lines into the hair itself using a fine tooth comb.
#6: Rollover
Use a comb to draw a strong side parting into your hair. From this parting, use your comb to roll your hair over from the roots. A little bit of styling gel will help to keep your hair in place.
#7: Diverging Lines
Instead of just cutting one tram line into your hair, cut two in instead. Rather than running parallel to each other, these lines can separate. One can follow your parting line whilst the other one can peel off downwards in an arch.
#8: Hair Art
If your stylist is good with a razor, then they will be able to put whatever art you want your hair. Try to come up with a design which expresses a little bit about your personality.
#9: Tousled Curls
Although a lineup style is often a well groomed and manicured look, you can mix things up a bit by teaming your lines with an amazing tousled style. Just run your fingers through your curls to create a disheveled look at the top of your head.
#10: Greaser Wedge
This greaser wedge will require you to use a lot of styling gel to mould your hair into the position that you want. Once your hair is formed into a wedge, use a comb to "cut" fine stylized lines into your 'do. This creates an amazing polished look.
#11: Slick Back
For smooth and stylish look, slick back your hair so that you never have a hair out of place. Apply generous amounts of styling gel to your hair and then pull it back using a fine tooth comb. Only move your comb in one direction to make sure that you keep your lines in place.
#12: Side-Swept Spikes
This style looks instantly touchable. Get soft spikes by pulling your hair straight upwards from the roots. Give your style a little bit of direction by using your hand to gently sweep your hair over to one side.
#13: Classic Line Up with Stubble Facial Hair
If you're not into the idea of having a full, thick beard, but you still want a sharp line up cut with facial hair, you can blend thick head hair with light stubble. You will need to use a beard trimmer on its top setting every few days to keep your stubble in check.
#14: Boxy Cut
This Boxy Afro style is a great choice for the man about town. Keep the sides of your hair cut short whilst growing the hair on the top of your head. Do not allow your Afro to grow any width or it will ruin the boxy style.
#15: Side Slicked Hair
Instead of slicking your hair from front to back, slick it from one side to the other. Although you will need to keep the hair on the top of your head really long, you should cut the back and the sides so that they are really short. This sharp style will make people swoon.
#16: Spiked Pompadour with Tramlines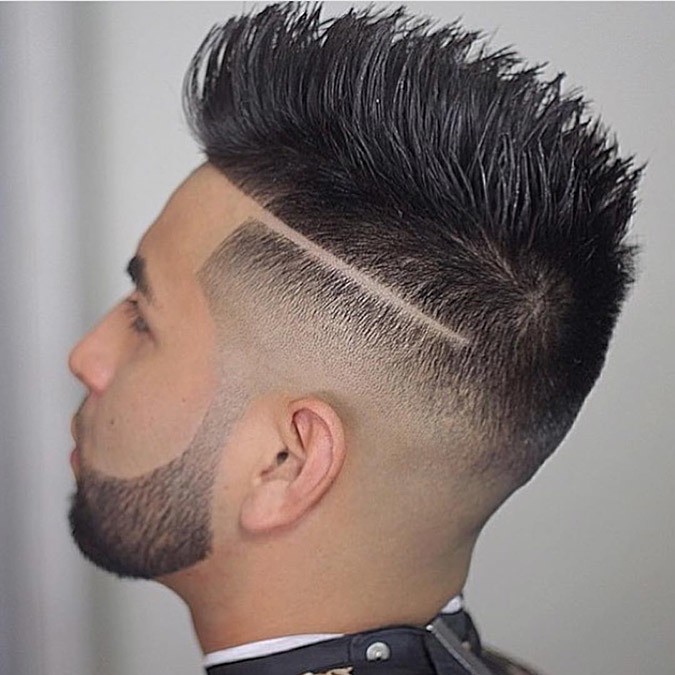 Spiked styles have been a popular look for guys for decades, but it is always possible to reinvent the look for today. Cut sharp thick lines are either side of your head to enhance your pompadour.
#17: Slicked Back and Wavy
The Slicked Back and Wavy style is a slightly softer take on the standard slicked back style. Use a little bit less hair gel to prevent the gel from suppressing your waves. Grow a thick and full beard to assert your masculinity.
#18: Salt and Pepper
A little bit of silver can add a gorgeous salt and pepper color to your hair. Ask your stylist to add a touch of color to your tips. A few subtle touches will prevent it from looking as though your hair is graying.
#19: Training Curls
If you have much shorter hair, your curls will not be able to develop fully. Naturally, curly hair will take on a gorgeously touchable texture when it is cut short. This masculine look will keep your hair looking thick and tough.
#20: Double Line Up
Take the lineup style to the extreme by choosing this double line up style. Cut some sharp lines into your hair using a standard razor, and then use a special razor to mimic the style just behind the first frontier. This look will keep turning heads wherever you go.
Stylish Short Crew Cuts to Try
There are lots of options for you when you choose to wear your hair in a line up style. This list is here to give you lots of inspiration for the next time that you visit the barber. Whichever one you choose to have, you can be certain that this style will keep you looking sharp.