56. Low waves
If you want to slightly emphasize your heart-shaped face, consider making the waves just on the bottom part of your bob. They look fantastic. Meanwhile, they are easy to create and need less care than full-blown waves or curls.
57. Long bob
A long and layered bob with blunt bangs can perfectly hide the disadvantages of a heart shaped face. At the same time, the hairstyle looks amazing and doesn't require too much maintenance on a daily basis.
58. A High Top Knot
Top knots look good on everyone but is just a perfect hairstyle for heart-shaped faces. Such faces have the fortune of having a wonderful hairline that elongates and gives more structure to their faces when shown off.
59. Grunge Layered Side Shave
A unique hairstyle that combines the aesthetics of a side shave and a feminine color. A must try for those willing to do something out of the world with their hair. The right person can carry this hairstyle easily.
60. Bangs with Shoulder-Length Waves
A simple and really basic look for any heart-shaped face is bangs that frame the face well. It gives a beautifully structured look to your whole face within seconds. You can have short shoulder length hair to enhance the charm this style brings.
61. Slick Back Sleek Ponytail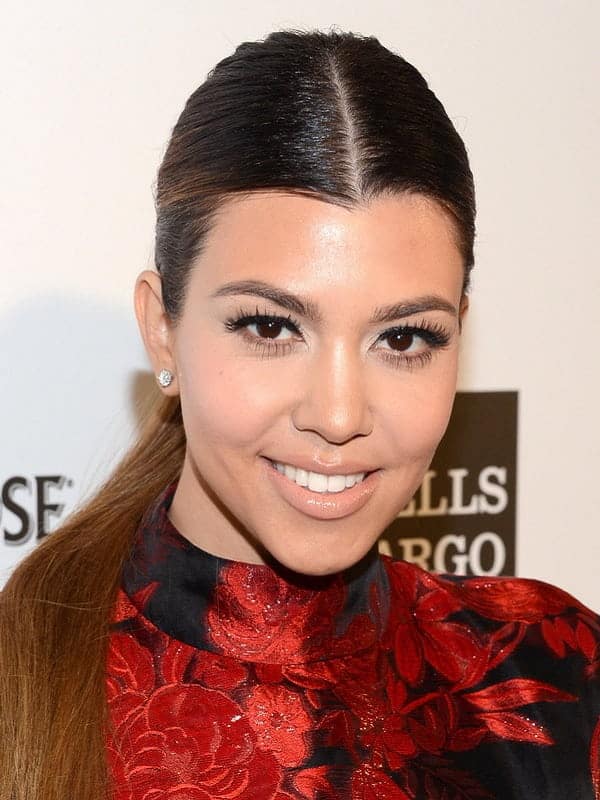 Heart-shaped faces are gorgeous in structure and worth showing off. A cute way to do it on a day you've not washed your hair is, slick it back into a sleek low ponytail like the one Kourtney's wearing here.
62. Pigtails with Flicks
This cute girly hairstyle is a must for those spring or summer days on the beach. Keep some baby hair and short strands into cute flicks of hair on the forehead and braid the rest of your hair into two pigtails. There! You've got this look down.
63. Side Part Mid Ponytail
Reese Witherspoon is an icon for heart-shaped faces and all that could be done with them. This mid-high ponytail is a perfect example of that. To achieve this simple but gorgeous hairstyle all you have to do is create a side part to your wavy hair leaving some strands framing your face.
64. Long Weave Bun
When it comes to heart-shaped faces, they can work really well with all kinds of weaves pulled back looks. Adding in a shaved and design side is a fun and edgy way to bring the whole look together.
65. Space Buns
Space buns are in a big time right now. All you have to do is make a middle partition, roll your hair into buns on each side. You can also pull out some strands that can frame your face and give a messy look as well.