27 piece bob hairstyles come with their own set of advantages. The best thing about them is that you can try a number of different short hairstyles without actually having to cut your own hair. 27 piece bobs are nothing but 27 pieces that you put in your hair to create a style that you wish. It is great for trying out new styles, especially as it is not permanent.
27 Piece Bobs
Here we have gathered 5 of the trendiest 27 piece bob hairstyles that are worth a shot.
Channel your inner retro beauty queen with this stunning red bob weave. The finger curls may need a little effort but the final look is totally worth it!
Ideal for: Women looking for a vintage vibe or a classy accessory to their look can try this 27 piece bob style. It works instantly to shuttle your looks back in time.
How to style: The trick here is to make sure your style stays. Use a lot of hair gel and hair spray to fix those vintage curls in place. Pair with luscious red lips to claim the limelight for the evening!
This bob hairstyle is the iconic take on one-sided diva part. It is one of the most loved 27 piece bob hairstyles and plays its part well.
Ideal for: The look goes well with everybody, hence the popularity. It is easy to manage and requires little to no maintenance at all!
How to style: The haircut needs its part perfected. Remember to part your hair in the right direction and hairspray for that voluminous finish.
3. 27 Piece Bob with Symmetrical Curls
Take your curls a step further with this beautiful bob weave look that defines symmetry!
Ideal for: The set suits diamond and square face cuts as well as oval faces. It tends to conceal the forehead, shifting focus to your eyes and lips.
How to style: The luscious curls fall in symmetry to one another. Style the bangs to fall across your face with the curls interlacing at the back. These are best done with non-heat curlers.
4. The Bowl Fiesta
Try something new and daring. The bowl cut has recently taken the fashion world by storm. You can spot these bob hairstyles 27 pieces extensions everywhere and we know why!
Ideal for: If you are looking for a subtle but daring cut, this 27 piece bob is for you. The bowl cut adds instant volume to your head and adds a cute element to your look.
How to style: You need to thoroughly blow dry your well-showered hair for this style to work. The extensive blow drying lifts up your hair, giving it that poof for the ideal look.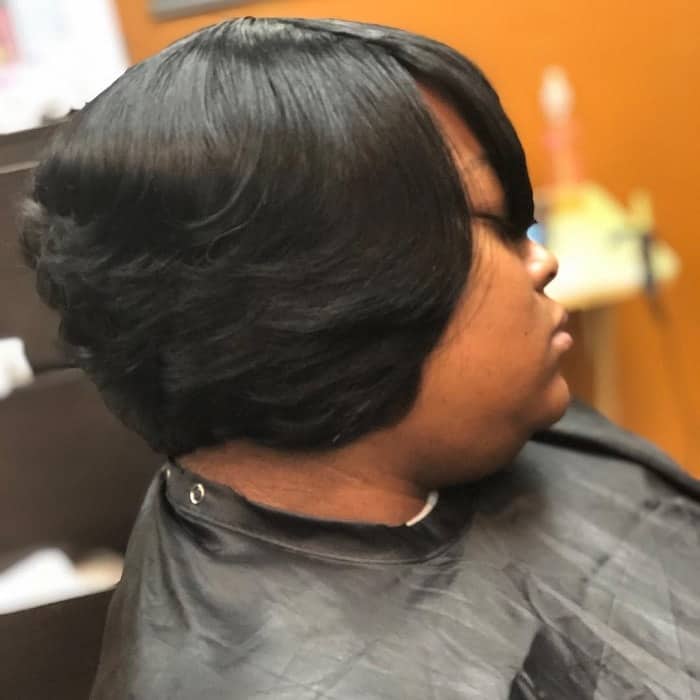 Go short or go home with this cute 27 piece bob hairstyle. The feathered spikes add brilliant texture to your hair, instantly giving you a new look.
Ideal for: The look is perfect for formal wear and goes well with any age group. The short 27 piece hairstyle means that you can try it out without actually cutting your own hair!
How to style: A quick shower and a blow-dry are all you need to bring out the feathers in this super cute bob. minimal effort is required for this chic look.
We are left in no doubt that trying out 27 piece bob haircuts is a fun way to channel a new look. Try out these trending styles and choose the bob hairstyle that compliments you!