Katy Perry's hairstyles evolve with the times but there seems to be one thing that remains constant with her hair, and that is the ability to wear color well. Katy Perry's hair color choices always seem to have a backstory or give testimony to the message she is trying to convey and fans to love it! Here are seven hair colors Katy Perry wore well.
1. Katy Perry's Purple Hair
This purple ombre demonstrates that even color as powerful as purple can give a gal a soft and almost ethereal look. While this Katy Perry hairstyle is a traditional, long look, the purple adds a great mystique. You can also try these purple curly hairstyles or black + purple mix to get a unique hairstyle.
2. Green Hair
Katy Perry's medium length, wavy hair is already vibrantly gorgeous as is, but the green color gives attractive energy that makes this style very attainable to the everyday girl seeking a new look. Green ombre is also another awesome option if you like a little ombre shade.
3. Katy Perry's Chameleon Hair
Every hairstyle by Katy Perry has been something special and innovative. Her chameleon hair color and the added ponytail is a great look for a party-like atmosphere.
Top 10 Funkiest Miley Cyrus Hairstyles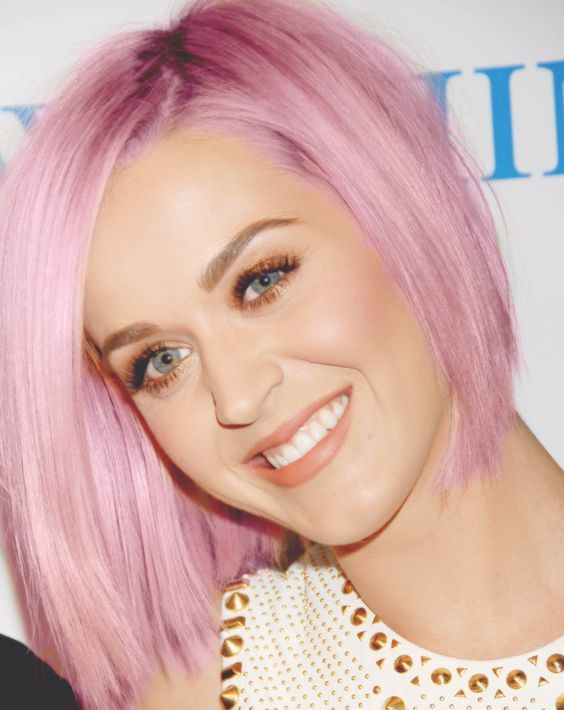 Katy Perry's soft pink long bob cut demonstrates that you can take a classy style and jazz it up with a little bit of color. Also, color does not have to be loud. This color demonstrates that a vibrant color can instead be soft and subtle.
5. Katy's Hot Pink Hairstyle
A throwback to the 1920s, this style is a true classic, modernized by a splash of hot pink color. Pink ombre and pastel pink are also two great options.
Katy Perry's top knot is already a sensible but stylish look; however, the sapphire blue color acts as a compliment to her blue eyes. This choice in hair color is a beautiful example of why it's important to choose hair colors that compliment you in more ways than one!
7. The Katy Perry Blonde
Katy Perry's blonde hair will make you take a second look. It seems to fly in the face of her natural brunette locks while demonstrating that blondes just might be capable of having more fun.