16. Fun wavy bangs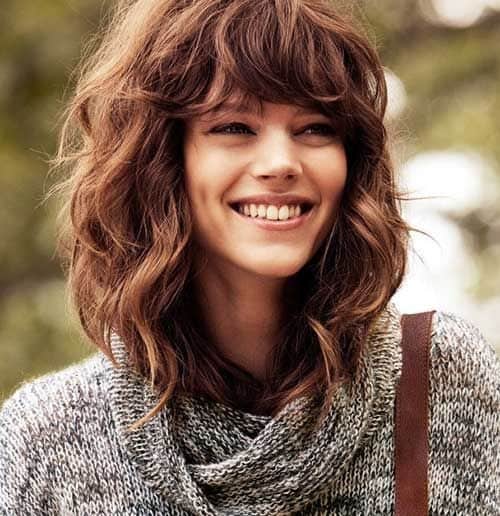 If you have natural loose curl and want to flaunt them in stylish and undulating waves down the sides of your face then this medium hairstyle with bangs is totally your thing. It brings out your natural hair color, even more, making you look like a young pop star.
17. Sleek stylish bangs
What could be a better way to show off your stylish shiny blond hair than medium bangs? This sleek and modern look helps you appear ever-ready and needs minimal time in setting up. Just brush your hair gently and you are all set to go and rock your corporate meetings.
18. Curly black waves
This one is the perfect party look for young women who want to be always ready to go out and have fun. The fun and carefree bangs look stylish and cover the sides of your head so well that you won't ever want to tie them up.
19. Wild red bangs
This is one of the wild medium hairstyles with bangs, which only confident and lovely women can rock. You can have your hair dyed in all the shades of red and orange you like to give it high and low lights.
20. Cool black edges
If you are done with old boring hairstyles and want to get a cool and wild one while keeping your hair black then this one is perfect for you. The hair is on the shorter side of medium and has cool spiky edges in all directions which show that you are not to be messed with.