Girls with ombre hair have so many different options to try. The most appealing ones are the bangs hairstyles for ombre hair. Ombre hair colors vary greatly but if you add bangs you can make a more colorful and interesting impression. The bangs are usually dyed the same color as the top part of your ombre is. However, there are some unexpected variations that you might enjoy. So if you are about to get an ombre, a hairstyle change might be in order. If you want to get a good idea of what to do with your newly acquired hair color, take a look at what others have done.
Beautiful Bangs With Ombre and How to Make Them
Knowing how to wear bangs is an art all on its own. There are so many different options that come with a certain amount of maintenance. Not all bangs are created equal and most of them require special care. If you have curly or wavy hair, bangs can become an everyday hassle. If you have thin and straight hair, they can be a wonderful addition to your image. Bangs can hide a high forehead and outline your eyes. Take a look at 20 ways to sport bangs hairstyles for ombre hair.
1. Highlighted bangs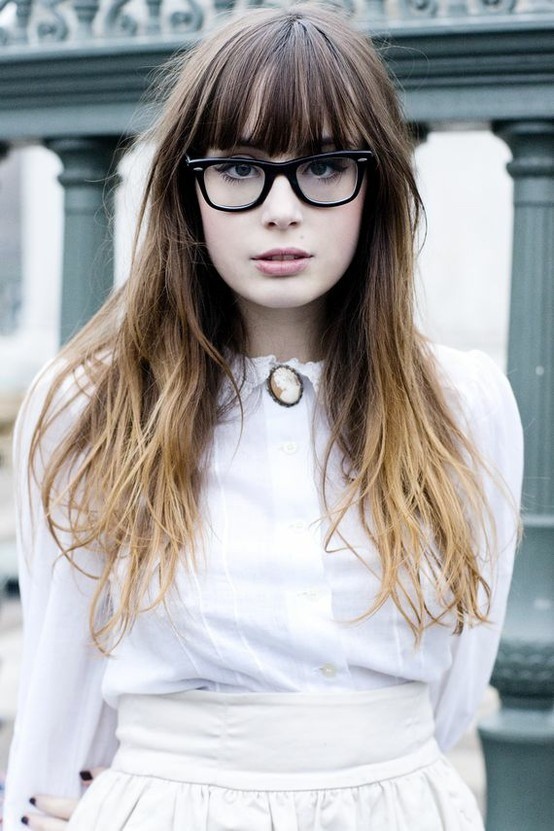 One of the popular ways to deal with the bangs when you get an ombre is to create highlights using the same color you do to dye the bottom part of your hair. Thin highlights can look very natural depending on the color you choose.
If you are trying to grow out your bangs, your best bet is not to make them stand out of your ombre. Dye it the same color you would the rest of the top part of your hair and keep it brushed to the sides.
3. Slightly ragged bangs
Slightly ragged bang hairstyle on ombre hair looks amazing especially if you use some wild colors. Ragged bangs are a way to make a statement just like the outrageous shade. The mix is explosive!
4. Ombre bangs
Another interesting way to approach the bangs is to do an ombre just like on the rest of your hair. Leave the top part of the bangs your natural color and dye the bottom part any shade you like.
Best Short Bangs Hairstyles for Women
5. Comb over
A smart way to deal with your bangs is to create a high comb over. This is a great choice for your image when you use unusual colors for your ombre. Consider dark red and even purplish hues for the top.