Mother of the bride is one of the few persons who get the most focus in a wedding program. The wedding is such an event at which every single attendee wants to look stunning. Apart from the couple, their friends and families take full part in the pre-wedding commotion. The classy and trendy up-do of the bride's mother is always appreciated, and if it is the hairstyle we are talking about, it is a serious matter indeed. Here we have brought the 20 best mother of the bride hairstyles which can be adopted by the mother of the bride to flaunt her beauty and valor in front of the audience. Let's have a look.
Best Hairstyles for Mother of the Bride
Bride's mother should get a beautiful and respectable hairstyle to make her daughter's wedding more festive to herself. It also reflects the passion of a mother for her daughter's most special day. Here are some of our most favorite hairstyles for the mother of the bride.
1. The Medieval Braid Crown:
If you are a mom having long dense hair over your head, unquestionably the best pick for you is to try a long braid having a puff in the center. It will bring out the hidden charm and beauty which is concealed by the traditional hairstyle for bride's mother.
2. Blonde and Bubbly:
Old age comes with its own shortcomings. One is the rapid hair fall which is increased by the time a mother weds her daughter. However, for such mothers having short and blonde hair, why not try a bubbly puffy and rough hairstyle which will indeed look beautiful and awesome.
25 Greatest Wedding Hairstyle Ideas With Short Hair
3. Chic High Coiled Bun:
Having thick hair by the time, a mother weds her daughter is a dream of every woman. Next in the list of mother of bride hairstyles is to design a chic high coiled bun and to have it flaunted with the sharp looks of your face. You can leave the curls hanging or tie them at the back of your head.

4. Updo with Waves and Wisps:
Tired of wispy and curly hair? No need to because you can properly set your curly wispy hair and make a puff at the back of your head giving the mother of the bride a sophisticated and graceful look.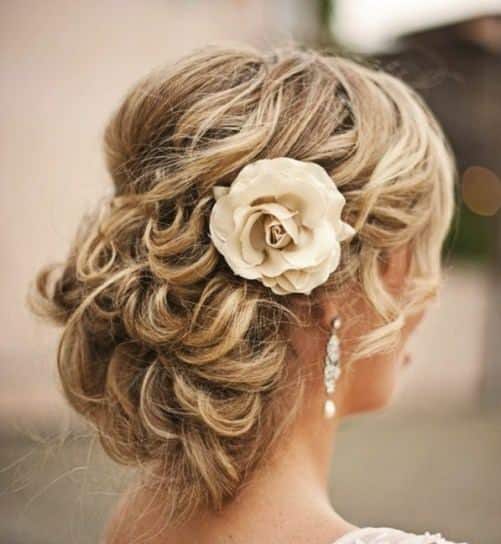 5. The Triple Treat:
Indeed one of the most amazing and dashing hairstyles of all the time for the mother of bride is the one we are just talking about. This is the type of style which you can try with short and long hair as well. To add more charm and to catch the eyes of onlookers, you can add stuck in flowers too.