11. Honey Blonde and Brown Two-Tone
This adorable two-tone combo is a popular balayage option and can be achieved right at home, for the most part. Keeping your curly hair healthy once it has been bleached is very important if you want your colors to remain vibrant.
12. Blonde Bang Two-Tone
If you want the two-tone hair look with only a fraction of the effort, then try just bleaching your bang. Not only will this draw attention to your face, but it will give you that two-tone look without you having to bleach a large portion of your hair in order to achieve it.
13. Metallic Blue and Pink Two-Tone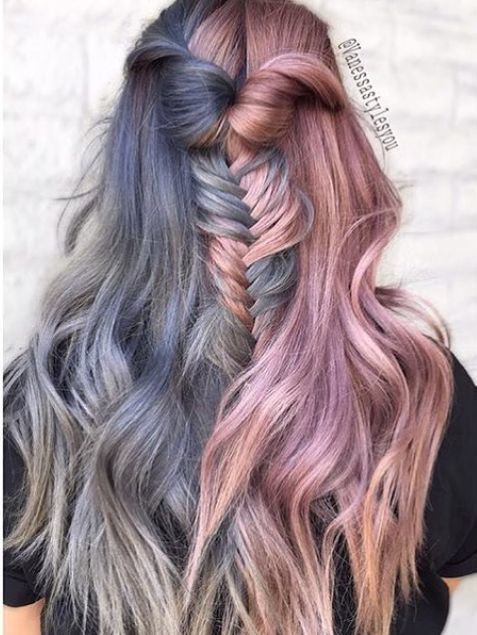 This two-tone style features an ashy metallic blue and a peachy metallic pink color that intertwines so wonderfully. If you're looking for a majestic color combination, then this may just be your best bet.
14. Orange and Black Two-tone
This fiery, rusty orange color couples beautifully with its black counterpart. This two-tone fro is definitely one after our own hearts and the overall awesomeness that this look portrays definitely makes this color combo one of our favorites.
15. Honey Blonde and Brown Tapered Two-Tone
This women's tapered haircut rocks a two-tone so effortlessly as the top is bleached blonde while the remainder of the hair is left brown. This gives the style an almost naturally occurring blondeness that is seen among brunettes who spend a decent amount of time in the sun.