Bob hairstyles have been in fashion ever since the early 1920s. Women have preferred short hair for basically two reasons, beauty, and convenience. The transformation of bob hairstyles for a black girl from back in those days to the latest style till date has been spectacular.
Trendy Black Girls Bob Hairstyles
Today's competitive world and its lifestyle changes are extremely demanding and women these days want to save the hassle of styling their long hair every day. But they do want to go easy on their looks. Hence, the obvious solution has been to switch to short bob cuts.
Innovation, just like everywhere, has touched the bob hairstyles as well bringing out some incredible styles which are short, classy and fun. If you have bob cut on your mind, here are 12 amazing black girl bob hairstyles for you to choose from.
This is one of the styles that innovation has made a mark on. It is a blend of black on top and blond at the bottom of the hair.
Ideal for: This funky bob would look its best on an oval or oblong face. You can just pull on a headband, and you're done doing your hair. Now isn't that fascinating?
How to style: Along with a combination of colors, this bob hairstyle for African American girls has a touch of gentle waves towards the bottom of the hair. Try getting blond highlights to make the cut look prettier.
2. Straight Bob Hairstyle
Who does not like those pretty front bangs? And when front bangs are combined with a straight bob, it gives you a perfectly chic bob hairstyle. This particular cut is no less convenient to handle.
Ideal for: Unfortunately, the front bangs do not suit quite a majority of face shapes. If your forehead is more defined, go for this look.
How to style: If you are a lucky one who looks super stunning with front bangs, then go for this chic and stylish black girl bob hairstyle without a second thought. Put on a leather jacket and long boots, and you are ready to create a lasting impact!
3. Stylish Black & Burgundy Bob
True to its name, it is a two-colored bob style with very heavy front bangs. The color pattern goes black at the top and burgundy towards the bottom half. The center section of hair at the top is brought forward to cover the forehead and even fall on your nose bridge.
Ideal for: This style would look great for a square face.
How to style: If you fancy burgundy and have always wanted it on your hair, you can definitely give this bob hairstyle a try.
A-line bob styles have seen over 70 to 80 decades since their origin. They have been a much-desired style of bob from back then till now. It is a simple straight black girl bob haircut covering the nape of the neck. It is cut at a uniform length throughout the bottom. This center-parted A-line bob is just as undemanding as the name suggests.
Ideal for: The best part of this style is that it would look great on low-volume hair too.
How to style: The style works best with formal attire. Be it any event, just comb your hair through, and you are good to go! No fuss.
Are you a fan of fringes? Have you had them when you were a child? Well, this bob hairstyle is a fashionable mix of a short inverted bob and a front fringe. As it is a short bob haircut, it just falls to the jaw-line with a heavy front fringe covering the forehead.
Ideal for: This style suits well for a round and a slightly oval face. All that needs to be done to make your hair every day is, just brush it!
How to style: Keep the texture and color of the hair natural in this cut. Being simple and classy, the cut doesn't require much styling or maintenance.
6. Straight Bob with Side Bangs
This is a simple and charming bob hairstyle for black girls which is most commonly chosen by women in most parts of the world. It looks stunning on straight, smooth hair.
Ideal for: If you are a person with an oblong face, go for this easy yet elegant bob style.
How to style: The bob ends at the shoulder making it an optimum length for convenient handling. The straight bob with the side bangs would go well for any volume of hair.
Hairstylists are always in the mission of clubbing the latest trends with old & traditional styles. This particular bob hairstyle is such a combination of the latest messy curls with a traditional short bob.
Ideal for: This style can be easily brought about on a naturally wavy hair. This black girl bob hairstyle looks really attractive for an angular face, and even better if you have sharp features. If you have wavy and tough textured hair, then this is perhaps the perfect bob style for you.
How to style: Sport the bob haircut for black girls with funky jewelry or a pretty summer dress for the beach and you are ready!
8. Bob with Low Gentle Curls
This is an ideal bob hairstyle for scanty, silky hair. Along with side-parted front bangs, this bob comes with mild and mellow curls towards the bottom of the length of the hair. If you're worried about scanty hair, this style is sure to make your hair look a little more voluminous and super stylish.
Ideal for: Also if you have an oblong or oval face, it would just enhance the attractiveness of this pretty bob hairstyle.
How to style: If you like to look chic at all times of the day, be it at the office or at a nightclub, this bob haircut is best for you! Those with a little spunk can try out a red or a plum color for the curls of the hair.
9. Straight Streaky Bob
This is typically a short bob with front bangs but gelled to be set in streaks or locks of straight, stiff hair.
Ideal for: This style suits best for a diamond face shape or even an oval face.
How to style: If you are an admirer of the gelled look, you can go for this fashion of black girl bob hairstyle. Just as a variant to this style, you could also partially gel just the bob or the front bangs the way you like it.
An asymmetrical bob is where the bottom of the bob has a gradual slope in its length. This particular feature makes this bob a lot more striking and impressive. You can have either the right end longer or the left.
Ideal for: This chic style looks great on girls with high cheekbones.
How to style: Adding a few streaks of your favorite color will spice up this already attractive black bob hairstyle.
11. Inverted Back to Front Bob
The inverted bob hairstyle is age-old and has been an all-time favorite among women of all ages. This style displays a gradual tapering of the hair from the back to the front.
Ideal for: It goes really well with a fringe and side bangs too. Do you have a long, oblong face? Well, this black girl bob hairstyle would suit you very well!
How to style: Keep the color of the hair natural or go for mild highlights. This cut will make your cheekbones more prominent. Sport it with heavy neck jewelry to complete the look.
12. Mild Wavy Butterscotch Lob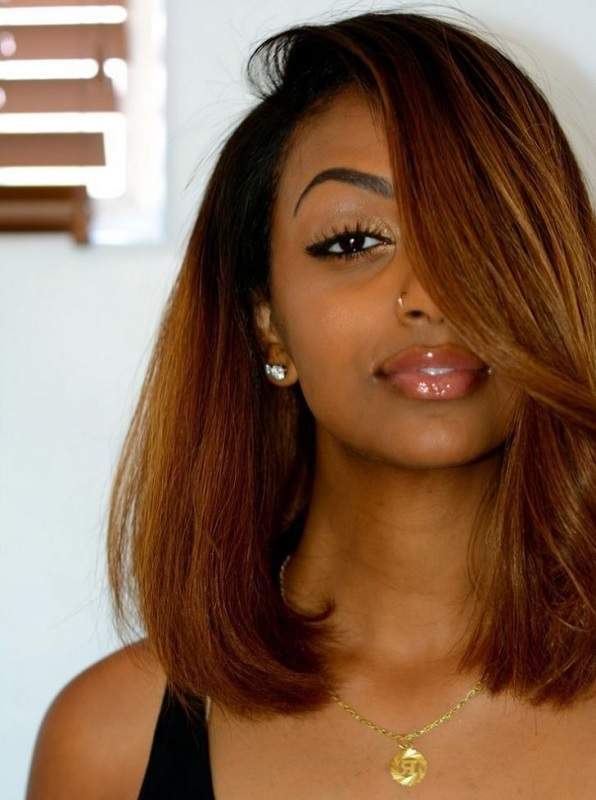 A lob is a condensed term for the long bob. Yes, this is a long bob reaching your shoulders with long side bangs. The exciting feature of this style is the irresistible tinge of butterscotch streaks all through the bob and the bangs.
Ideal for: This is a really crazy and absolutely fantastic bob style for a mildly tough-textured hair.
How to style: Go for a uniform shade of brown for the hair color for this look.
So that was the list of 12 beautiful and interesting black girl bob hairstyles. Now you can go ahead and the pick the one that suits you best!