11. 1990's hairstyle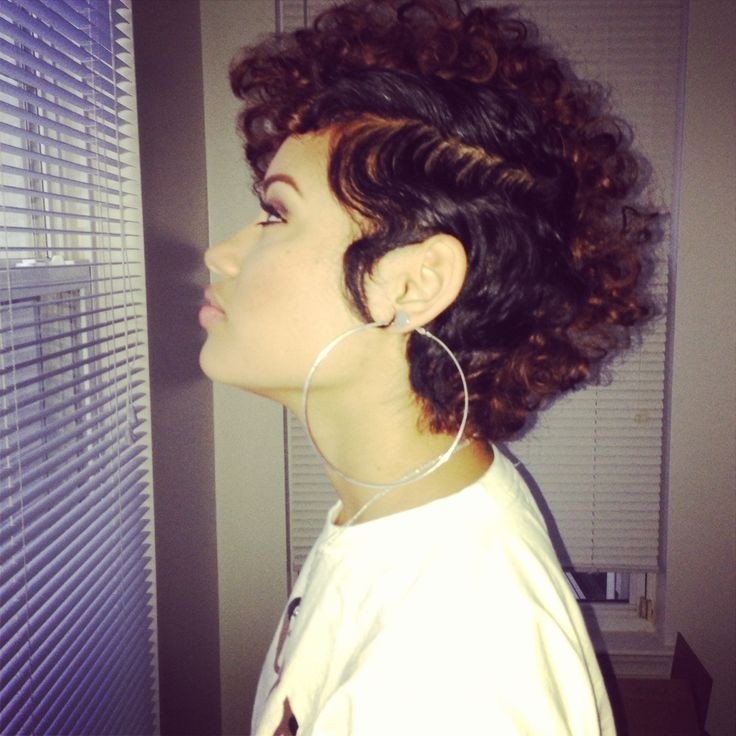 This amazing 1990's hairstyle will take you back to the past. And there is nothing terrible about it! This fohawk will make you stylish in the new century, just as it did for many women in the past. Keep the sides short and the top long and curly. Add some large earrings and your new image is ready.
12. Partial undercut
This partial undercut is a great idea for women who are not brave enough for something outrageous but still want to dip their toes into the unknown waters. Cut just the front part of the sides first and leave the rest of the pixie intact. Add some long bangs to look even more fantastic.
13. Wild afro
Afros come in all shapes and sizes and will make any woman look very unique. Go for a wild afro by leaving your hair long on top and spiking it up. This hairstyle can also be called a blowout. The downside of this afro is a lot of maintenance.
14. Modern afro
Another way to go about an afro is to make it very short. This is a great option for girls who hate hair care but still want something stylish created on their heads. Keep your locks about 5 inches long and brush them backward. Secure the hair with some hair gel.
15. Blond cap
A simple yet stylish black short curly hairstyle that can be worn by women of all ages. Most black women know how hard it is to turn their dark locks blond. That's why there is a way out. Color just the top strands with blond dye and leave the rest of your hair natural. It will make an impression of a blond cap which is considered very stylish nowadays.
16. High pixie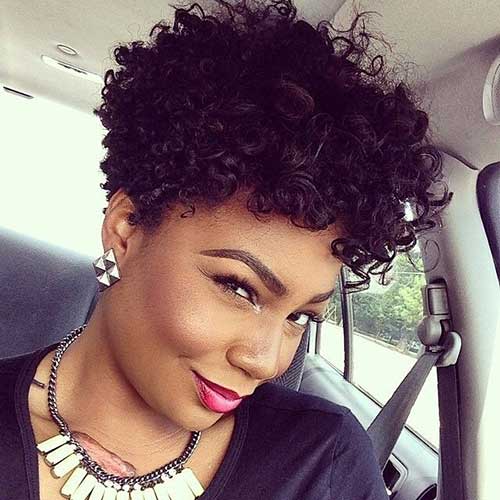 If you have a round face, you will love this short hairstyle for curly hair. Make a pixie but leave the top part long enough to make a voluminous style. Such haircut will help elongate your face while allowing you to flaunt your curls.
17. Wild colors
If you want to make a real statement but your hairstyle is already short then you can go further by dyeing your locks some interesting colors. Black women prefer all kinds of different shades, including blue, green and violet.
18. Stacked bob
A very short stacked bob is a great alternative to a short pixie. The amount of maintenance is reduced while curls are still there to show off. Create long bangs to make this curly hairstyle even more impressive.
19. Simple pixie
If you are not into complicated black short curly hairstyles and just want to look amazing without any extra hassle, you can go for a simple pixie. Such hairstyle will suit women of any age or occupation. It will need frequent touch-ups to stay neat.
20. Short highlighted bob
If your curls are soft, you can go for this neat short hairstyle. Leave your hair all the same length and allow it to be about 2 inches above your chin. Dye several strands with any color you choose and you simple bob will turn into an amazing hairstyle.