26. Basket Weave Style
This intricate pattern of basket style with two Dutch braids over the sides looks stunning. The hair is parted from the center to create two sections from the middle. The two sides are weaved to form braids which are then joined in the middle with the rest of the hair forming a basket pattern.
This dramatic hairdo looks stunning and elegant. The Dutch braid is weaved over the side with the bun over the nape of the neck. The look creates the spark with the addition of the accessories over the crown of the head.
Pick some hair from the front line and start weaving the braid towards the side. Now create a bun over the top and pair the braid with the bun. This stylish bun with braid looks trendy!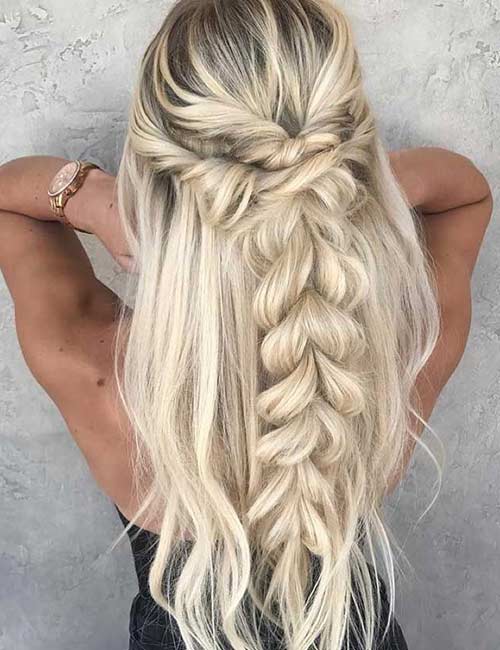 Part the all of your hair into two sections from the middle. Pick some hair from the front of your head. Twist that hair and pull them back pinning them up.
Repeat the same for the second side and again for the further twists. In the end, you get four twisted hair sections that are taken back to form a Dutch style braid. Secure the braid with an elastic band over the end.
30. Double Braids
Detangle all of your hair and split the entire hair into two sections from the middle. Pick some hair from front hairline and begin weaving the braids on two sides.
Once the two braids reach the end of your neck secure both of them with the elastic bands. This flawless look of the stylish hairdo goes well with all your outfits.