Dog haircuts are often a necessary part of any canine pet grooming. However, many owners choose to have fun with them. After all your pet is here to make your life brighter. There are many funny haircuts you can advantage of. Most of them you can come up with on your own. But if you run out of ideas, you can browse the cuts other dog owners came up with. The main goal of a funny haircut is to make you and your friends laugh. Such cuts make great Instagram and Facebook posts. However, you should keep in mind that your pet needs to be comfortable in the process.
How To Create A Funny Dog Haircut
Here are a few tips you need to follow when creating a funny dog haircut.
The funniest dog haircuts have to do with hair length variations. Consider long and short hair contrasts.
Use temporary dye to color the pet's hair. Never use anything permanent since such dyes can be harmful.
Never cut the pet's hair short in the winter time. Read about the perfect hair length for your pet.
Buy all types of dog hair accessories and play around with costumes, ponytails, and braids.
If the dog is irritated, stop your hair experiments. You might end up with an upset dog and a half done hairstyle.
Make sure the dog is well-fed and is in a good mood before you start styling.
If you are planning a complicated haircut, ask for professional assistance.
The Funniest Dog Haircuts You've Ever Seen
Funny dog haircuts are created for our enjoyment. While a pet has no idea how funny it looks, your friends consider its new look hilarious. When it comes to cutting your dog's hair, make sure you know what you are doing. Each breed has its own coat requirements, so make sure you don't make the dog uncomfortable. Besides using trimmers and scissors to come up with the funny cuts, you can use special dog hair accessories. You'll be surprised to find out that there are various wigs, clips, elastic bands, and more to make your dog look stylish.
1. Costume Party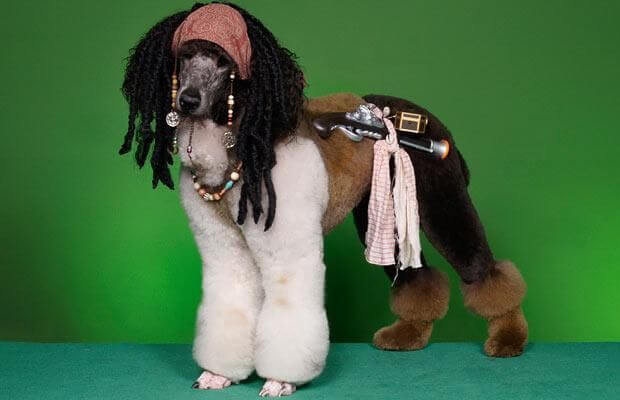 Did you know there are special dog costumes to make your dog look hilarious? A costume is a perfect way out for owners whose dogs are not happy with their haircut experiments. Pull it on and the image is ready!
2. Fairy Image
If your pet is a girl, you can come up with various fairytale images. You'll need temporary dyes to create a hilarious hairstyle. Consider such extraordinary colors as pink and violet Add a few accessories and it's a wrap!
3. A bear
If your dog's fur is short, you can play around with partial costumes. Find a furry mask to put on its head and keep the rest of the hair dyed accordingly. Brown and gray colors look natural and create a fun image.
4. Little horsey
If you have kids they'll love the horse image you give your dog. All you have to get is a blond wig. Divide it into sections to create a mane and a tail. Equip your pet with a saddle and the fun horse is ready.
5. Ponytails
The pet you see on the photo is overdue for a good haircut. If the dogs are not groomed properly, they can grow extremely long hair that can significantly impact health and even lead to death.