26. Orange swirls
Bold orange Cheetos like short hair twisted into rope-like swirls look very mysterious. Black dress and dark eye make-up accentuate the look. The messy look adds new dimensions to this gothic hairdo. You can carry a no-lipstick look with this hair to make the color stand out.
27. Gothic style curtain hair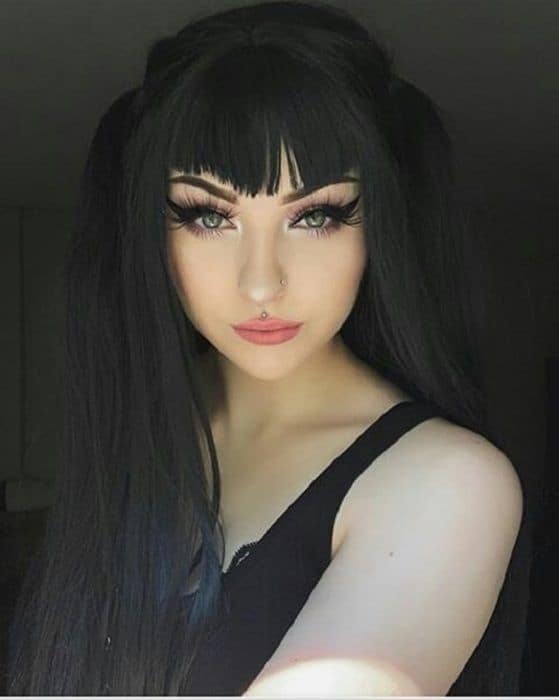 Long, sleek and jet-black hair create a perfect goth hairstyle for girls. Create a mid-part and tie both sides into half-pigtails. Cut the front fringes for a curtain hair look. A cat eye-liner, long lashes, and black dress will hype up the look to new mysterious heights.
28. Purple Waves
What about purple witchcraft? This hairstyle is quite a bold one to carry but justifies the gothic subculture. It is a mysterious blend of blue and purple, made not just for hair nut lips and eyes too. Pair the colors with your conspicuous gothic-themed outfit and metal jewelry.
29. Colored side shave
Colored shaved side with blacktop locks tied into high ponytail creates a very artistic look. Combine this goth haircut with black lips and bizarre piercings. Don't forget the heavy metal jewelry which is an essential of a gothic look.
Seafoam green ombre over natural brown hair base look very subtle. Create a homogenous hairstyle with cornrow braids on the sides and a high ponytail on the top.
The style makes hair manageable and looks artistic. Winged eye makeup with similar shades and metal piercings will take the gothic look to new heights.