Grey and white hair (aka Granny Hair) isn't just for older women anymore. The colors are making their rounds in the hair world as an up and coming hair trend! Worn as balayage, ombre, or highlights, you can add a unique touch to your hairstyle in a flash. The color is unexpected yet super hip, so this is one style you need to be in on!
What is Granny Hair?
Granny Hair, as the name implies, is a hairstyle that imitates the grey and white hairs of elderly people. This new fashion trend lets not only the elderly wear it proudly, but you as well!
It is being used by many celebrities and international bloggers, like the beautiful Tasha Leelyn. Anyone who likes to be bold and show attitude and personality can adopt it. However, you must choose a grey tone that matches your skin tone.
Being a cool color, it can be a little hard to fix in case of mistakes during the discoloration and dyeing process. Ask a specialist or beauty professional that you trust about which grey tone best matches your skin.
Among these, you'll find the lighter, silver greys and the darker, blue-toned ones. Notice that your hair must be bleached before dyeing it.
If you have dark hair, you'll need to bleach it to achieve the grey tones. If you don't wish to bleach your hair, Granny Hair is probably not for you.
Who Should Try Granny Hair
Anyone who wishes for a radical look change can adopt Granny Hair. Once again, this decision requires a lot of attitude, boldness and personality. This hairstyle tends to attract a lot of attention and also diverging opinions.
If you want to adopt Granny Hair trend, you must be sure that you'll look gorgeous and confident. Maintaining the look also requires a lot of patience and care. You'll need to follow a specific daily hair care routine because your hair will be more fragile and susceptible to breaking after the bleaching and dyeing process.
Granny hair can be used on any hair length and type – straight, wavy, curly or kinky – to make it beautiful and stylish. This trend also matches all skin tones.
How to Style
The first thing you must know before adopting Granny Hair is that your hair must first be completely bleached so that it can be dyed grey. The following products aren't cheap, but they'll guarantee that your hair stays healthy at the end of the process.
You will need:
Blue powder hair bleach;
Hair strengthener (sold in tubes – it should be mixed with the bleach to neutralize your hair color and avoid yellow stains);
Hydrogen peroxide (volume 30, max);
Hair dye brush;
Grey toner;
Plastic bowl and plastic spoon;
Rubber gloves;
Liquid Keratin.
Instructions:
Step 1: Put on your gloves to avoid allergies from the products.
Step 2: Mix the powder bleach, the strengthener and the hydrogen peroxide in the bowl with the spoon, until smooth.
Step 3: Apply keratin to your entire hair length. Be careful not to make them too wet.
Step 4: Divide your hair in small sections and apply the bleaching mixture with the dye brush. Leave it on for about 50 minutes.
Step 5: Meanwhile, check your hair every 10 minutes to see if it is resistant.
Step 6: After the 50 minutes, wash your hair thoroughly to rinse off the mixture.
Step 7: The bleaching process is done! If you don't achieve the necessary white tone, repeat this process after 2 or 3 days. Attention! Never bleach your hair more than once per day.
Step 8: Apply a grey toner and leave it on for about 30 minutes. Your Granny Hair is done! If you think it looks too dark, don't worry; your hair should look lighter with every wash.
Precautions
Moisturize your hair weekly, and follow your hair schedule religiously;
Wash your hair with products for chemically treated hair;
Avoid sulfate-free shampoos – they can fade the color quicker;
Use hair oils for nutrition;
Careful during the maintenance period;
Avoid exposing your hair to the sun, sea, and pools. If that isn't possible, use hair sunscreen;
Avoid washing your hair with hot water. Prefer lukewarm or cold water;
Try to avoid hair dryers, flat irons, and curling irons. They can make your hair dry.
Granny Hair Ideas
#1. Long Granny Hairstyle
As all over white on a long hair, the color is instantly youthful. Wear your locks down with a slight wave to be sure all eyes are on your new look.
#2. Granny Hairstyle for Black Women
If your hair is naturally black, add white or grey as an almost all over hair color. Your black will still peek through and on a long straight hairstyle with bangs, you'll love the new style.
#3. Short Side Part Granny Hair
On a medium or shoulder length hairstyle, in addition to a heavy side part, ask your stylist for white hair. Your slightly wavy locks will pop.
#4. White Ombre Long Hair
Not sure if you want to commit to all over white or grey? Get the granny hair by doing white in balayage. Against brown or black hair, it's an interesting yet attractive color combination.
#5. Grey Highlights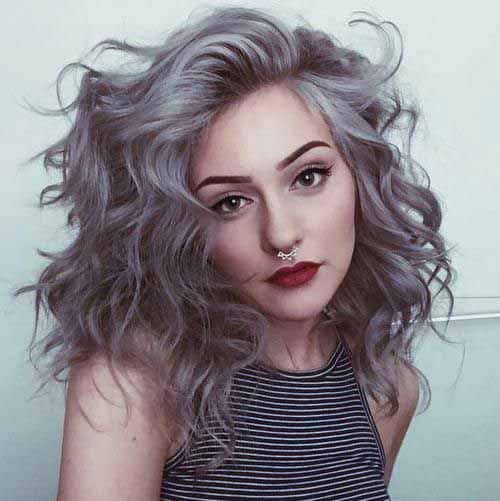 An ultra hip hairstyle features long hair with tons of texture and grey highlights. With a background color of brown hair peeking through, it's an Insta-worthy style.
#6. Straight Granny Hair Balayage
This white balayage is so white it looks platinum blonde. Add it to long straight hair and part it in the center for a dramatic date night look.
#7. Wavy White Granny Hair
White balayage gives granny hair a sexy new meaning when the body is loaded with tousled waves. This style is great for day or night time.
A touch of white or grey to any look makes a granny hairstyle look hot. Which look will you try?