#41: Taper Fade with a Cowlick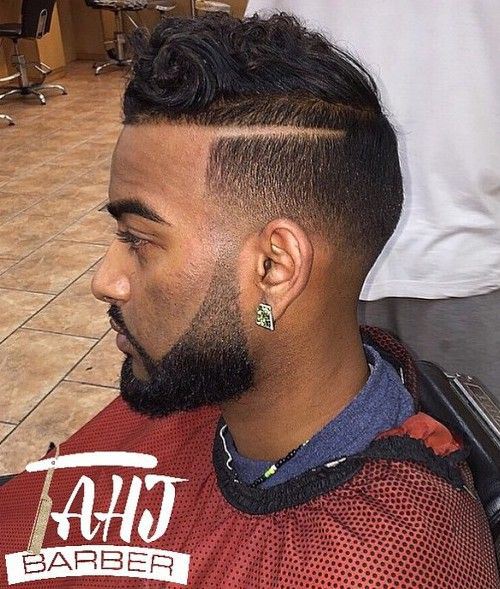 This is one of the unique hairstyles for black men. Cowlicks are always fun and look great on many men. Make a creative taper fade hairstyle by leaving the bangs long enough to be styled into a cowlick. It is quite easy to do at home with the help of a flat iron and some hair gel.
#42: Short Taper Fade with a Beard
A great way to outline a taper fade is to add a voluminous beard. However, neat beards need just as much care as the hairstyles. So, while you will save time on styling a taper fade, be ready to spend some on your beard.
#43: Outlined Taper Fade Hairstyle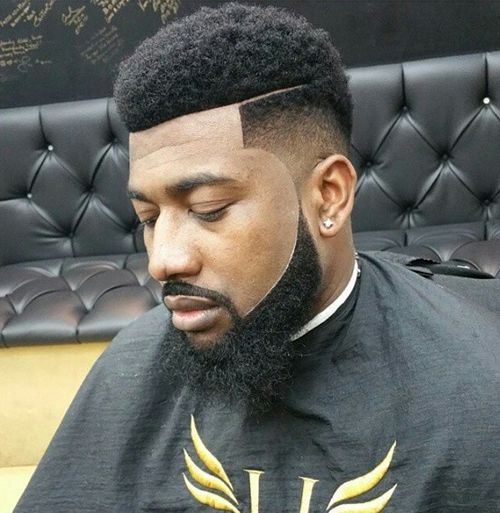 Want your taper fade to be very noticeable? Do what you can to focus the attention to it. Strict outlining will do the job. Not enough? Add some interesting designs to the shaved part and you will keep some pretty heads turning your way.
#44: Go curly
Black men have curly and often hard to manage hair. So, most of the taper fades are designed to hide that fact by cutting the hair as short as possible. However, there is no reason to get rid ofall the pretty curls. Leave at least some on top to create a neat look.
#45: Waves
The taper fade is usually a very sharp hairstyle, so make it a little softer with some interesting designs. If you don't want to be too outrageous, go for some nice waves to make your taper fade look special and fabulous.
#46: Messy Taper Fade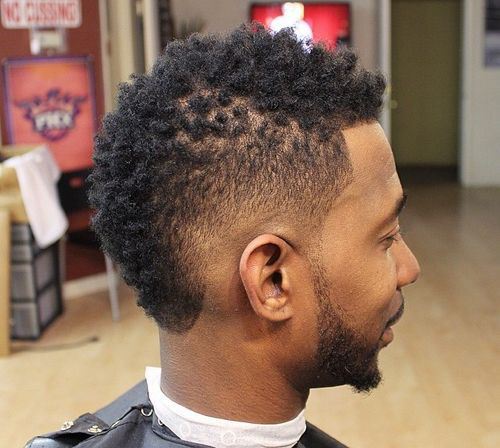 This is a great option for men who don't like regular barber shop visits. Let your taper fade grow however it wishes. However, make sure not to overdo it. Otherwise, the "cute and messy" can turn into a complete disaster.
#47: High Taper Fade with Thin Whiskers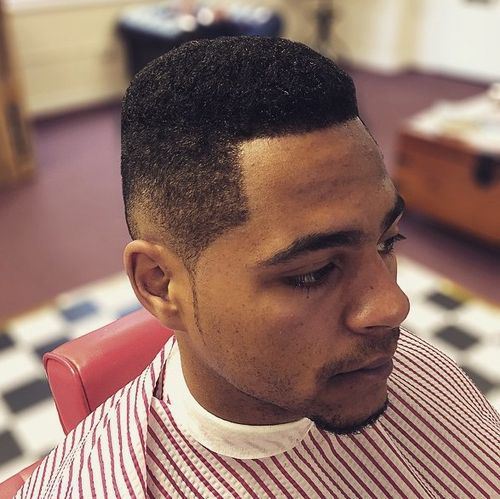 Thin whiskers look very adorable on any man's face. They will also help elongate the face shape, just like the high taper fade does. Mix them together and you will get a stylish look for a square or a round face shape.
#48: A Very High Taper Fade
This very high taper fade style might look fantastic but is pretty hard to achieve. Styling the top part of the hair will take some time and a lot of hair cosmetics. This style is great for special occasions but will be a hassle for everyday wear.
#49: Upper Designs
Taper fade doesn't just look great with temple art. Go for upper designs to make your look even more special. Straight lines or creative waves will really make you stand out of the crowd. Make sure to keep the designs updated.
#50: Will Smith Taper Fade
Will Smith is a big taper fade fan. So, learning how to make his hairstyles is a great idea. Choose the Will Smith fade you like best and go for it. Most of them are appropriate for any face shape and hair type.
#51: Beard and Long on Top
Teaming a fade haircut up with a beard is great for guys who want a modern look. Keep things long on top for an added cool dimension.
#52: Short Dreads
Short dreads are a great style for guys with African-textured hair who want to celebrate their cultural heritage. Short dreads look great on guys with a professional dress sense.
#53: Fade with Tramlines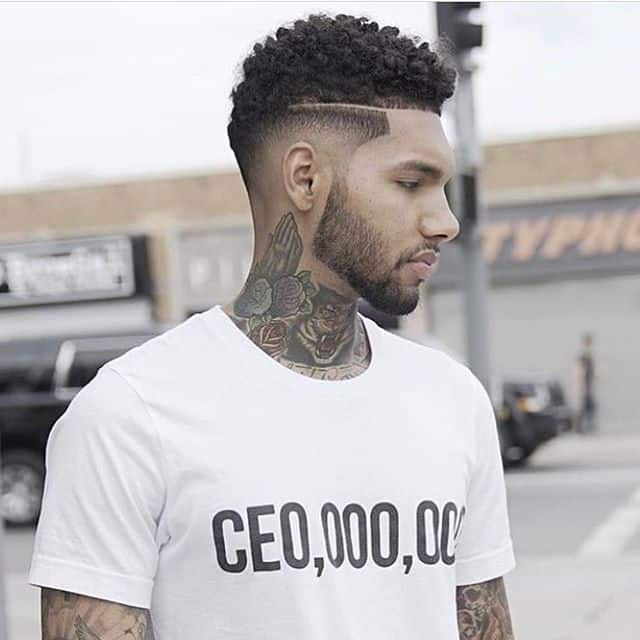 Create a clear border between your hairline and your fade with a straight tramline. The crisp divide helps to keep things looking fresh and neat.
#54: Teddy Boy
Style your fade haircut with a retro look by fluffing up your hair into a quiff. This works best on hair that has been chemically softened to relax it.
#55: Close Shave
For a clean hairstyle for black men, choose a fade that segues into a close shave cut. This look is perfect for guys who want a low maintenance look.
#56: Natural Style
For a low maintenance look, allow your curls to grow out untamed. Create a gentle fade in the lowest parts of your haircut to accentuate your style.
#57: Curved Tramline
Cutting a curved tramline into a fade haircut is actually a great way to change your look. A curved line creates an optical illusion which changes the shape of the face and bone structure.
#58: Spiked-Up Style
Spiked up hair looks really cool on guys with fade haircuts. The fade sections help to accentuate the different spiked-up levels of the hair. Use gel to keep spikes in place or leave things soft and natural.
#59: Blue Rinse
Give your fade hairstyle an extra dimension by adding a touch of color. Dark blue and electric blue colors look really great on black guys.
Here are some more taper fade hairstyle photos are given below for your consideration:
Hope you have liked our collection of black men's tapered fade haircuts & hairstyles and get the idea for yours. The naturally locked hair with African texture can give a fab look in these tapered fade haircuts. We have shown you various ways to diversify your fade haircut. Just pick your favorite one and show the picture to your hairstylist. And don't forget to share your experience with us about your haircut.