Parting curly hair is easy enough when it's wet, but what if you want to part curly hair when it is dry? Curls can sometimes be a challenge when it comes to styling. Once you learn all of the essential tricks, taking care of your precious hair can actually be fun, and parting curls is no different.
You might want to part dry curls in order to create a different hairstyle on day 2 or 3 of shampooing, or you may prefer making a part on clean, dry locks as opposed to wet ones.
Actually, parting hair when it is wet might take less time, but not by much. Plus, doing so is more likely to flatten curls at the top of the head. Creating your part or switching it up when your curls are dry boosts the volume that curls need to truly shine.
How To Part Curly Hair When It's Dry
There are a few fool-proof methods that reveal how to part curly hair when it is dry. Check them out below.
Use a Diffuser
Diffusers are amazing at creating even air over your hair. Attaching one to your blow dryer is gentler for curls and keeps feisty frizz from forming. Using a diffuser while blow-drying hair with your head upside down will create movement on the hair and will make choosing and changing your part easier.
By blow-drying hair with your head bent over, hair doesn't fall any which way in particular. When you finally do flip hair over and choose a part, the job will be easy to do and you won't lose any delicious volume.
Use Your Fingers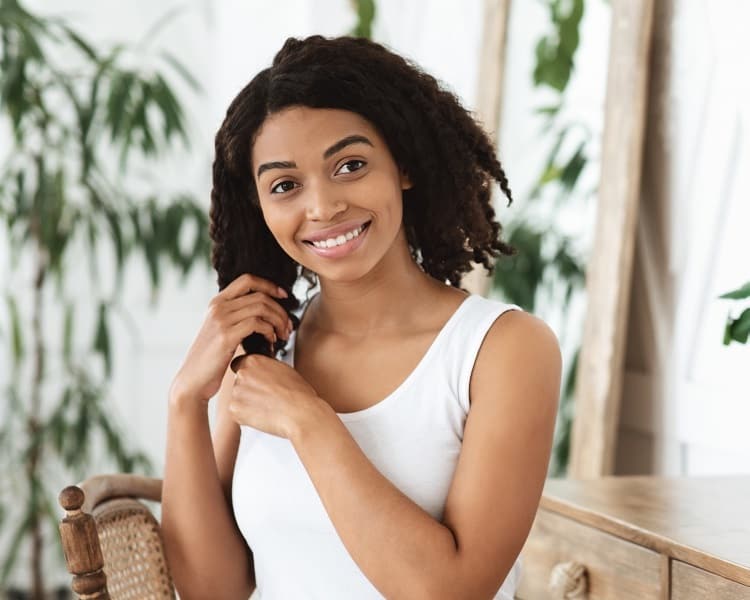 If you choose not to blow dry hair, flip your head over once the curls are dry. In this position, shake your head and work your hands through hair to loosen things up.
Next, choose which side you prefer the part to fall on. Just know that later on, it's easy to switch your part for a voluminous boost if curls seem to be falling flat.
Now, using your fingers, draw a rough part in a slightly zig-zag motion that follows your natural curls. The line won't be precise, but it's more than fine for curly hair and avoids having to break up any curls.
Use A Comb
You can use a comb as opposed to your fingers for parting, but this technique is not usually recommended. Dragging a comb down the center or side of your scalp creates a line of demarcation. This may require you to split some curls because this method does not honor the way they fall naturally.
Using a comb is okay so long as you are very, very careful at breaking up delicate curls. Otherwise, it's best to avoid this method so as to maintain the integrity of your beautiful curls.
As you can see, parting your hair when it's wet as opposed to dry actually creates more volume and more versatility as the days wear on. Always remember to take your time and use a delicate hand when it comes to managing your curls. As long as you honor the natural shape of the curls, you can create virtually any part imaginable.