Trendy looks ask for special treatments. Long faux locs is such a hairdo that can turn you from a boring hair lady to a hairstyle queen with the blink of an eye. Get this hairstyle to see your dream look come to life!
To add perfection to your long hair and to be the ultimate hairstyle inspiration, faux locs should be your number one hairdo on the list.
This hairdo can add to your personality massively and is guaranteed to make you the one who everyone looks up to for hairstyle inspiration. Though this hairstyle can take some time to take shape, every bit of that time spent is totally worth it.
Latest Long Faux Locs Styles
Below, there is a list of 15 stunning long faux locs that can change your life in a really positive way:
Side-swept can add the elegance that your long blonde hair has lacked so far. Adding random curly strands of hair to your faux locs will give your style a double hairdo look. With this hairstyle, black girls should get ready to be the limelight of every show.
Exotic Blonde Dreadlocs for Women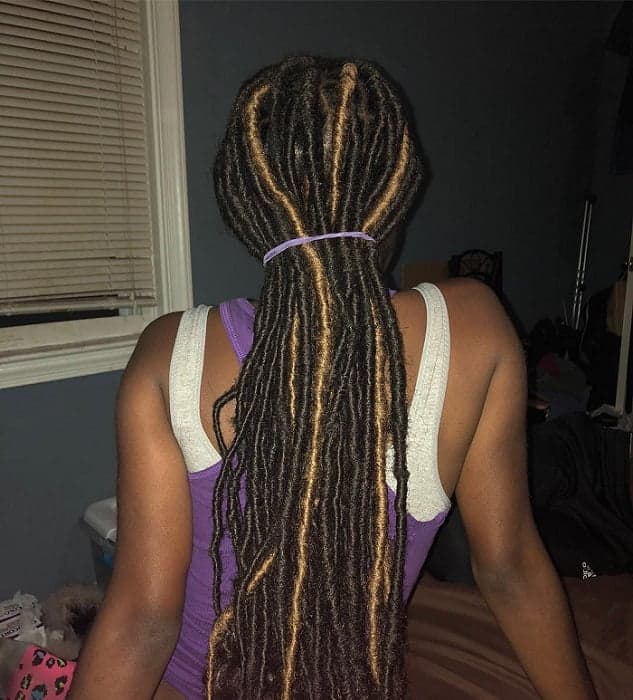 Adding a pop of blonde color to your dark hair can change your look instantly. Weave all of your long hair into faux locs and secure them all with a ribbon to create a thick and low ponytail. It is a casual but cool hairdo.
If "just long" isn't what you want to do with your hair, then extra-long locs are just for you. Let your dark hair grow to a mid-thigh length and then knit them into faux locs. Extra-long hairstyles are simply irresistible.
4. Funky Goddess Locs
For a look that no one can take their eyes off, go with funky faux locs. Ask your stylist to dye your long hair into shades of ice blonde, honey brown, and dark mahogany hair colors. Roll the edges of the hair to complete the style.
Faux locs can be as cool as you want them to be. Styling your hair into long bohemian style will immediately rank you like the best trendsetter for all the people out there.
Growing your hair is the key to long bohemian faux locs haircut, don't forget to add colorful ribbons and strands of curly locs to your hair.
Cutest Sisterlocks Style Ideas for Women
Half and half faux locs can bring out your funky side really well. The faux locs are made in the upper half hair and the lower half is shaved. This changes the appearance of your hair from boring to majestic.
If your life is all about rainbows and colors, then we are sure that you will fall in love with this rainbow-colored locs hairstyle but only when you get them. So, don't wait for another second and done your faux locs with a long colorful weave with all the colors of the rainbow.
For an effortlessly chic look, opt for a heavy ponytail with brown ombre hair. Once you get a brown ombre weave hair, knit your hair into faux locs and tie them high into a long ponytail thrown over your shoulder. This weave ponytail hairstyle is ideal for your bold personality and will bring it out even more.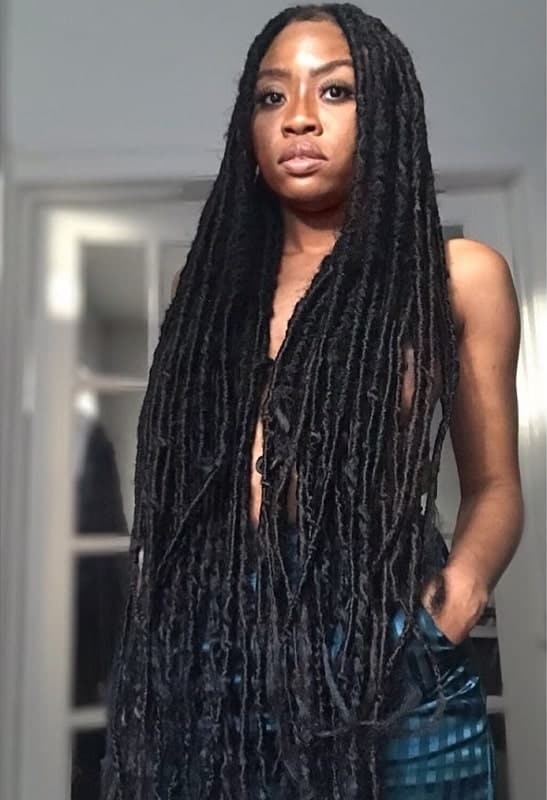 Faux locs with long hair can be as elegant as ever, and middle parting them can increase their overall look in an instant. Add some random, messy strands of curly hair to your middle-parted locs and rock your look. This hairdo is undoubtedly going to add perfection to your over-all style.
Youthful Long Straight Hairstyles for Women
10. Classic Length
For a really classic style, classic long goddess locs should be your go-to style. For this look, you have to keep the scissors away from your hair. Once your hair reaches the classic length, knit them into faux locs and style them with beads.
11. High Bun
High faux locs bun is ideal for the ones who are short heightened as this long hairdo can give your height an illusion of added inches. Adding strands of brown and black locs and securing them into a high raised bun is all you need to do.
Half up half down hairstyle is a unique look for all the punksters out there. Ask your stylist to dye your long hair in a red shade and then weave them into faux locs.
Take the top half hair and round them up into a topknot. Curl the edges of the lower half hair and place them over your shoulder.
If you don't like the original color of your hair, then try going for copper brown hair. Coloring your faux locs hair in this shade is going to transform your look in an unexpectedly positive way. Get two-strand twists on your long hair to look your very best.
For a long faux locs look that is also super cool, go with red peekaboo highlights. Let your hair grow to a tailbone length and ask your stylist to add red highlights to your black hair to finish your style.
How to Style Messy Top Knots – 8 Top Ideas
15. Honey Blonde Topknot
If topknots are your favorite style, then the best way to style those topknots in long hair is by going with honey blonde shade and knitting faux locs.
Tie the top hair into a topknot while leaving the lower half hair down. Add some curly blonde strands to either side of your face to complete the look.
Going with long faux locs can be your key to a super stylish and trendy look that will turn you into a style icon immediately. So, don't forget to get this look for yourself on your next visit to the salon.