If you are a man with thick hair and looking for a suitable haircut – Congratz! There are lots of different hairstyle options for men with thick hair. Just get up in the morning, style your own hair and then head out to enjoy the world.
Haircuts & Styles for Men With Thick Hair
There are lots of benefits for men having thick hair, including having the ability to style your hair in lots of different ways. Men with thick hair usually manage to stay warmer in winter too, as the hair helps to insulate the head against heat loss. Thicker hair is also great for a partner to run their fingers through! On the other hand, we have also included some hairstyles which are great for men who want to stop their haircuts from looking too thick.
#1: Curly and Choppy Thick Hair
A stately hairstyle for men with curly thick hair. Tight curls really suit guys who have lots of hair. Give your hair a choppy cut to help to reduce the thickness of the hairstyle.
#2: Gelled Back with Shaved Sides
It is possible to reduce the thickness of a haircut by using gel to flatten out the style. Shaving the sides of the hair will make the cut look sleeker.
#3: Straight and Floppy
Use enough gel on your hair to help to flatten it out, but not so much that it is immovable. A floppy hairstyle creates a friendly and approachable look.
#4: Slicked Back Style with Bushy Beard
Any slicked back haircut for men with thick hair looks really trendy when it is teamed up with a thick bushy beard. Undercut the section of hair between your beard and the top of your head for added effect.
#5: Slowly Twisted
Give slicked back thicker hair a unique look by twisting it around your head, rather than gelling it straight back. Twisting your hair around creates a unique visual look.
#6: Men's Soft Peak Hairstyle for Thick hair and Thin face
Men with thicker hair can use soft hold hair gel to pull their hair up into a soft peak at the front of the head. This look is a timeless classic hairstyle which has been popular for decades.
#7: Floppy Fringe
For a real throwback to the 90's, style your thick haircut with a floppy fringe. Sweep all of your hair over from one side to the other to create a really pronounced fringe.
#8: Tousled Soft Curls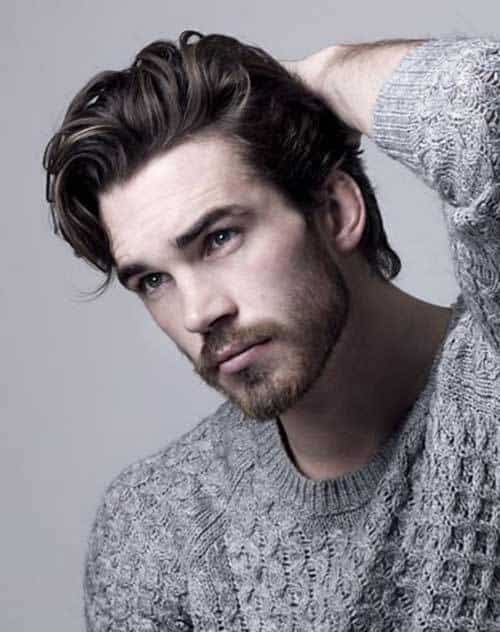 Create voluminous tousled hair by running your fingers through it as you blow dry. This helps to give a lush and luxurious look to long and thick haircuts.
#9: Haircut for Men With Thick, Curly and Wavy Hair
Tight curls hold their shape really well. This means that you can keep growing your hair into a bigger and bigger style. Push the limits as far as you dare.
#10: Soft spikes
Choose soft spikes for a non-threatening but cool professional hairstyle. Pull your hair up into peaks and then use a little soft hold hair gel to hold everything in place.
Men with thick hair have so many different options to choose from. They are very lucky because their hair type is so versatile. Any guys who are looking for more inspiration about what to do with their hair should check out some of the other amazing lists on our website.