#6: Black, Purple and Blue
It's not a wonder how much of a role colors play in terms of hair presentation. But that's not something new. What's new though is using more than one distinct strong color at the same time. Like in the image below, the black blue and purple create an outstanding effect.
#7: Marley Braid Updo and a Fedora
This is one way to style your short hair. With the sides of your hair tightly tied and your top hair poof-ed up, you'll get one unique fauxhawk. Add a fedora for a more outstanding style.
#8: Braided Marley Braids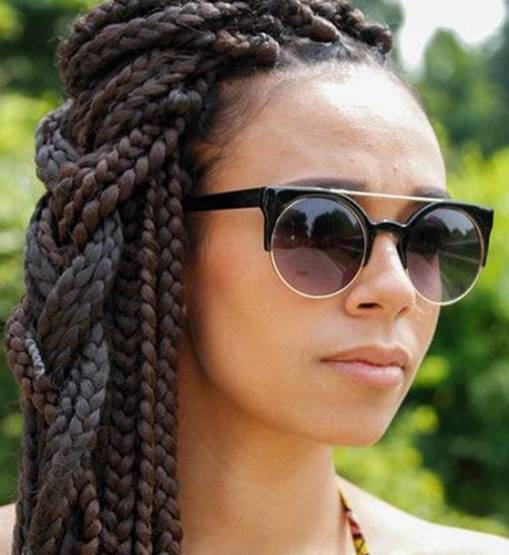 Using pencil sized Marley braids, you can achieve this head turning look by braiding your twists into a bigger braid to the side of your head. Don't use all the twists, except let some loose for such an outstanding look.
Uplifting Crochet Braid Hairstyles to Stand Out
#9: Hair Beads and Coloured Strands
Pencil-sized braids are one of the most common Marley braid styles. You can wear them on daily basis or style them a bit further for a more special occasion. Add some hair beads and colored strands to personalize your look.
#10: Bordeaux Ombre
One way to make your hair more unique is by including different hair color extensions and beads. Like this one here, combining some Bordeaux extensions with your dark hair you'll end up with a beautiful ombre effect.