61. Messy Blow Out Top with Fade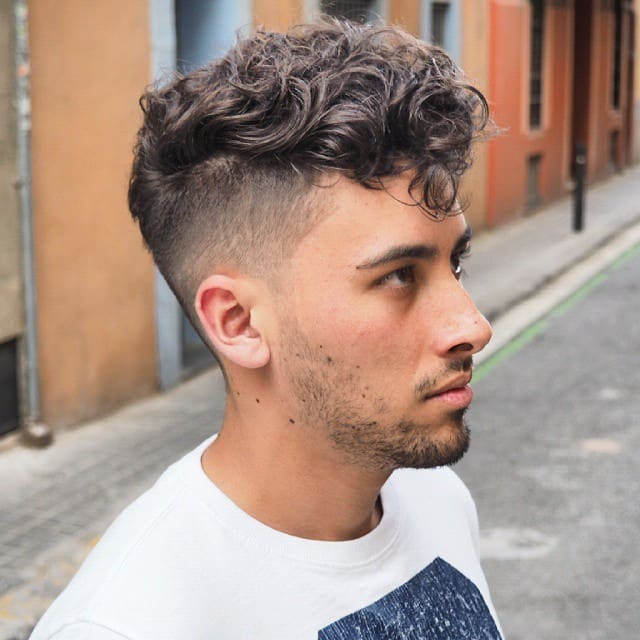 When you push forward the long curly top hair, you get the above fabulously attractive aesthetics. Grow stubble and blend it into taper fade haircut for a perfect look.
62. Spiky Blowout Hairdo
In addition, to blow dry, this hairstyle needs a handsome amount of styling product to hold the spikes in place throughout the day. If you want a more edgy look, you can go for taper fade or bald fade sides along with a perfect lineup touch.
63. Blowout with an Undercut
Scissor trim the top hair and bald fade the side and back of the head to achieve an undercut. Now, create a hard part, blow-dry the top and roll over the sides for a finished look.
64. Beyond Professional Look
This picture is saying it all! You can opt this extraordinary stylishly blow out Quiff hairstyle for your interview or formal Meetup. Medium stubble will enhance the charisma of your overall personality.
65. Push Back Blowout + Taper Fade
To achieve this look, you must have a few inches long hair on top which is blow dried and combed back in the backward direction later. The taper fade sides will provide you edgy and stylish features.
66. Exquisite Blowout for Short Hair
Most of the guys with short hair find it difficult to style their hair with variations. This hairstyle is particularly for these guys who finally decided to overgrow their buzz cut from the top. The blow dry in an upward direction will give a length to your hair as well.
67. Textured Blowout Fringe and Fade
Fringes can be classified as blow out hairstyle depending on the styling treatment. Here, the voluminous texture of hair clearly reveals that the hair is blown dry. Bald fade the sides and back of the head, and side swept the fringe for sharp features.
68. Classic Blowout Haircut
Here is another blow out hair idea for men with short hair. You can rock this tame look anywhere confidently. This blow out comb-over is suitable for those guys who have thin hair texture. Keep the sides and back of the head taper fade and roll over the front hair to add volume to your hair texture.
69. Impressive Blowout Flow Hair
This blonde blowout flow creates an enchanting combination when club up with bald fade and a full beard. Blow dry the top hair and turn it into soft, messy waves at the corner. The light blonde shade will give you a trendy look.
70. Silver Blowout and Tapered Sides
If you are bold enough to try inimitable hairstyle, you can opt for this silver blonde hair for this purpose. Leave almost 3 inches long hair on the top and tapered the sides and back of the head gradually. Blow dry the top and turn the hair into pompadour hairstyle.
All these blowout haircuts and hairstyles are great for men who want to change their style but don't know how to go about doing it. If you are not ready for the high-maintenance classical blowout, go for the less obvious but easier to manage one. Anyone can find a suitable style among the ones we are offering here. Time to give it a try!