41. Add a beard

Any short hairstyle for men, be it a taper fade or a mohawk looks great with a beard. Beards are getting trendier and trendier every year so consider creating even the shortest goatee or a chinstrap.
42. Play with colors

Your fade will look even more impressive if you decide to give it some color. By dyeing the top part of your hairstyle, you are creating a contrast that makes your hair look unique and appealing.
43. Military mohawk

Before deciding to go military, you might want to consider creating a very short mohawk. Short mohawks don't look as outrageous. In fact, they might even suit some formal occasions.
44. Spiky bangs
Spikes are trending now and don't seem to be going out of style. So whatever you decide to do with the rest of your hair, consider leaving enough length to make even the shortest spikes.
45. Use the gel

Any short haircut for men can look stylish if you add some gel. It doesn't necessarily mean that you need to style something. Just apply some gel on your fingers and run them through your hair.
46. Simple cut

A simple short haircut might be what you are looking for if you don't like frequent trips to the barber shop. Keep all your hair the same length and you can allow it to grow as long as you wish.
47. Keep it shaved

Shaving the sides of your head is fun and you can do it on your own. Come up with your own simple hairstyle by making a few bold moves with your razor.
48. Make it shine

Long and curly hair look wonderful when contrasted with really short sides and back. This variation of a blowout can make you look amazing but will need some maintenance.
49. Shorter sides

You don't need to go for a full-blown undercut if you are not ready to make your hair too short. Simple shortened sides will give your hairstyle a neat look without any drastic changes.
50. Simple undercut
A simple undercut is a great choice for guys with long or round face types. This short hairstyle for men allows the stylist to play around with the face shape. The top part can make the face longer or more oval.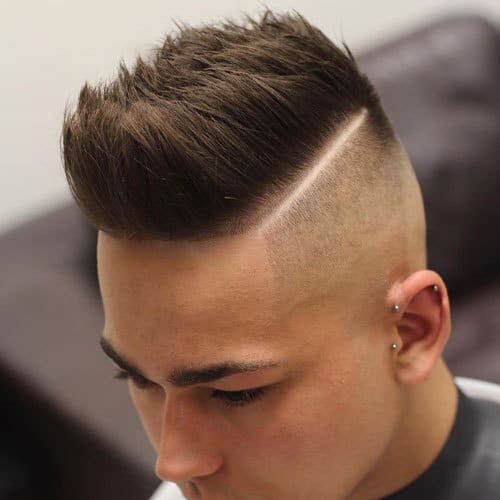 Short hairstyles for men vary from simple to complicated. Most of them look great and are easy to take care of. Whichever haircut or style you choose for yourself, you'll definitely want to keep trying further and enjoying a new and improved look. Good luck!