Mermaid blue hair is so trendy that there are thousands of blog posts dedicated to it. Some quirky celebrities have given the color a try so that they can feel like a mermaid too. If you want to find your inner mermaid, then why not try taking a hair idea from our latest list of mermaid hair pictures.
Mermaid Blue Hair Color Ideas
The mermaid's hair as we think of is normally sea or sky blue, but it can have some subtle shading or variation. Some people will even have light touches of green put into their hair to give their style even more depth and texture.
This is often reminiscent of the ocean waves. A lot of artwork and popular culture as portrayed mermaids as having hair like the sea. This is why it is called mermaid blue hair.
To get the best mermaid effect, you must make sure that you buy a good quality color dye which will stay looking vibrant for a long time.
1.
mermaid blue ombre hair
2.
dark mermaid blue hair
3.
mermaid blue hair weave
4.
5. Bright Blue Hair and Perfect Plaits
Unique Midnight Blue Hair Color Ideas
7. Mermaid Blue and Purple Hair
8. Mermaid Hair in a Fishtail Plait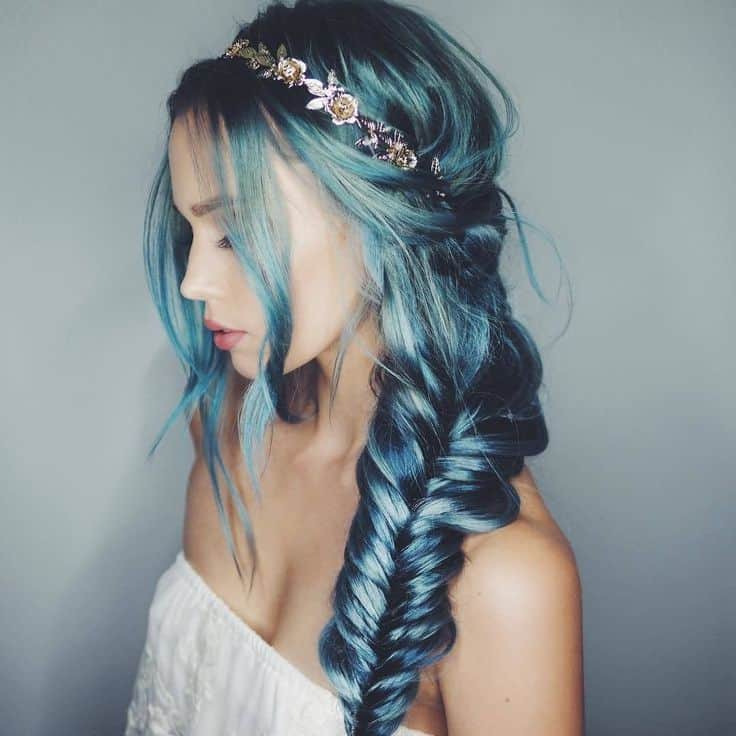 Epic Fishtail French Braids Ideas
9. Fishtail Plait and Heavy Bangs
10. Soft Waves on Blue Hair
7 Statuesque Navy Blue Hairstyles
Take the plunge and try dyeing your hair mermaid blue. Hair which is this vibrant will turn heads for all of the right reasons.