Mermaid blue hair is so trendy that there are thousands of blog posts dedicated to it. Some quirky celebrities have given the color a try so that they can feel like a mermaid too. If you want to find your inner mermaid, then why not try taking a hair idea from our latest list of mermaid hair pictures.
Mermaid Blue Hair Color Ideas
The mermaid's hair as we think of is normally sea or sky blue, but it can have some subtle shading or variation. Some people will even have light touches of green put into their hair to give their style even more depth and texture.
This is often reminiscent of the ocean waves. A lot of artwork and popular culture as portrayed mermaids as having hair like the sea. This is why it is called mermaid blue hair.
To get the best mermaid effect, you must make sure that you buy a good quality color dye which will stay looking vibrant for a long time.
1. Blue and Navy Ombre
Create some seriously stunning contrast with mermaid blue ombre hair. Typically, dark hair looks best on the scalp, so try a dark navy or even a denim color on your long hair.
2. Dark Cobalt Mermaid Hair
This dark mermaid blue hair is stunning on cool skin tones. A true cobalt color works for natural brunettes and similarly darker locks. Of course, it looks amazing and adventurous on these small dreadlocks.
3. Mermaid Blue Weave
Not ready to fully commit to electric locks? A mermaid blue hair weave is ideal for trying out bold looks with little sacrifice and complimenting your outfit on a day to day basis.
4. Cotton Candy Ombre
Dark to light ombre is a big trend for hair, and not just on blue locks, either! For this look, hair should be deepest at the scalp to the cheekbones and fade into a light and wispy cotton candy color at the ends of hair.
5. Bright Blue Hair and Perfect Plaits
Braids show off dimensional color better than any other hairstyle. For something unique, add darker, midnight blue color highlights to your existing vibrant color to compliment cool skin tones.
Unique Midnight Blue Hair Color Ideas
Layers work wonders on long, thick hair. Not only do they create movement but they promote a feeling of weightlessness that gives buoyant blue locks an underwater feel. Ask your stylist to cut them to frame your face and dust the ends of hair.
7. Mermaid Blue and Purple Hair
Additional colors like eggplant add to the whimsy of blue hair. For beautiful balance, let your dark roots pop through and dust the ends of hair with purple highlights.
8. Mermaid Hair in a Fishtail Plait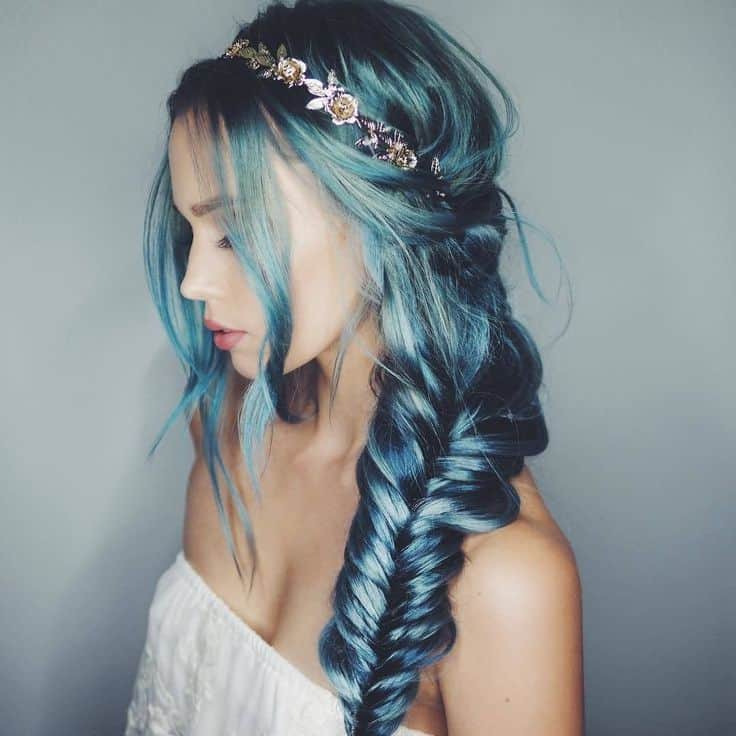 What style is more perfect for mermaid hair than a fishtail braid? Intricate braids are even more special when you're working with multiple tones like dusty blue and denim, which happen to be on trend at the moment.
Epic Fishtail French Braids Ideas
9. Fishtail Plait and Heavy Bangs
We know fishtails are perfect on oceanic hair, but so are bangs! If you prefer covering your forehead, then you're in luck! Thick, straight hair looks best for a fringe with this wild color, so cut your bangs accordingly.
10. Soft Waves on Blue Hair
It's easy to rock straight, natural, or salty and beachy texture, but there is no reason why you can't try a more polished style. These soft waves are great for more formal occasions or everyday if you enjoy doing your hair. Luckily, waves can last for days.
7 Statuesque Navy Blue Hairstyles
Take the plunge and try dyeing your hair mermaid blue. Hair which is this vibrant will turn heads for all of the right reasons.