16. Closed eyes
Do you know many hairstyles that you can create with your eyes closed? This is one of them. Thank god, messy hairstyles are becoming a hit. You don't have to spend hours in front of the mirror anymore.
17. Loose strands
Tying loose strands together to create an appearance of a messy bun on short hair is a timeless trick. Just curl each strand well to make the hair look thicker and proceed to pin them up.
18. Diamond bun
Using accessories to create a bun is a smart move. The right headband or elastic band can turn your small and messy bun into a real diamond masterpieces. It can be a wonderful choice for a special occasion.
19. Up and away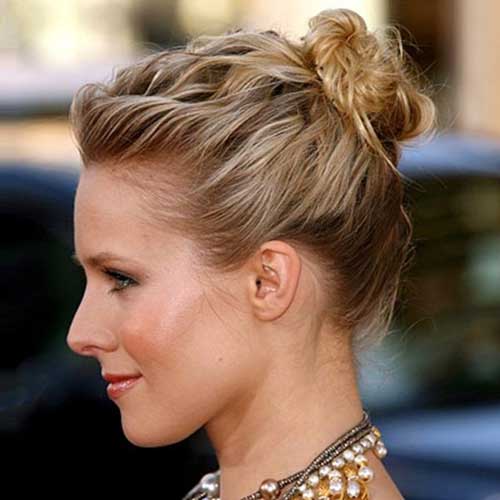 If you have enough hair, try to make your bun as high as possible. This way the messiness of your hair looks especially voluminous. High buns are conquering the world. Let them inside yours.
20. Donut Bun
If you have enough locks for a small donut bun, use the opportunity to create a neat bun on messy hair. This is a great trick for short tresses. A small and neat bun always looks fantastic on teased manes.
Best Long Angled Bob Hairstyles
Now you are armed with useful knowledge on how to make the most amazing messy buns on short hair. Short locks are not a problem for bun lovers anymore. Go out and give one of these a try!