Plum hair is not just another shade of purple. Genuine plum is a purple so dark that it often appears black. It's sometimes iridescent, but it's always dramatic. It's more nuanced than even the darkest purple hue, edging more toward eggplant than grape or violet. It tends to look best with other dark and/or dramatic colors, whether your colorist mixes the dyes together or creates highlights and streaks in all different shades. It's your call.
Beautiful Hairstyles With Plum Hair Colors
Because plum hair is dramatic, it's got a bit of a goth vibe going for it. It's not typical all-black goth, however. The hue is glamorous, somehow—perhaps because purple is always regal. It has a tendency to look natural, as well, which isn't a trait shared by other colors on the spectrum. With the right complementary shades, however, it can also veer toward punk, which is always badass. Check out the following photos to discover the plum hair color that steals your breath. You can also check our favorite asymmetrical bob haircuts.
1. Plum with Purple Highlights
Even from the photograph, you can see the true plum hair color showing between streaks of brighter purple. Pure plum is so dark that it appears to be on the black spectrum. Seriously, take a close look at the plums in the grocery store the next time you're there.
2. Plum and Red-Violet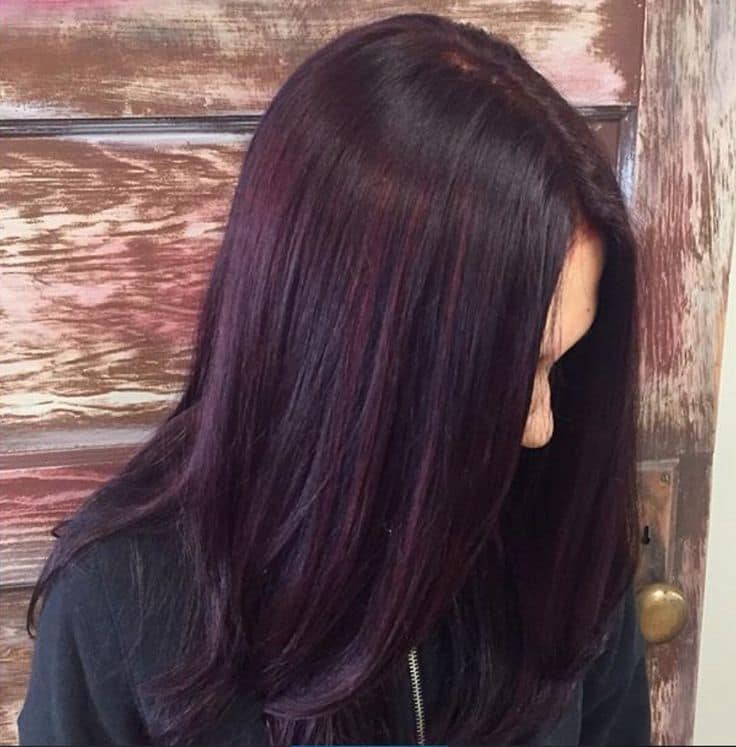 The highlights here are subtle but study the picture. Again, the base plum shade is so dark that it's nearly black. Thin streaks of reddish violet run through, creating a kind of oxblood haze. A combination of crimson and purple is clever—the purple doesn't get lost, and the red doesn't take over. You can also try the burgundy plum hair colors.
3. Pastel Plum
See? Plum on its own is a dark, dramatic hue. To get a more noticeable purple shade of plum, you have to go with a pastel. It's a gorgeous, vibrant color—kind of decadent, in a way.
4. Purple Ombre
This is a streaky ombre, with highlights of purple that play peekaboo with the plum hair color beneath. There are a few lighter pieces of pastel plum woven through those wavy locks, as well. The entire coif is multidimensional, which is always a plus when you're playing around on the purple spectrum.
5. A Bit Brown
Plum with a brown base ends up looking decadent and delicious, as well. Because the brown base is extremely dark, a more pastel shade of plum is probably best for the streaks. You could also try the inverse—go for an all-over plum color, then introduce brunette streaks. Yea or nay?