Quinceanera Hairstyles
1.
quinceanera hairstyle with curls and hair down
2.
quinceanera updo hairstyle
3.
half up half down quinceanera hairstyle
4.
hair down style for quinceanera
5.
curly quinceanera hairstyle
6.
hairstyle for quinceanera with crown
7.
dama hairstyle for quinceanera
8.
mexican quinceanera hairstyle
9.
long quinceanera hairstyle
10.
short quinceanera hairstyle
11.
12.
13.
14.
15.
16. Loose braid
Loose braids are pretty easy to create but are hard to hold together. The hair is curled, swept backwards and a loose high braid is created. This braid should be secured with a headband, an elastic band, and some pins. Apply some hairspray to keep the hairstyle neat.
17. Barbie curls
These complicated Barbie curls are nothing more than a loose and high ponytail. The hair is curled and swept upwards and back. It is held together by pins and elastic bands. Make the hair flow freely and let it cover the accessories you use to keep it intact.
18. French braid with a twist
Just a simple braid would be boring, so why not add some zest to your style? Start braiding your hair as you would for French braid but keep the bottom strands hanging freely. Don't forget to curl your locks beforehand.
Stunning Princess Braid Hairstyles
19. Braid burst
This quinceanera hairstyle will definitely make a beauty queen out of you. The hair is curled. One thick strand on the side is left loose and the rest is arranged into a low bun. The loose strand is then curled and wrapped around the back.
20. Side swept curls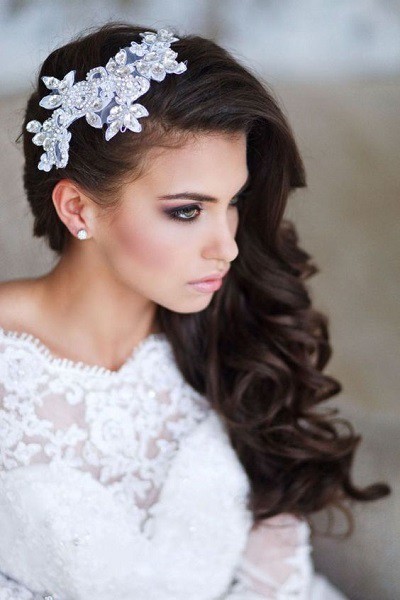 This simple hairstyle will really make an impression. Curl your locks and sweep them to one side to let the hair fall freely over your shoulder. Pin the top part from the opposite side to the back and attach the accessory over it.
21. Curly bun
Loose curly buns always look very interesting. They are easily created by curling your hair and then collecting it in the back with an elastic band and pins. You can leave one strand hanging from the bun and create a thin braid to run around your head.
22. Romantic ponytail
If your hair is thin and straight, don't go for curling all of it. Make a low ponytail and curl just the hanging part. You can also add a weave braid to circle your head. The more curls you make, the more impressive your quinceanera hairstyle will appear.
23. Braided ombre
This is one of the simpler special hairstyles you can make. You just create a lateral French braiding on the top of your head and let the strands hang loose. Consider dyeing your hair a different colors Ombres and sombres are in style.
24. Voluminous bun
Making a voluminous bun is quite easy. It is created from a lifted ponytail. The strands are separated and each one is pinned around the place where the elastic band is attached. You can add a nice accessory to make your image more untrue.
25. Accessorizing
Knowing how to use the right accessories is extremely important for making an impressive hairstyle. Consider getting beautiful pins and headbands to make your image special. Just make sure they are not too heavy or you will feel quite uncomfortable.
Wedding Hairstyles With Short Length Hair
26. A weave
Don't be upset if you don't have beautiful long hair. An amazing quinceanera hairstyle can be done without it. Just get a weave! Curly hair extensions can help you create the style you've always dreamed of. Consider loose braids and buns.
27. Lift it up
If you are planning a birthday party, you must be thinking about fun activities as well as dancing. Doing all that with your hair down can be quite a challenge. Consider lifting your beautiful curly locks upwards so they don't get in your way.
28. Braided bun
Girls with straight and thick hair will appreciate this easy to make hairstyle. Leave your long bangs hanging around your face and sweep the rest of your hair backwards. Make a braid and arrange it into a low bun. Add some bright accessories to complete the look.
29. Curly updo
This curly updo will make you look like a real queen. This quinceanera hairstyle is great for girls with medium-length hair. Sweep your curled locks upwards and secure them with pins, so the tips of the strands are attached to the hair on the head.
30. Flower bun
Flower bun looks complicated but it is actually quite easy to make. You start by sweeping your hair upwards in the back and securing it with an ealstic band.
Then use a donut to make a bun. But make sure to pull the strands half-out in the process. Arrange the loose strands into a flower.
31. Highlights
15th birthday is an occasion to go all out. If you feel as if you are really becoming an adult, you can go for very serious and stylish highlights. Choose between light colors to make your image more interesting. You can also make an ombre.
Sweet Sixteen Hairstyles for Girls
32. Beehive hairdo
Some girls might think that retro hairstyles should be left in the past but most stylish divas know that there is no such thing as a really outdated hairstyle. Consider making a beehive on top of your head with the rest of the curly stands falling down your back.
33. Simple tricks
Letting your hair down might not be the best idea for an active birthday party. But there are a few tricks of keeping your locks down and out of the way. Take one strand from the front, pull it across the back of your head and pin in on the other side. One thin strand can hold your locks back and out of your way.
34. Let it down
If you really want to flaunt your beautiful locks, no one can hold you. This quinceanera hairstyle is all about showing off your curls. Make neat waves and curls and let them flow down your back and your shoulders. Use a headband to keep the hairstyle neat.
35. High hair and long ponytail
Curls are always the best choice for a special occasion. Add some flavor to your curly ponytail by making a small beehive on top of your head. Secure it with some pins and add bright accessories. You will definitely be a star.
36. Messy bun
This hairstyle is great for women with thin and short hair. Lift your locks upwards and create a very loose bun. If your hair is too short, you can just pin it upwards. A good hairstylist can make this haircut out of any hair length.
37. Long weave
Your own hair is long but you want it to be longer? A long weave will do the trick. Choose the hair extensions to match your hair color and make your locks as long as you wish. This quinceanera hairstyle has no borders.
38. Make it visible
Many girls choose a hairstyle with their hair swept backwards into a bun, braid or ponytail. Don't forget that a special occasion is a time for photos.
Your amazing do will be invisible on the pictures if you leave it in the back. Try to make buns closer to one of the sides and let your ponytails and braids hang over your shoulders.
39. Braid it away
Braids are always a great help when you want to create something impressive on your head. Consider making several braids. One is usually created on top to run around your head and the other one on the bottom to fall down your back.
40. Get a tiara
Turning 15 means becoming a young woman. And any young woman should feel like a princess. Get a tiara to make your image more regal. Tiaras come in all shapes and sizes and can be chosen to suit any quinceanera hairstyle you pick.
These wonderful options can suit any young woman out there. Choose the one you like best and try it. You can even create one in advance to see how it looks. We are sure you will love your new image and become a real queen of the party.