Robyn Rihanna Fenty, popularly known as Rihanna, styles her hair in various ways every now and then. Among all the hairstyles she wore, the Rihanna's blonde hairstyles are the most popular. This diva is known for her love of various styles. She loves mixing black and white, faux and natural, short and long.
Many women all over the world are waiting for her next image so they can happily copy it. Rihanna is a fashionable artist and she takes special care of her image. She has various stylists working round the clock to come up with the next breathtaking appearance. Her blonde hair looks stunning even though sometimes it's just a wig.
Best Blonde Hairstyles by Rihanna
No matter what type of hair you have and what your natural color is, you can easily enjoy the Rihanna blonde hairstyles we collected for you below. If you are ready to do a little work with your hair and some research when it comes to wigs and hair extensions, welcome to the world of the fashionable images.
Copying Rihanna is the right way to go since she never makes a mistake when it comes to looking beautiful and stylish. This is a fail-safe way for you to look stunning.
Dark skinned girls can have a lot of fun taking advantage of Rihanna blonde hairstyles. They are created to suit the dark skin and look perfect when combined with naturally dark hair. Black girls shouldn't miss the chance to check out the below blonde hairstyles for themselves.
Remember, the easiest way to achieve a blonde hairstyle is to try a wig. The next simple approach is hair extensions. If you tried both, you can easily start on your way to blonde dyeing.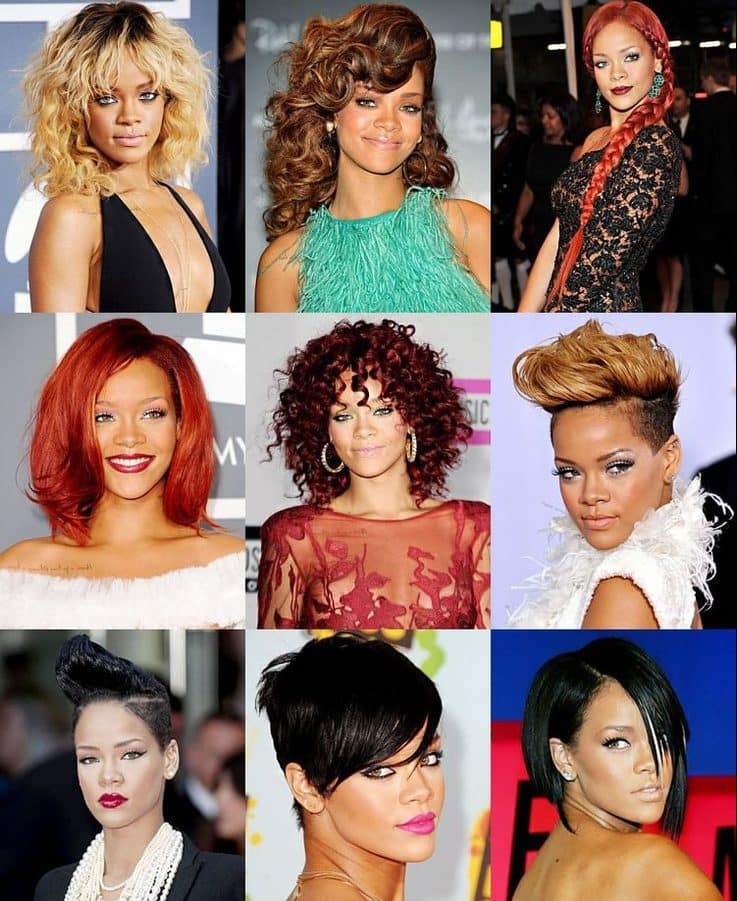 Rihanna Blonde Hairstyles for Long Hair
If you have long hair, you can take advantage of most of the below hairstyles created for Rihanna. Long-haired ladies can enjoy various techniques such as ombre and balayage. They don't have to think about hair extensions to have fun with braids, buns, and ponytails. If you have long hair, you can consider creating bangs just like Rihanna to look even more amazing.
1. Strawberry blonde wig
If you are just starting on your way to creating a beautiful blonde hairstyle, you might want to try wearing a wig for a few days. Besides giving you a stunning image for a special occasion, it can give you an idea of which shade of blonde to use.
2. Caramel blonde undercut
This undercut is a wonderful way to make a statement. Rihanna kept the sides short and natural while the top is dyed caramel blonde. The undercut is rather high but the long top part makes the hair voluminous.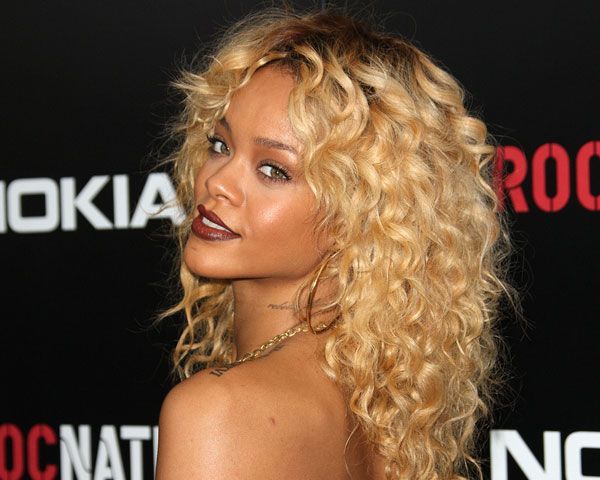 You can get a truly regal look with this Rihanna blonde hairstyle even when the roots are showing. The secret is to choose the right shade of blonde. Honey hues are always popular but they are hard to achieve on dark hair.
Taylor Swift Hairstyle Transformation
4. Long bangs
Long bangs are always a smart choice when it comes to straight hairstyles. The blunt bangs give an accent to your eyes and cover up any forehead wrinkles you might have. Such hairstyle does a great job framing your face.
5. Soft waves
If you have a special occasion coming up, consider adding your honey blonde locks a little wave. If your natural hair is curly like Rihanna's, you'll need to do some straightening to achieve this look.
Hottest Blonde Hair Colors of All Time
6. Blonde and simple
Straighten out your locks to get this simple Rihanna blonde hairstyle. Take a look at how careless this image is. It's a wonderful option for everyday wear. You can avoid brushing all day long.
Platinum blonde hair color is one of the hardest to achieve on dark hair. If you are sure you need this shade, you might need to endure a couple of bleaching sessions in your hairdresser's chair. The result is priceless!
Rihanna blonde hairstyles are truly fabulous. Each one of them is carefully picked to make a great impression. Don't hesitate to be a copycat and take advantage of these Rihanna's styles today.