11. Short Box Braids With a Colour Flash
If you don't feel brave enough to experiment with a full head of colour then remember that, when it comes to colour, a little can go a long way. Choose your favorite shade and add just one or two braids of color throughout your hair: these will really stand out and pop and this is an easy way to give your short braids a fashion-forward edge.
12. Short Braids with Side Swept Fringe
Skinny box braids such as these take much longer to apply, so prepare to sit in your stylists chair for a few hours, but the results are certainly worth it! Skinny box braids look more natural, are easier to style, and offer the most protection for your hair. This short pixie style offers the perfect balance to the slenderness of the braids.
13. Blunt Lilac Box Braid Bob
Lavender is such a pretty and feminine hair color, and definitely not something to shy away from if you want something different and fashion forward. Add a tough and urban edge to the girly shade by asking your stylist to finish your braids with a blunt and angular style: the straighter the better. Add minimalist makeup, oversized shades, and go.
14. Chic Box Braids with Central Parting
To ensure your braids look chic and modern, pull them into a slick central parting that even the most committed fashionista would be proud of. Central partings are ideal for showing off high forwards, slender noses, and full lips: emphasis yours with a slick of lipstick to recreate this look.
15. Box Braid Bob with Twisted Up Do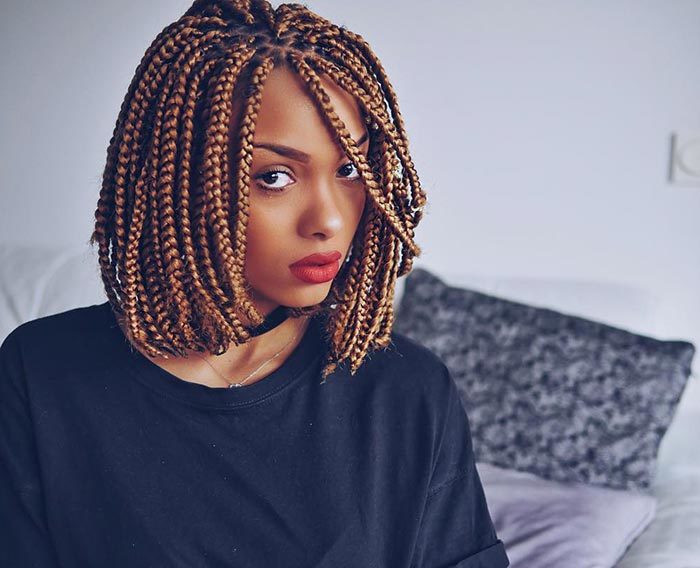 Who says you can't add an up do to short box braids? Add height and volume to your style by twisting your braids onto the top of your head to create a low key demi bun. Not only will this pull your hair out of your face, it will also create a feeling of glamor and evening style: this is the perfect way to style shorter braids for formal events.