Women who want short burgundy hair know that they have to choose the right style or their hair won't look the best that it can. This hair color is bold, impressive, and sure to attract attention, which is why women need to make sure to choose the best style for their personality.
Lovely Short Burgundy Hairstyles
These 10 wonderful burgundy hair color ideas are all great options for women with short hair who want to stand out in a crowd.
There's something undeniably amazing about burgundy curls. These are vibrant and full of life because the curls are so short and have so much volume.
Unlike other curls that are loose and wavy, these are much tighter, which gives them a ton of personality and interest. They are a great option for any woman who is incredibly self-confident and wants to show that off.
Short burgundy hairstyles don't have to be curled, as this great cut shows. It's a simple bob that is made impressive thanks to how deep and true the color is, but also because the hair is so sleek and stacked.
The way the hair is cut adds a bunch of volume, making any woman look like she has impossibly thick and luxurious hair, even if hers is a bit thinner.
Beautiful Burgundy Hair with Blonde Highlights
The very short curls on the top of the head in this style aren't the real star of the show – it's the faded sides and the design cut into the fade.
Strong lines around the face and the nape of the neck show off how attractive the burgundy hair color is, as well as the great design. This style does require regular upkeep to not look messy or grown out.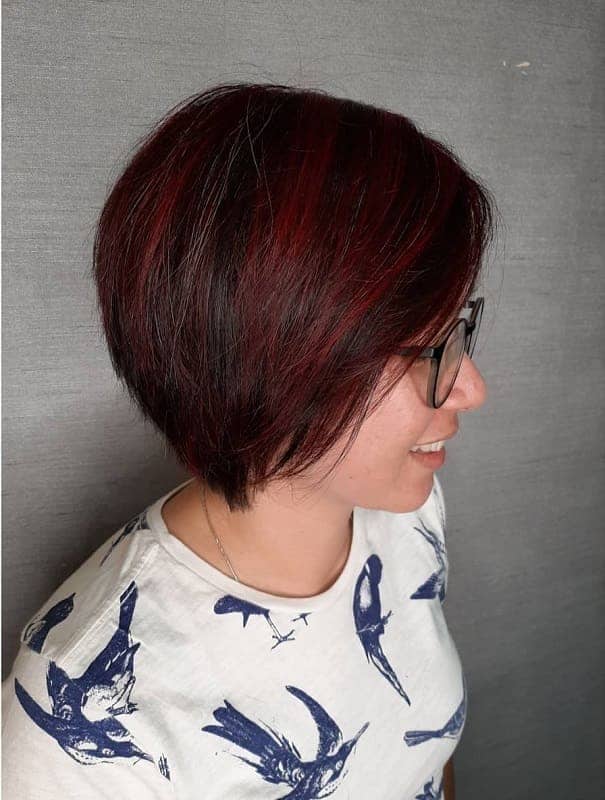 It's easy to take a plain dark bob to another level with the addition of burgundy highlights. These highlights do a wonderful job adding interest and dimension to the short haircut.
Because the highlights are so strategically placed throughout the dark hair and don't take up the whole head, this style and color can easily be worn to work or to school without being a distraction.
Simple curls are often one of the best ways to show off a deep burgundy color. The short hair is curled so that it rests away from the face, which ensures that women can easily see without their hair getting in the way.
Additionally, this allows the curls to catch the light, making some of the hair look brighter and some darker, giving it a lot of depth.
Short hair looks great when it has a lot of texture. This short burgundy haircut has multiple layers cut into it so that the hair can easily be styled to stick out from the face.
This gives women a lot of diversity when they want to style their hair and ensure that they won't ever get bored. Short bangs are key to drawing a lot of attention to the eyes.
Epic Burgundy Plum Hair Color for 2021
This is a sleek and updated look which is great for modern women. The hair can be tucked behind the ears if it gets in the way.
Because it is so straight, it hangs easily to the shoulders, without any curl. This does mean that it requires regular trims, but the effort is worth it, as it looks great.
Dark roots are a great contrast to burgundy ombre hair and make this gorgeous color pop.
The dark roots on this style are allowed to grow out very long, which gives the look more of a two-toned appearance than if the roots were shorter.
It's an intentional look that easily hides the process of growing out the hair and makes it look great.
A simple bob gets a great upgrade with this burgundy hair color thanks to the curls. Rather than curling all of the hair, women can simply curl it from the eyes down, which adds movement to the hair without too much effort.
Because of this, this style is very easy to handle and to create, and is sure to become a favorite when women don't have a lot of time in the morning to get ready.
Lovely Burgundy Hairstyles for Black Girls
Rather than tucking bright burgundy hair back and away from the face, this pixie cut with long bangs celebrates the color by allowing the bangs to hang down a bit over the forehead.
The rest of the hair is trimmed to undercut. This is a bolder and brighter burgundy than some other women opt for, which means that it is a great choice for standing out in a crowd.
Short burgundy hairstyles are sure to make any woman feel more confident and exciting. Choosing one of these great options will help any women embrace who she is and express her personality.