11. Straight shoulder length bob
This is a great look for women with thin hair. The style might need a little maintenance but it is truly worth it. This simple cut will make any woman with a round face look outstanding. Bangs can be played around with as well.
12. The short perm
Messy short curls do wonders to create a cute and a somewhat wild look in women with round faces. Natural curls might not need much maintenance, however, a perm will require some styling. If most of the curls are kept up top, the hairstyle with wonders for face elongation.
13. Layered pixie
A layered short pixie is a great way short hair for round faces can be styled. The best part about it is the easy to achieve volume and minimal maintenance. Such pixie will make any woman look younger.
14. Short curly flip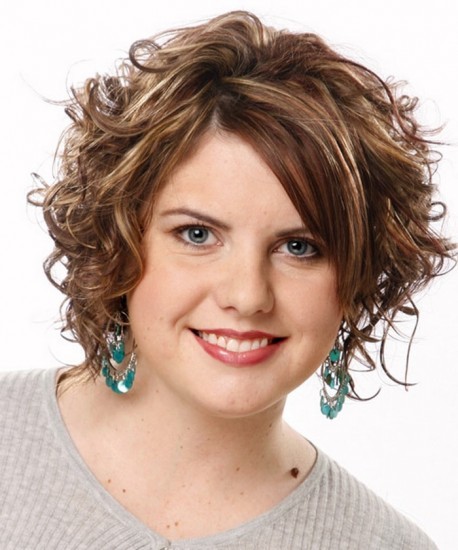 The lively nature of the short curly flip is very feminine and will add any woman some extra vibrancy. Due to the voluminous curls the top part of this model's face is accentuated, which makes an impression of elongated face shape.
15. Windblown bob
This is a very charming way to shape a bob. The windblown appearance draws attention to the hair and opens up the face. The style might be hard to maintain, but there is no other way to achieve such vibrant uniqueness.
16. Classical straight bob for women with round faces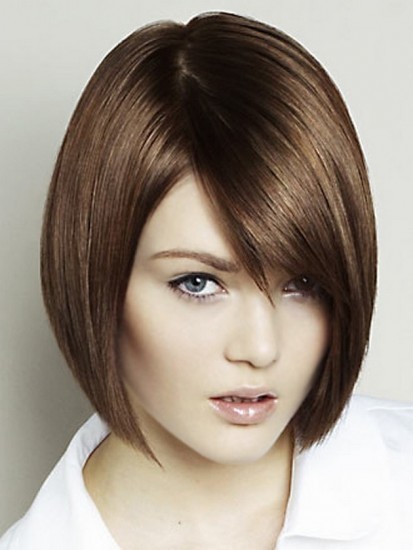 The classical straight bob is often a great style of choice for women with round faces. The hair accentuates the facial curves, however, the sharp straight ends make an impression of an elongated chin, which is great for the round face shape.
17. Hair extensions
Hair extensions is a way out for those women with round faces, who are tired of short haircuts. So if bobs and pixies have become dull and boring, hair extensions are the best choice. The longer the hair the less obvious is the round face type.
18. Wavy shag
Short wavy shag is a great way to emphasize the round or heart-shaped face while keeping a stylish and low-maintenance cut. Lucky owners of thick and wavy hair can make different shags of any length without losing any style.
19. Spiky highlighted tousle
Using spikes is a great way to reduce some roundness. Properly chosen highlights add any short haircut a lot of style. Spiky highlighted tousle is an amazing mix of three different approaches to making a short haircut look fabulous.
20. Elevated layers
Elevated layers make an unusual hairstyle, which will make you look amazing and stand out of the crowd. This hairstyle is great for special occasions and requires some serious maintenance. The vibrancy it creates will leave any woman satisfied.