Are you a fan of Taylor Swift and her music? If so, how about Taylor Swift's curly hairstyle? She is an icon who always amazes people with her golden locks, beautiful blue eyes, and a true sweetheart personality!
How to Style Curly Hair Like Taylor Swift
Step 1: Wash your hair with cold water and proper hair shampoos & conditioners. Since curly hair is on a drier side, make sure you use oil enriched products. Also, cold water is great at boosting growth and defining curly strands.
Step 2: Detangle your hair and each knot by starting at the bottom and gradually move upwards Make sure your hair is semi-dry before you comb it, and never comb through just washed hair since this can cause breakage. Always use a wide-tooth comb to brush through.
Step 3: Add your favorite styling products by applying them evenly through your hair. Use oils or creams & gels to define every curl. You should also use a heat-protecting spray which will protect your hair from getting frizzy.
Step 4: Blow dry your hair with a diffuser to keep that curl pattern, but to also prevent your hair from any additional damages. Place your hair directly into a diffuser and work your sections little by little.
Step 5: After you dry it use a hair spray to seal the deal and to add even more shine to your strands. Wash your hair every 3-4 days, and keep it tied up in a Dutch braid to preserve those curls.
Popular Actor and Actresses with Curly Hair
Popular Curly Hairstyles of Taylor Swift
If you are trying to copy her look sometimes in the future, here are the top 7 Taylor Swift's curly hairdos that you should try out.
This curly loose & long ponytail is an ideal choice for the prom! Women who want to stand out will love Taylor Swift's this curly hairstyle for their formal gatherings. You should leave this low pony on one side, and shower your exposed shoulder in highlighter and glitter! It will leave you with a feminine & playful outcome.
Women who love minimal hairstyles will enjoy this Taylor Swift curly hair look. The side bun looks like something an ancient Greek goddess would wear, and it can probably suit every woman! However, it is most recommended for those who have oval faces, and who love simplicity.
3. Curly Hair with Textured Top
This curly hairstyle that Taylor Swift rocked is an ideal go-to choice for your daily activities too. It looks chic, feminine, playful, and it isn't hard to achieve at all! You should use a small bobby pin to seal your hair in the back and to get your long bangs away from your face. Luckily for you, this can be an amazing office look!
This short & retro cut is something that you usually see Hollywood stars rock. If you are a fan of shorter hairstyles, a big & bold red lip, this look will suit you! Make sure you ask for this curly hairdo of Taylor Swift when at the salon, and proudly show it off to your next big wedding!
Beyonce Inspired Curly Hairstyles to Copy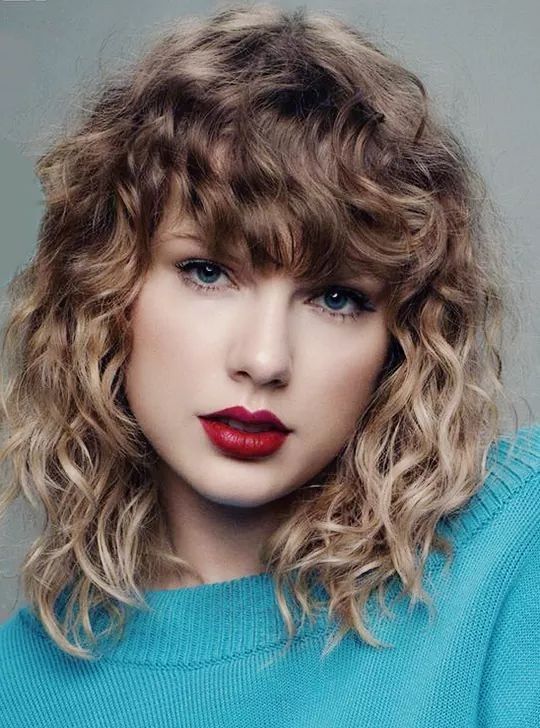 A lot of texture is great at emphasizing your facial features. This look is wearable to any event and isn't hard to achieve at all. Simply add some styling mousse to your curly hair, and don't forget to twist your fringe bangs!
You can enjoy this Taylor Swift with curly hair look during any big & formal event, and you should pair it along with some nice silver jewelry. This one is very sophisticated, and it may suit older women the best.
Lastly, this old-but-gold blonde curly hairstyle was something that Taylor Swift used to rock back when she was just getting started with her music career. If you support and prefer these long beach waves, make sure you embrace this hair-do for any casual or even formal event.
Why We Love Hawaiin Hairstyles
Did you fall in love with these Taylor Swift curly hairstyles? If so, which one was your favorite? Curly hair is an often must during the Summertime, which is why you should embrace this look when the season starts. It can look effortlessly chic while leaving everyone around you breathless!