Ronnie Banks is best known for his taper fade haircut. He has managed to demonstrate a fair amount of versatility with his style.
Also, Ronnie Banks' style is an excellent blueprint for men of color or those individuals who have a kinky grade of hair. From styles that complement curly afros to designs that add a bit of flair to a decent buzz cut, Ronnie Banks's hairstyle portfolio is amazing!
Here are the 5 best Ronnie Banks hairstyles.
Ronnie Banks' Taper Fade Cut
Ronnie Banks' taper fade could spark a bit of kinky fro envy. Hair is lush and gives a sense of hair that is healthy! This hair just needs a bit of moisturizing oil (i.e. argan or coconut oil) to sustain its health. The sides and back are nicely tapered by design with a clean part on either side.
Ronnie Banks' Taper Fade with Color
Ronnie Banks' Curly High Top Fade with Color changes the look of this bountiful, kinky fade. This fiery bronze color adds a layer of dimension to the style. One thing that those who choose to follow in Ronnie's footsteps and color their hair will need to keep in mind is that color requires great care. You must establish a regimen to keep hair healthy. Color can strip hair, leading to split ends and ultimately breakage. Moisturize your hair with shea butter or oil. Use a moisture-rich shampoo and conditioner.
Ronnie Banks' Cornrows and Man Bun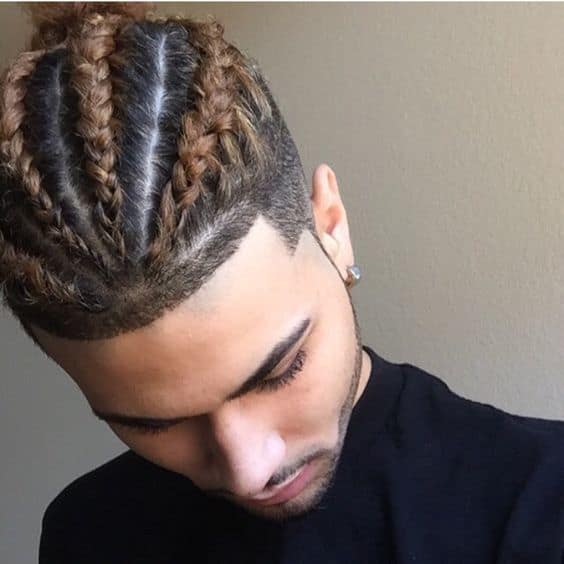 Ronnie Banks' Taper Fade gives way to cornrows and a man bun. Rather than going with a traditional man bun, this style adds a bit of texture and class to the natural curly fade. Also, when it is later taken down, Ronnie will have a bountiful twist-out style.
Ronnie Banks' Caesar Cut
Ronnie did not always wear a taper fade cut. This classic Ronnie Banks' Caesar Cut is a classic style. Does anyone else hear the sounds of 1998 calling their name? The Caesar Cut never goes out of style and is quite relevant today. It is a style that is particularly appealing to teenage boys and young men and believe it or not, there are many variations of this hairstyle to choose from for those considering donning this look including the short Caesar cut, the Caesar cut with curly bangs and the classic fringe with fade Caesar to name a few.
Ronnie Banks' Freestyle Taper Fade
Ronnie Banks' long curly taper fade lends itself to free-flowing curls that have a bit of length. For those who do not possess the genes for natural curls, this look can be achieved with a perm rod set at the salon or behind closed doors in the comfort of your own home.
Again, this texture of hair and color may require a bit of care to sustain the health and definition, while reducing the frizz factor. Thus, remember that oil is your friend and on occasion, invest in a moisture-rich conditioner.
Exclusive Short Haircuts for Black Men
Get more hairstyle inspirations from other male celebrities:
These are just five of Ronnie Banks' best hairstyles. Ronnie Banks' Taper Fade is versatile under the right circumstances and in the hands of the good barber or stylist, so do not be afraid to try different looks. For any of these styles to work, you must establish a regimen if you are seeking to mimic and sustain this look.