#6: Mid-Length Goatee with Sideburns and Full Mustache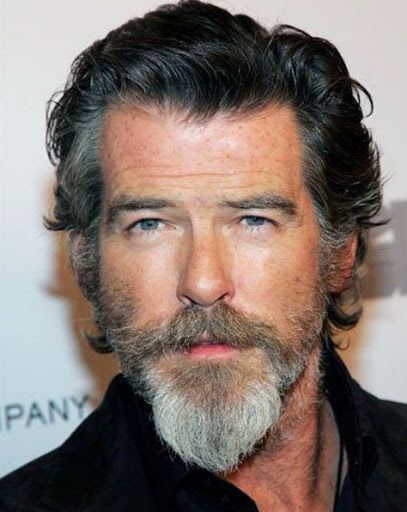 Again, the classic goatee is paired with a short but full beard. The goatee is longer and fuller than the facial hair on the cheeks, and this clearly delineates the goatee as separate. The full mustache is slightly shaped into a devil style. This facial hair style is classic yet still presents a groomed appearance.
#7: Short, Full Goatee with Waxed Handlebar Mustache
If you have full facial hair, this style will work for you. Keep your goatee relatively short, but let it grow in fully and up the cheeks a bit. Pair this look with a connected, waxed handlebar shaped mustache and you'll look clean and sexy but still modern. This is a good option for the man that cares and has some time for daily grooming yet still wants to look masculine.
#8: Full Classic Goatee
If you have very full facial hair, aim for this goatee style. A very full classic goatee is always a good look. It says, I'm rugged but still sexy. Neat and clean, this look can be professional but still low maintenance, making it a good choice for many lifestyles.
#9: Classic Goatee
The classic short goatee is connected to a short mustache in this look. With no facial hair on the cheeks, you get a look that is neat but still handsomely rugged. This handsome, classic style flatters many facial types.
#10: Trimmed, Thin Goatee
The classic goatee can be trimmed very short, emphasizing the mustache and soul patch below the lower lip. If you allow a five-o'clock shadow to grace the cheeks, you get a style that is chic but still masculine. This slightly scruffy look works well on young men or anyone who desires a low maintenance but still trendy look.