Waterfall braid with curls take the best of both worlds and present to you on a platter. Wearing waterfall braids is always fun. Besides keeping your hair neat, they allow most of it to cascade down and create an amazing hairstyle. When you add some curls, an everyday style turns into something special. A waterfall braid with curls is great for special occasions. The best part about them is that they suit everyone. No matter what type of hair you have, as long as it's at least shoulder-length, you can enjoy a wonderful curling cascade coming from a nice braid.
How to Make a Waterfall Braid
Every girl knows at least a few tricks how to make great curls, but creating a waterfall braid can seem like a long shot. In reality, a waterfall braid with curls is as easy as pie. Let's take a look.
Take a two-inch thick strand near your hairline. Divide it into three section as you would for a classic French braid.
Take the highest strand and cross it over the middle strand.
Take the lowest strand and cross it over the middle strand (which used to be the highest).
Take some hair located near the higher strand and mix it with the higher strand.
Take the higher strand and cross it over the middle strand.
Now instead of going forward and crossing the lower strand over the middle strand like you would with a French braid, just let it go and allow it to drop.
Take another strand next to the braid and cross if over the middle one.
Follow the instructions until you go all over your head. Keeping adding new hair to the higher strand, crossing it over the middle strand, and dropping the lowest one. Every time you drop the lowest one, you pick up a new higher strand and cross it over the middle.
Once you get to the other side of your head and drop the last lower strand, don't take a new one. Take a new strand from near the hairline and go on to continue with a classic French braid. Use an elastic band to secure the braid. It's better to use a clear one.
Use hair spray to keep the locks in place
Now that your waterfall braid is done, you can take out the curling iron and curl each of the strands. If you already have curly hair, you might want to straighten them a little before creating a waterfall braid. Otherwise, frizzy hair might render it practically invisible.
Cute Waterfall Braid with Curls for All Hair Types
Waterfall braid with curls can make your dream of a simple yet stunning hairstyle come through. While it might not be easy to achieve, this style is bound to make an amazing impression. You can wear such a braid to your graduation party, wedding, or an office get-together. With some practice, you can learn how to make an amazing waterfall braid without too much hassle. Adding some curls is always the best bet to turn a classic hairstyle into something truly special. We collected five interesting options for you to check out.
1. Highlighted waterfall braid
If you have highlights, you can try choosing the highlighted strands to make your stunning waterfall braids with curls. When the colors of the cascading strands and the braid differ, the effect is truly mind-boggling.
2. Loose and natural
If your hair is naturally curly, the waterfall braid might get lose against the background. That's why you should consider making a loose braid, which allows you to get a natural and exciting appearance while keeping the hairstyle visible.
Waterfall Braided Updos for Women
3. Wedding style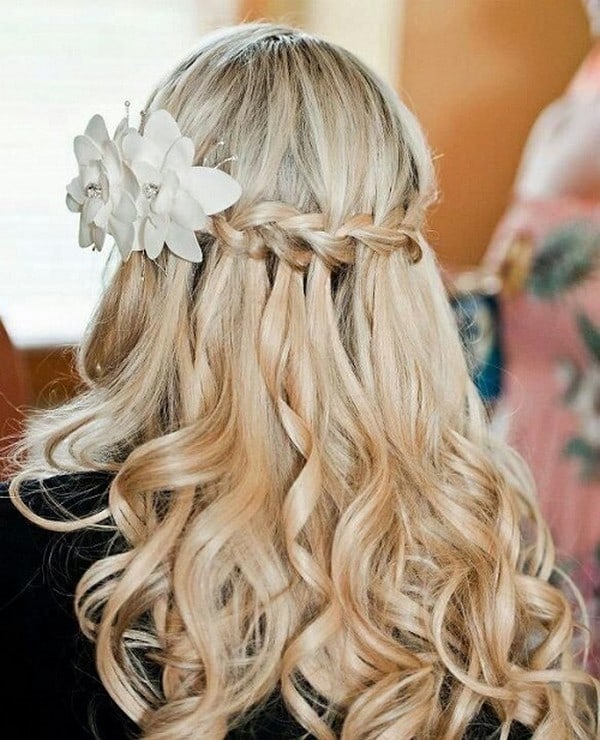 Waterfall braid with curls looks amazing as a wedding hairstyle. The best part about it is that it provides special space for hair accessories and a veil. If you are choosing the color for your wedding hairstyle, all shades are blonde will do.
4. Partial braid
The waterfall braid doesn't have to run around your whole head. It can start near your hairline and go toward the bottom. Such partial braids look wonderful whether you have naturally curly locks or do a few tricks with a flat iron.
5. Double fun
A double (or triple!) waterfall braid looks even more amazing than the classic single one. Play around with your hair to create a true curly masterpiece. A double braid takes just a little extra effort to make but creates an amazing impression.
Top 30 Poetic Justice Braids You'll Love
We hope these waterfall braids with curls inspired you to give one of them a try. You might not make a perfect braid the first time you do it, but soon you'll become a real braiding guru. Good luck!