Many women over 50 age have a tendency to cover up their naturally turning silver hair. As women, we're taught from a young age that getting older is unattractive and that we should cover up the gray or silver with hair dye to maintain a youthful look.
However, aging is nothing to be ashamed of, and embracing your natural hair color is one of the most attractive qualities!
If you're a woman over 50 who hasn't yet covered up your silver hair or are growing it out and are curious how you can make it look its best, we've got several beautiful silver hairstyles for you to try! From highlights to ombre to a full head of silver, there's something for every lady.
Stylish Silver Hairstyles for Women Over 50
Once you see the below beautiful ways to wear silver hair color for over 50 women, you'll feel more confident than ever in welcoming your age!
1. Straight Silver Pixie
If you have a small face, consider a spritely silver pixie with smooth short layers! This hairstyle is quite suitable for women over 50 because it's easy to style, flatters bone structure, and also works well for women whose hair is thin or fine.
If you have natural black hair and like a shoulder-length cut, go for a silver twist or micro-braid hairstyle. The above hairstyle is only half braided, leaving the ends natural. Choose to wear loose or add a colorful headband to keep hair off the face. If you have short hair, you can also get this silver hairstyle in extensions!
3. Casual Silver Ponytail
Is your hair's texture mostly straight? It will wear silver hair color nicely as a balayage or ombre and look very chic in a low ponytail. To help with face-framing, have your hairstylist cut in short layers or long curtain bangs at the front.
For medium to long hair on women over 50, go for a silver hairstyle featuring long layers and piecey bangs. Straighten the bangs for a chic, sophisticated look and don't be afraid to wear hair down and loose to show off both the silver hair color and its body.
If you're over 50 and have wavy or curly hair, a silver short hairstyle is low maintenance and will beautifully show off waves and curls. The style seen above is worn with a cute hat and glasses – a sweet style for evening or weekends out and about.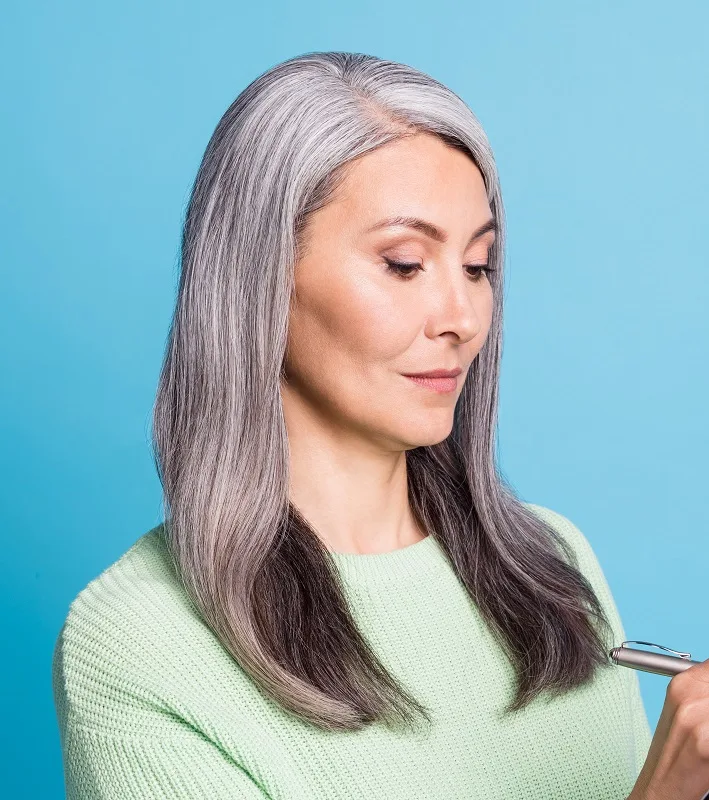 Many women over 50 choose to keep their hair long length instead of immediately chopping it off. If that's you, try a long silver hairstyle and straighten it for a sleek look. Part hair off-center to switch up the dimension in a flattering way. You can also just add some silver highlights to let a dark base peek through.
7. Short Silver Hair Combed Back
A short hairstyle with silver coloring is the ultimate sophistication for women over 50. Using a comb or your fingers and a little hair product, smooth the hair back off the face.
Is your hair longer than your shoulders? Cut in some soft side bangs to create that youthful silver hairstyle you're coveting. You can either wear the hair down and loose or pick out a cute headband for a simple style.
There's no need to color your entire head of thick curly hair silver. If you like a neutral base like brown, throw in some silver highlights to offset the color. Actress Andie MacDowell beautifully rocks her thick hair with soft silver highlights.
For the black woman over 50 with natural curly hair, no need to cover up that beautiful color! Just have your hairstylist add in some silver highlights in a medium thickness. The silver hair color will bring a beautiful light contrast to your natural dark color.
If you're over 50 and lucky enough to still have thick hair, don't even think about chopping it off! Bring all the attention to its texture by rocking a silver hairstyle. Whether it's all silver or just an ombre with a dark base peeking through, the result will be gorgeous.
Looking for an edgy silver hairstyle? This curly pixie gives off a punk vibe mixed with softness. The silver and black colors are beautiful complements together on women over 50 with a dark skin tone.
By now, we hope you're feeling just a little more inspired to rock your age through a stunning silver hairstyle. There's no need to be afraid of being a woman over 50 when you've got this beautiful hair color on your side!