Comb over hairstyle is itself an elegant and classic style, but the combo of comb-over with the hard part gives a more masculine look to men. The hard part comb-over is not only an easy haircut but simple to maintain also as it helps you to get rid of the continuous struggle to get a perfect sideline every day before going anywhere.
Comb over is a versatile style; you can do a lot of experiments with this haircut. Here, we will delve into the remarkable comb over style with a hard part that is worth trying at least once, in a lifetime and you surely won't regret it.
How to Style A Comb Over & Hard Part
Hard part makes it very easy to style a comb-over, as you don't have to find the perfect straight sideline. You just have to do the following steps;
Wash your hair and blow dry. (You can also dry your hair through a towel.)
Apply a hair gel or pomade with the help of hands.
Comb your hair toward the back and lift the front hair by brushing it up.
Epic Hard Part Comb over Styles for Men
In this article, we've gathered the top comb over haircuts with hard part to inspire your thought. Check out below:
The comb-over haircut is itself a stylish hairstyle, but when combined with hard part and taper fade cut, it becomes more remarkable.
2. Undercut+ Hard Part Comb Over
This hairstyle combo represents the modish and elegant look of a comb-over. To make it cooler, you can blond the top hair. The choice is all yours.
3. The Hard Part with a Long Comb Over
This long comb-over style with the hard part gives a voluminous look to hair. When you wore this style with a beard it enhances the grace of your personality.
4. Classic Hard Part Comb Over
This comb over's combination with hard part looks so classy on men. It gives a very polished look to men, as shown in the image.
5. Low Fade+ Comb Over with Hard Part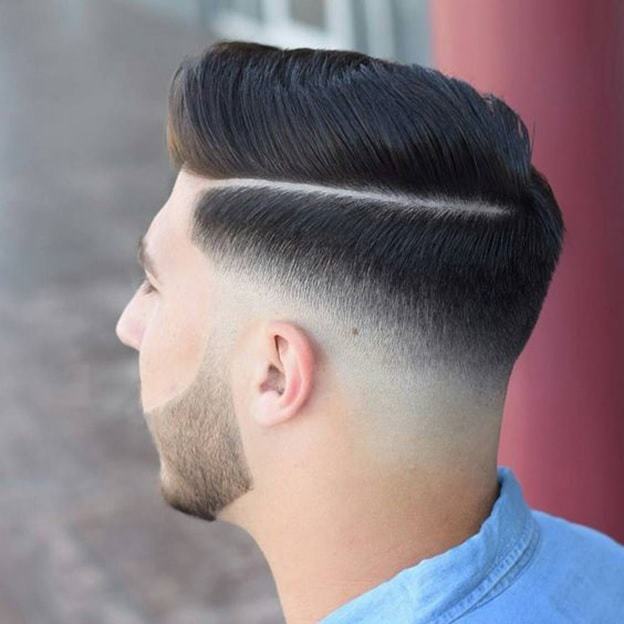 In this haircut, the comb-over is styled with the combo of hard part and low faded sides. You can grow your beard medium or long for a mature look.
6. Slicked Back Comb Over With Thin Hard Part
Slick back comb over gives a slight look of pompadour hairstyle. The sides of the head are shaved and the top hairs are combed back with the combination of a thin hard part, making the hairstyle more sophisticated. You can also wear this style with a beard.
7. Curly/Wavy Comb Over With Hard Part
The top curly or wavy hair gives a little messy look. It looks awesome with faded sides. It brings out the best look when combined with a clean hard part.
8. Skin Fade + Comb Over Hard Part
This hairstyle is trending rapidly nowadays, as it has a slightly unique look from the simple comb-over hairstyle. This haircut depends on the facial features because, on some faces, it does not suit due to the faded sides.