Disconnect hairstyles create a real contrast between the hair on the top of the head and the hair on the back or sides. Disconnected undercuts can be achieved in a few different ways. The most popular ways to do this include fades or razor-sharp tramlines.
What Is a Disconnected Undercut?
A disconnected undercut is an undercut with minimal to no fade or blending between the cropped back and sides and the longer hair on the top of the head. The top and sides are, therefore, disconnected from one another
Disconnected Undercut
Disconnected undercuts are a very popular choice for young men because they serve a lot of different purposes. Shortening the hair at the sides and back of the head will actually make the hair on the top look thicker and fuller. A disconnect also gives guys plenty of opportunities to express themselves fully.
Here is an up-to-date collection of disconnected undercut hairstyles to help you pick the right one.
1. Disconnected Undercut With Fade
On a regular undercut style, the faded portion of hair blends gradually. This disconnected undercut fade may have that feature, but there is still a big jump from the hair up top to the hair on the sides of the head, which is perfect for long hair.
2. Disconnected Cut for Straight + Thick Hair
A smooth comb over style is the perfect way to wear thick and straight hair. This disconnected Asian undercut works with, not against, your natural hair texture to create a polished yet playful look.
3. Short Undercut with Flipped Up Fringe
This look is for the fellow that doesn't want to deal with much styling. A short disconnected undercut utilizes cropped sides to keep things clean cut. For a fresh feeling, flip up bangs to elongate your face shape.
4. Slicked Back
This slicked back disconnected undercut lets you grow your hair as long as you desire up top while feeling groomed on the sides of your head. Quickly combing hair back and securing with a touch of product is super easy yet sophisticated.
5. Curly Disconnected Undercut
Show off gorgeous curls without having to rock a long and textured hairstyle. This disconnected undercut on curly hair uses a hard part to create long side bangs
6. Undercut on Long Hair
A disconnected undercut on long hair can easily be stylish yet functional. The short hair at the sides and back of the head will keep you cool whether you choose to sport a bun or wear your hair down.
7. Distinguished Comb over
Though many men have used comb overs to hide baldness, this style has endured the times as a refined look. Make it edgy and cool as a disconnected undercut with side part style by closely shaving hair over the temples.
8. Mohawk with Disconnected Undercut
A cleaned up style like this one actually makes a typically funky style look cool. Try a mohawk with disconnected undercut if you have a round face shape. Hair doesn't have to be short and spiky but can be longer and slicked back down the center of the head.
9. Disconnected Undercut for Receding Hairline
A disconnected undercut for receding hairline creates movement by pushing hair up and slightly forward to strengthen the appearance of the hair at the forehead. This cut is business professional but absolutely stylish.
10. Disconnected Undercut with Fringe
Bangs are not only possible with this style, but can truly set your look apart. This disconnected undercut with fringe frames your face and has a slimming effect on full cheeks.
11. Quiff + Undercut
This style combines a short undercut on the sides and a longer quiff on the top. You can style the top pairing a bit of height and volume while the sides and back are cut short and close to the head. This style is often paired with a stubble beard to create a masculine look.
12. Dyed Disconnected Undercut
The dyed hair with short sides is mostly suited for guys who have long curly tops and want to create an edgy cool look.
To get the look, you'll need to have your hair cut short on the sides and back, while the top left longer and tapered. You can then add some color to the top, either through an all-over color or with highlights and lowlights.
13. Detached Man Bun
This style for men requires long hair on top to create a bun while the sides and back blending fades up to the crown. Make sure to keep the length longer at the front to give a look more of an undercut feel.
14. Triple Cornrow
This triple cornrow style is perfect for men looking for an edgy look. The sides are cut short giving it a neat and tidy look, while the cornrows are styled in a French braid pattern to create a unique appearance. To complete the look, you can accessorize with a hair band to tie the braids together in the back.
15. Braided Knot
Men with long hair can try braiding them and pull up into a bun to get a modern and cool look. The trimmed sides add disconnected texture to the look and help to create a modern and edgy vibe.
On top of that, the color of your hair can really make this look stand out, so you may want to consider dying your hair.
16. Messy Sweep + High Fade
This hairstyle starts with a high fade on the sides close to the scalp. The top is left slightly longer and is swept over to one side. For a unique touch to the look, you may dye it with blue color.
17. Tapered Pompadour
It is characterized by a tapered fade on the sides and back, with the hair left longer and swept up on the top. The pompadour can be styled in a slicked-back finish, and you can even customize it to fit any face shape or personal style.
18. Disconnected Slick Back
For this look, start by having your hair cut into a classic disconnected undercut. The top should be kept relatively long, while the sides should be cut shorter with a clipper and give a dramatic contrast between the two lengths. Once the cut is complete, style the top hair into a slick back using a strong pomade.
19. Undercut with Design
It requires a shorter side, while the longer top is styled in a puffy slicked-back way, making it great for any man who wants to go to a casual hangout. Finish the style by designing the sides with a combination of scissors and clippers.
20. Medium Choppy Undercut
This style involves leaving the top of the hair medium while the sides and back are buzzed short. The hair is then swept forward with a choppy, textured look making it low-maintenance and easy to style.
21. Puffy Slick Back
Trim the sides and leave the top long and then slick back to get this unique appearance. The hair can be styled using a medium-hold hair cream to give it a glossy, wet-look finish.
Finally, use a blow dryer to lift the roots and give the hair more volume with puffy look, which looks great with any outfit.
22. Wavy Quiff + Skin Fade
If you want to show off your sharp and edgy appearance, try a wavy top undercut. The skin fade on the sides and back keeps it looking fresh, which can be worn formally or dressed up for a more casual occasion.
23. Long Fringe with Disconnections
The fringe fade is best suited for men with straight to wavy hair and is easily styled with a bit of hair cream and a comb. To create this look, start by trimming the sides and back of the hair short. Next, leave the fringe longer and cut it into layers.
24. Viking Inspiration
Blending Viking hair with shaved sides gives an appearance of a classic disconnected undercut fade. This hairstyle is perfect for those who have a strong jawline and want to add a modern edge to their look.
25. Disconnected Undercut Quiff
This hair-raising style may have been popular for years but it's the undercut feature that makes it feel modern. A disconnected undercut quiff may require focused styling each morning, but a quick blow-dry and dab of pomade is all you need.
26. Disconnected Undercut Afro
It's easy to let gorgeous texture steal the attention, but this disconnected undercut on Afro hair is rather restrained. This has the effect of revealing your face and feeling on-trend.
27. Choppy Textured Undercut
A messy disconnected undercut is perfect for younger fellows that need to express their personality. This look is easiest to create on fine hair with layers. Use your fingers and a small amount of wax to tousle and separate strands.
28. Disconnected Undercut for Short Hair
If the flipped up style isn't your thing, then this short and side swept look may be more your speed. Hair should have a part but it don't worry about making it crisp, this look is more on the casual side.
29. Pomp Comb over
Combining both a pompadour and a comb over will give you a Ralph Lauren model vibe, and who doesn't want that? The look is great on thick, straight hair and a chiseled chin.
30. Disconnected Undercut Pompadour
A true pompadour uses height and flair to create a retro, 50's inspired look. It's the short, shaved sides underneath that make it feel fresh and on trend.
31. Disconnected Taper Undercut
Add a little interest to the side of your hair with a disconnected tapered undercut. There is still a line of demarcation between the long hair and buzzed sides thanks to a hard part, but a gradual fade is elevated and modern.
32. Slicked Back Style with Fade
Accentuate the hair on your head with a fade between your facial hair. Use gel to slick back your style, which will prevent you from ever having a hair out of place.
33. Spiked up with Heavy Tramline Disconnect
A thick or heavy tramline disconnect will really allow your hairstyle to stand out. Give your look more volume by spiking your hair up using a soft hold hairstyling gel. You can also browse the latest disconnected hairstyles here.
34. Disconnected Undercut – Foppish Side Swept Hair
Mid-length soft hair can be swept over from one side to the other, in order to create a foppish hairstyle. For maximum impact, you must keep your hair free from knots and tangles.
35. Silver Fox
If you are starting to go gray, a disconnect can really help. Gelling your hair back can help to hide any hair loss that you might be experiencing.
36. Short and High Fade
Keep cool with a short and high disconnect fade haircut. This type of hairstyles help to show off the shape of your skull.
Young Teenage Guys: Try These Trendy Haircuts in 2023
37. Soft and Wavy Spikes
Soft and wavy spikes are a very popular look with hot young celebrities. Create perfect spikes by holding your head upside down and running lots of styling product through it.
38. Subtle Bangs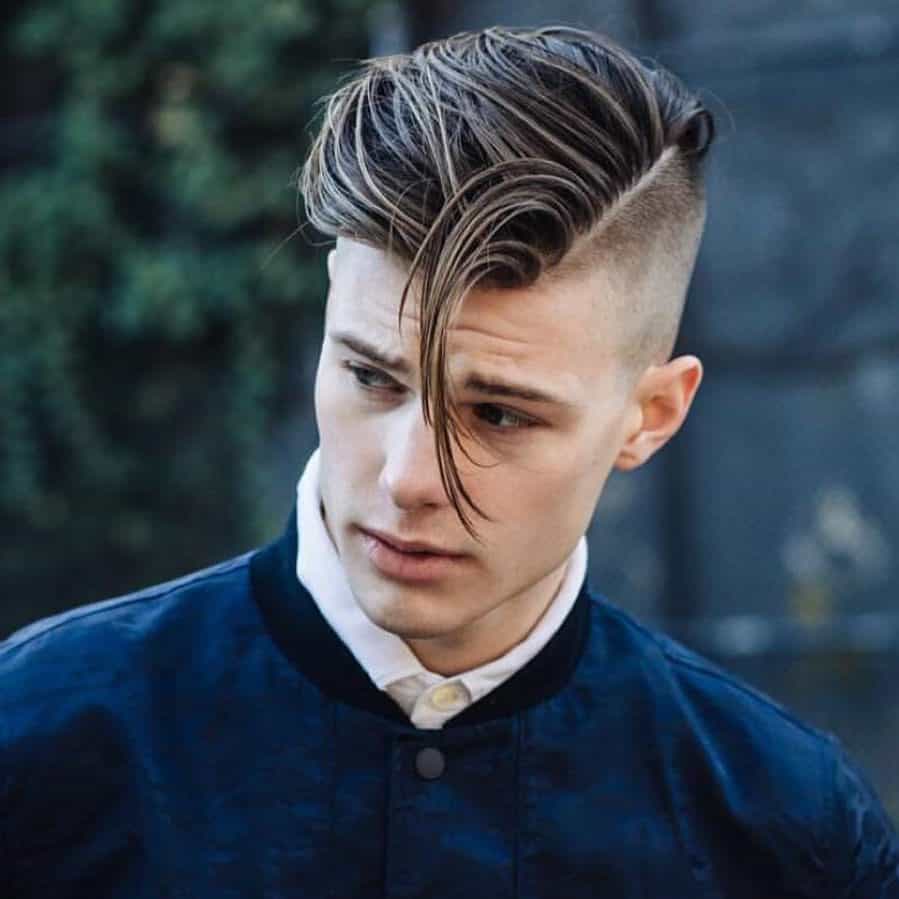 If you have a soft and light hairstyle, you can give yourself some subtle bangs by letting a few strands cover your face. Subtle bangs look good because they seem youthful and playful.
39. Mohawk with Curled Bangs
Mohawk hairstyles can sometimes look harsh and abrasive. Soften your style a little bit with lightly curled bangs that flop down over your face.
40. Wedge Shape
Wedge shaped styles have more volume at the front than at the back. Wedge cuts are a great trick if you want to make your head or face seem bigger.
41. Wide Voluminous Peaked Fringe
Create a hairstyle with even more volume by combing upwards from the roots. If you want your hair to stay looking soft, you should try to avoid heavy styling products.
42. Thick and Lush Locks
Mid-length hair looks great on guys with thinner faces. Thicker styles can help guys to look bigger by helping them to increase the size of their head.
43. Swept Back Hair with a Peaked Fringe
Sweeping back your hair is a great way to keep it out of your eyes, as long as you use light styling products to keep it in place. Add a little volume at the front of your style to create a peaked fringe.
44. Curls with a Fade
If you do not have naturally curly or wavy hair, it can be quite hard to recreate a style like this one. A fade will really help your curls to stand out and make the most of your natural style. You can also try the quiff disconnected hairstyle.
45. Floppy Mohawk with Heavy Tramline Disconnect
If you have a floppy mohawk, you should make sure that you keep it well-groomed and free from tangles. A heavy tramline disconnect will help your floppy mohawk hairstyle to stand out more.
46. Bleached Blonde
Grab some attention for yourself with a vibrant bleached blonde hairstyle. If you are using bleach to take your natural color away, you should take care of the chemicals.
47. Slicked Back Professional
Slicking your hair back is a great way to keep it neat and tidy for a professional look. A fine-toothed comb is an essential accessory for guys who want to wear their hair in this style.
48. Choppy Spikes
Choppy spikes are a brilliant fashion choice if you are looking for a style that isn't perfectly groomed. You can pull all of your spikes in the same direction, or you can style your hair some spikes point in different directions.
49. Line Up Fade and Thin Disconnect
Line-up cuts and disconnects are a good way to introduce lots of new angles to your style. For maximum impact, you must make sure that all of the lines are clear and crisp.
50. Front Loaded Hairstyle
Create a new dimension in your haircut by pulling your bangs forwards into a strong fringe. You will need a strong hold hair product to keep this style in place.
How to Do Disconnected Fade
In order to get this hairstyle you need to grow your hair to about two inches; the optimal length for a very noticeable disconnected fade. Use a clipper to shaved sides and set razor of the clipper to #1 in order to touch up edges at the neckline.
Brush back long hair on top without cutting to create this disconnected effect. Fading of the sides allows hair to get thicker gradually until the point where it meets the disconnected part of your hair.
This haircut doesn't require a lot of styling mostly because the best effect is achieved when hair is brushed back. That way, you get a lot of volumes which only amplifies disconnection.
Disconnected Fade
51. Classic Disconnected Undercut
If you're looking for the classic disconnected undercut fade, then you may want to try this one. Hair is gently brushed back which gave it more volume while sides are faded for a more dramatic effect.
52. Structured Style
Pragmatic guys who love more structure in life (and hairstyle) will absolutely love this take on the disconnected fade. The shaved line right under longer hair emphasizes disconnection while the front is also perfectly shaped for a sleek impact.
Instead of brushing your hair back you can comb it over to one side with a side part. This type of disconnected fade is ideal for guys who love to stand out.
54. Messy Disconnected Cut
Besides sleek and voluminous disconnected cuts you can also opt for messier kind. This hairstyle sits lower than standard disconnected fade styles which are usually shaped on the top of your head. In this case, the upper part is bigger and longer. Hair strands are messier, and the strong line accentuates the overall effect.
55. Highlights and Undercut
Men who love to experiment with different haircuts may want to try disconnected fade with highlights. In this case, the upper part is longer which gives you, even more, volume and fullness.
How To Get a Disconnected Undercut
The most reliable way to get a disconnected undercut is to visit your barber or stylist. Show them one of the example pictures above for inspiration! Make sure to clarify that you do not want a fade.
If you own hair clippers, you can also attempt a DIY approach. Since a disconnected undercut does not require fading or blending, it is easier to do at home than a regular undercut. If you mess anything up, you may have to buzz your entire head to even your hair out.
If you want to give yourself a disconnected cut, begin by making sure you can see the back and sides of your head using two standing mirrors set across from each other. A hand mirror will not work, as you need both hands free.
Begin by sectioning off your hair. Pull the hair of your crown away from the sides and back. Use a comb to straighten out the outline of your undercut. When satisfied, clip the hair at your crown (if it is too short to clip, you are best off just going to a barber).
Use your clippers to shave the sides and back to the desired length. Remember—it's always easier to start long and go shorter.
Finally, clean up the back and sideburns by using the clippers without a guard.
How to style disconnected undercut:
FAQs
Read these frequently asked questions to learn more about the disconnected undercut style.
Where did the disconnected undercut originate?
Many sources online claim that the disconnected undercut has its origins in Edwardian England, where it was especially popular with working-class men and members of street gangs like the infamous Peaky Blinders and the Neds.

However, the undercut also appears in a barber's manual published in America in 1906. This suggests that the cut was already well-known across the pond during this period.
What's the difference between disconnected and regular undercut?
When creating a disconnected undercut, the barber does not taper the cut to fade the longer hair at the crown of the head into the shaved sides. Most regular undercuts involve a fade.
What's the required length for a disconnected undercut?
To have an undercut that qualifies as a disconnected rather than a high and tight, hair at your crown has to be at least a couple of inches long.
There are so many options on our list, that you will be able to keep experimenting with fades for a very long time to come. Enjoy trying out all of these new disconnect undercut hairstyles.