Disconnect hairstyles create a real contrast between the hair on the top of the head and the hair on the back or sides. Disconnected undercuts can be achieved in a few different ways. The most popular ways to do this include fades or razor-sharp tramlines.
The Beauty of a Disconnected Undercut
Disconnected undercuts are a very popular choice for young men because they serve a lot of different purposes. Shortening the hair at the sides and back of the head will actually make the hair on the top look thicker and fuller. A disconnect also gives guys plenty of opportunities to express themselves fully.
Trendy Disconnected Undercut Styles
Slicked Back Style with Fade
Accentuate the hair on your head with a fade between your facial hair. Use gel to slick back your style, which will prevent you from ever having a hair out of place.
Spiked up with Heavy Tramline Disconnect
A thick or heavy tramline disconnect will really allow your hairstyle to stand out. Give your look more volume by spiking your hair up using a soft hold hairstyling gel. You can also browse the latest disconnected hairstyles here.
Disconnected Undercut – Foppish Side Swept Hair
Mid-length soft hair can be swept over from one side to the other, in order to create a foppish hairstyle. For maximum impact, you must keep your hair free from knots and tangles.
Useful tutorial:
Silver Fox
If you are starting to go gray, a disconnect can really help. Gelling your hair back can help to hide any hair loss that you might be experiencing.
Short and High Fade
Keep cool with a short and high disconnect fade haircut. These types of hairstyle really help to show off the shape of your skull.
Young Teenage Guys: Try These Trendy Haircuts in 2019
Soft and Wavy Spikes
Soft and wavy spikes are a very popular look with hot young celebrities. Create perfect spikes by holding your head upside down and running lots of styling product through it.
A popular disconnected undercut actual footage:
Subtle Bangs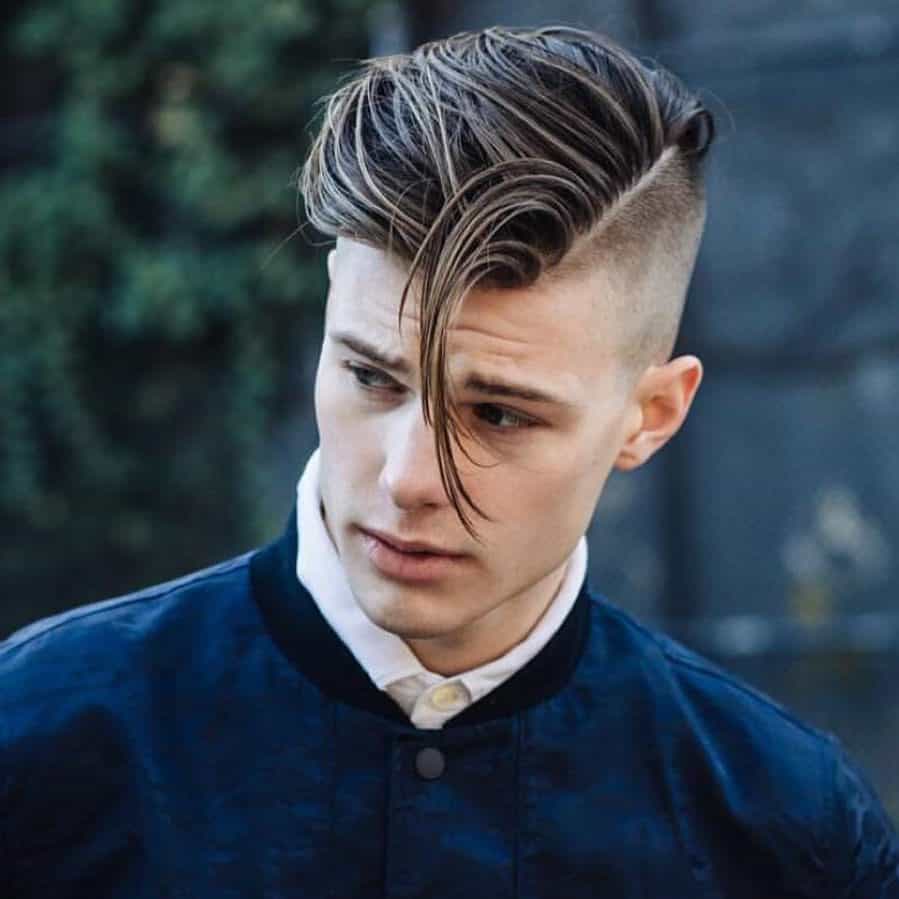 If you have a soft and light hairstyle, you can give yourself some subtle bangs by letting a few strands cover your face. Subtle bangs look good because they seem youthful and playful.
Hair Art
Give yourself an artistic look by shaving something into the back of your hair. If you do not want to go crazy, you might want to try something subtle like a geometric pattern.
Thick and Choppy Spikes
Thick and voluminous hair can be hard for guys to pull off. Use styling gel to manage your hair, otherwise your spikes can get out of control.
Side Parting
A side parting allows you to control the shape and thickness of your hair. Because you control where your parting sits, you will be able to completely change your look at the sweep of a comb.
Mohawk with Curled Bangs
Mohawk hairstyles can sometimes look harsh and abrasive. Soften your style a little bit with lightly curled bangs that flop down over your face.
Square Forehead
Angular cuts are good if you want to create a more masculine effect. A square forehead combined with soft slicked back hair offers guys the best of both worlds.
Wedge Shape
Wedge shaped styles have more volume at the front than at the back. Wedge cuts are a great trick if you want to make your head or face seem bigger.
Wide Voluminous Peaked Fringe
Create a hairstyle with even more volume by combing upwards from the roots. If you want your hair to stay looking soft, you should try to avoid heavy styling products.
Thick and Lush Locks
Mid-length hair looks great on guys with thinner faces. Thicker styles can help guys to look bigger by helping them to increase the size of their head.
Swept Back Hair with a Peaked Fringe
Sweeping back your hair is a great way to keep it out of your eyes, as long as you use light styling products to keep it in place. Add a little volume at the front of your style to create a peaked fringe.
Voluminous Peaked Fringe
Take your hairstyle to the max with a super voluminous peaked fringe. If you don't want to do things by halves, you will need to invest in a great soft hold hairstyling product to keep your fringe looking great all day.
A hit diconnected undercut style:
Curls with a Fade
If you do not have naturally curly or wavy hair, it can be quite hard to recreate a style like this one. A fade will really help your curls to stand out and make the most of your natural style. You can also try the quiff disconnected hairstyle.
Floppy Mohawk with Heavy Tramline Disconnect
If you have a floppy mohawk, you should make sure that you keep it well groomed and free from tangles. A heavy tramline disconnect will help your floppy mohawk hairstyle to stand out more.
Bleached Blonde
Grab some attention for yourself with a vibrant bleached blonde hairstyle. If you are using bleach to take your natural color away, you should take care with the chemicals.
Slicked Back Professional
Slicking your hair back is a great way to keep it neat and tidy for a professional look. A fine-toothed comb is an essential accessory for guys who want to wear their hair in this style.
Thick Hair and Thick Beard with a Fade Disconnect
A thick beard looks really intense and masculine with a thick beard. Cutting in a fade disconnect will maintain the intensity whilst stopping you from looking a bit too hairy!
Choppy Spikes
Choppy spikes are a brilliant fashion choice if you are looking for a style which isn't perfectly groomed. You can pull all of your spikes in the same direction, or you can style your hair some spikes point in different directions.
Line Up Fade and Thin Disconnect
Line-up cuts and disconnects are a good way to introduce lots of new angles to your style. For maximum impact, you must make sure that all of the lines are clear and crisp.
Front Loaded Hairstyle
Create a new dimension in your haircut by pulling your bangs forwards into a strong fringe. You will need a strong hold hair product to keep this style in place.
There are so many options on our list, that you will be able to keep experimenting with fades for a very long time to come. Enjoy trying out all of these new disconnect undercut hairstyles.