Fohawks have been popular for decades. When you are looking for a new and improved men's hairstyle, you should give a faux hawk a chance. There are so many fohawk haircuts out there that it's easy to get lost.
Every year brings us new variations of the simple old fohawks. If you are ready for a new dose of a new haircut, show your hairstylist one of these pictures to get the perfect fohawk hairstyle you have always dreamed about.
Faux Hawk (or Fohawk)
Take a look at the fohawk haircuts that are popular in 2022. You can start preparing yourself for the new haircut today. Take some time to think about how much maintenance you are ready to give your new cut and choose the best one based on your face shape and personal choice.
Once you take a look at the choices we prepared for you, you will realize that you can easily look your best with the least effort. If you are bold enough to go through some style changes, you will surely find the best fade fohawk for yourself.
Many men are allowing themselves to look fabulous by styling their fohawks in their own personal way. Give a couple of them a try and you will surely stick with the new hairstyle.
Modern Fohawk Hairstyles
High Fade Fohawk
This original hairstyle is created by making a high fade and leaving a lot of hair on top. The fade makes this haircut very special since not all the hair on the sides is shaved. The top can be lifted upwards and secured with hair gel.
Spiky 'hawk
This spiky haircut is quite popular nowadays. All you will need to do is cut your hair a little shorter on the sides and leave it a little longer on top. Spike the top part with your fingers to create a crest and secure it with hair gel.
Windblown Fohawk
This long windblown fohawk haircut is effortless to make. All you will need to do is spike up the top part randomly and apply some hair gel. This natural-looking messy hairstyle is great for guys with fine and straight hair.
The Red High Fade
High fade fohawk hasn't gone out of style for ages and this year won't be an exception. This is a good option for guys with straight hair that would like to give their locks some volume.
This fohawk haircut looks truly impressive but will require serious maintenance. If you are ready to give your hairstyle at least 10 minutes of care each day, then this amazing choice is for you.
Highlighted Peak
Highlights for men are not a new trend but a subtly highlighted top part of a fohawk style is. Make it look larger and more voluminous with the help of the right dye. Ask your stylist for further advice.
Messy Tresses
The longer you like your hair, the better mess you can make with it. Fohawks look great with messy locks but make sure to keep it from being too outrageous by using a few drops of hair gel.
Subtle yet Trendy
Guys with short hair will really appreciate this new and subtle fohawk haircut. It will be a real art-making such a fohawk on short and curly locks, so make sure that your stylist is up to it.
Add the Beard
Outline your new fohawk with a well-suited beard. Consider making the same lines on your beard as you do on the sides of your head. This combination will look flawless.
Simple spiky fohawks will never go out of style. So if you don't feel up to an image change, you can easily stick with the classics and no one will blame you for it.
Leaving enough hair in the back to make a ponytail is a good way to get the best 2022 fohawk style. Don't be afraid of experimenting with other elements of this trendy fohawk.
This fohawk haircut borders a Mohawk. However, an inch of hair on the sides allows it to stay in the fohawk group. This is a great choice for men with round faces since it visually elongates the shape.
Long Tresses
Long hair fans will love this new and windblown fohawk style. All you will need to do is spike up the top part of your hair and your fohawk is ready. A great choice for young men!
Corners and lines are becoming more and more popular. Make your fohawk haircut unique by using these geometrical tricks in all the different places of your hairstyles. You will love the result!
This fohawk hairstyle with fringes is another brilliant choice for those who do not have very lustrous or thick hair. It works brilliantly in camouflaging all that you don't want to showcase. Coupled with the thin full beard line, it exudes a subtle rugged machismo.
Fohawk with Silver Highlights
The hair on the front part of this fohawk haircut is styled in a loose pompadour. Though it is not that firm, the silver highlights add a sense of drama to the whole style.
This is another way to manage the slightly longer hair at the center top. The fohawk fade gets a brand new dimension when combined with the braids on the top. The braids also string the whole look together in one common theme. The beard and the mustache complement the style and add a sense of rugged and subtle machismo to the personality.
The slick back fohawk with tapered undercut takes on a striking avatar in the silver shade. Stunning and intense at the same time, this is the type of style that will always keep you a pace ahead of your peers in terms of style quotient. This is also a fairly low-maintenance hairstyle on the whole.
Artistic Lines and Razor Fade
If you are interested in some fun and games with your hair, this is a style that will surely appeal to you. The razor fade, the artistic lines, and the fohawk haircut all work simultaneously to create a stunning new impact. It is stylish, rugged and absolutely classy.
Soft and spiky
This soft and spiky fohawk is for you if you have thick and straight hair. The hair on the sides is left about half an inch long, and the top is about 4 – 5 inches long. The top part is spiked up into a messy pompadour.
Messy curls

If your hair is curly and you want to flaunt it, a messy curly fohawk will make your day. Cut the sides very short, so you won't have to deal with them. The top can be left as long as possible. Don't forget to use hair gel to shape the curly part.
Textured and highlighted
Spikes on your fohawk will look great if you do an excellent highlighting job. Consider dyeing the top part with two colors. You can highlight every second strand or make roots lighter than the top. In any case, the effect will be unique.
Fohawk Fade
Men of all ages like faux hawk haircuts and hairstyles because of their versatile nature. You can wear it in many ways. However, we suggest you adjust it according to your facial components so that it looks good on you.
To get some ideas about men's popular faux hawk hair variations, below is a list of trendy fohawk fade hairstyles you'll love to try.
Faux Hawk Fade with Beard
Should a short faux hawk fade with a beard interest you for your next look, it's good to choose a medium or high fade for the most polished effect. To maintain this laidback look for yourself, steer clear of gel to avoid a wet look. Try wax instead.
Faux Hawk with High Fade
For a semi-mohawk approach, a short faux hawk with a high fade is your best bet. Hair doesn't run down the nape of the neck, giving a more subtle look overall. Facial hair? No problem- so long as it's clean cut.
Crew Cut with Skin Fade
Give your regular crew cut an upgrade. A short faux hawk with skin fade sharpens your features for a tidy, chiseled look. It is the perfect update for older men as well.
The Differences Between Mohawk Vs. Fohawk
Taper Fade
A short faux hawk with taper fade creates a subtle mohawk effect if you are the professional guy who is punk at heart. If you choose to include a line detail behind the ear, your taper fade should have a bald fade in front of the ear.
Mid Fade Faux Hawk
If you like wearing more hair on top of the head, then you should consider a medium fade. The small square hairline will illuminate your eyes to frame your face. Throw in an edgy line detail while you are at it to make it unique.
Messy Faux Hawk Fade Hair
A messy fohawk fade is an excellent choice for guys with thick, straight hair. The hair is faded on the sides with a relatively high hairline. The locks on top are left long and require just a bit of hair spray to keep them high in front.
Simple Low Fade Faux Hawk
This is a great faux hawk option for men who are not ready for a drastic style change. There is no shaving here. Instead, the hair is cut into a low fade and the top part is left to be about 2 -3 inches long.
Long fade faux hawk haircut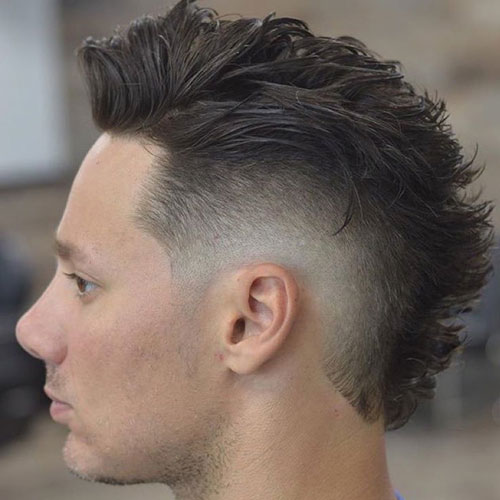 This is a great choice for guys with thick and straight hair. However, if you are ready for a high fade, try to shave off the most hair on the sides. This way you will be getting close to a real Mohawk.
Break lines
Using break lines to emphasize the shortness of your faux hawk fade is a great idea while adding a beard to your image will surely make you stand out from the crowd. Try this style and you will love it!
Styling is everything
Your faux hawk haircut has many different sides to it. It all depends on the way you style it. If your locks are long enough on top, you can create crazy wild spikes or neat geometrical shapes.
Simple Yet Attractive Crew Cuts for Men
Very short fade faux hawk
Even if you are a fan of short hair, you can still create a great short faux hawk fade hairstyle by spiking up the hair on top. All you need to do is to get a neat short fade and leave some hair on top to work with.
Faded Faux Hawk
If you want a decent cut that gives you a cool look, then you should go for a faded faux hawk hairstyle. The sides are cut while the hair in the middle gives the look of spikes. You can opt this hairstyle for any party or function.
Short Faux Hawk
This is one of the most favorite hairstyles among the men's fohawk fade haircuts. In this hairstyle, the sides are not faded, but the hair on the sides is cut short. The length of the hair in the middle of the head is larger than that of the hair on the sides.
Swirl
In this stylish men's haircut, the sides are faded while the hair on the center is set in the form of swirls. This hairstyle looks very nice if you have straight hair. The best hairstyle which suits all the colors of hair.
Front Combed Fade
This faux hawk haircut gives a messy look and the hair on the sides is short, just close to the skin, and the center hair is combed to make a messy look. You can try this hairstyle in any informal function.
Curly Faded
If you have curly hair, this fohawk fade can be a good option. It can be applied to different textures of hair. So in curly faded faux hawk haircuts, the sides are faded while the center is a little bigger in length and gives you an attractive look.
Spiked Faux Hawk
One of the most stylish versions of men's cool faux hawk fade hairstyles collection. The spiked faux hawk gives you an amazing look. This hairstyle is the best for parties and wedding functions.
If you are going outside with this beautiful cut, it is a guarantee that you must get lots of appreciation from people. The hair on the sides of the head is faded, while the length of the middle hair is relatively larger and given the shape of spikes.
This is the best hairstyle for boys with short hair. This haircut is a combination of two haircuts: a buzz cut and a faux hawk. The small faux hawk in the center gives you a great look.
A neat way to arrange the top of your fohawk is to make a pompadour. To create an impressive top part, you will need to keep your hair about 5 – 7 inches long. You can go further by creating some excellent designs on the back.
Extreme
Another amazing style among the popular faux hawk fades for men. You can wear this hairstyle on the hair of different colors. And particularly on the people who have long oval-shaped faces this haircut rocks. The length of the center hair is relatively larger than the similar cuts.
Comb back fohawk
Comb over fohawk hairstyle is not just impressive; it is also easy to take care of. First, you will need to leave hair very short on the sides and about 3 -4 inches long on top. The top part should end where your neck starts. Next, the locks need to be combed over to the back.
Medium crest
If you are not ready for a high pompadour crest, but a short spiky haircut is not for you, get a medium-sized fohawk crest. The hair on the sides is trimmed very short. The top part is left about 3 inches long and styled into a crest with some hair gel.
Long Faux Hawk Styles
Style your hair with the sides that are faded. It is your desire how much length you want for your fohawk. Sometimes the larger length may give a different look.
Curled
This hairstyle can be applied to both boys with curly hair and boys with straight hair. The boys who have straight hair are given curls to the top faux hawk, and it looks amazing.
Smooth Faux Hawk
If you have straight smooth hair, then the best hairstyle for your hair is a smooth faux hawk which gives you a charming and appealing look. You can apply this hairstyle to black hair or any color you want.
The short low fade faux hawk is the best hairstyle that every boy can wear no matter what texture of hair he has.
Fohawk fades are amazing when you know how to apply them with other hairstyles. The side hairs are tiny, very close to the skin in this hairstyle. The skin is very prominent on the sides. This hairstyle gives you an attractive and charming look.
Tapered Faux Hawk
Go bold this year with these amazing tapered faux hawk styles.
Classic Fohawk
Before leading you to the styling of a faux hawk taper hairstyle, let's start by looking at the good old classic black men's taper haircut. This style is cool and is suitable for hair lengths of all types.
You are up for a long-length faux hawk, you can go ahead and style it. Even a medium and short length can also adorn this amazing hairstyle.
Dyed Faux Hawk with Undercut
If you are thinking about adding a little zing to the regular old faux hawk with taper fade, try out some dues to add exclusiveness to the styles.
Have the sides and the temples shaved for the taper, but the crown where the mass will be can be dyed to a shade you prefer. This makes the style stand out and catch the eyes of several admirers on the street.
Voluminous Mullet
The thing with a tapered faux hawk is that you have to leave the temples and the back in the regular tapered style, but you have plenty of mass to experiment with on the crown.
In this style, you can opt to have a thick volume over the crown and style it by either dying it to your favorite color or simply enjoying the look of a regular fohawk. The extra volume adds a class and a trendy look to your style.
Short Length Faux Hawk with Fade
If you do not want the regular taper on the sides and the back, you can add gradient and dimension to your faux hawk taper by adding a bit of skin fade to it.
Wearing the sides and back shorter with a tint of skin fade will add dimension to the style and will defiantly form a great hairdo to rock in summers. Plus you can have the faux hawk fade styled to your own taste to stand out in the crowd.
Spiky Fohawk with Fade
Another way to style your tapered faux hawk is to have it all spiky with a bald fade. The spikes will add boldness to your style and give a lasting first impression. As for the bald taper fade, that adds a gradient to your regular taper cut.
So if you are a fan of faux hawks and are looking for something bold in the style, this hairstyle is a must-try for you. To further emphasize the spiky Fohawk, you can always add some color to it to further elaborate the style.
These modern fohawk styles can help you make a decision about the next image change. You can start with simple fohawks and go on to more complicated ones if you feel you'll feel comfortable with this hairstyle.
Related posts you may like: