Whether your hair is not thick enough or you are looking for an image change, you should consider curly and straight hair sew-ins. Curly hair sew-ins are a great decision for girls with naturally curly locks as well as for women who always dreamed of beautiful coils on their heads.
Whatever is the reason, even if it's just curiosity, getting sew-ins can be a wonderful way to lift your mood. Sew-ins will last for at least a month and make you look like you always wanted without using any harsh chemicals for perms and such.
Amazing Curly & Straight Hair Sew-Ins to Make Your Day
If your hair is thin and straight, you might want to consider getting straight hair sew-ins instead of curly ones since they will look the most natural. But don't be upset if you've been dreaming of curly tresses. Curly hair sew-ins will also look amazing on your straight locks.
Finding the right stylist is half of the job when looking for the sew-ins. The better the sew-ins are attached, the longer they will last. If you are not sure you stylists is experienced enough to do the sew-ins, find another one. Take a look at how these hair extensions made other girls look terrific and follow their example.
1. Natural black coils
While the girl on the photo doesn't seem too happy with her curly hair sew-ins, they still look amazing. Such hair extensions are a great way to add some natural volume to your locks.
2. Very soft waves
Girls with thick and unruly hair often dream of soft and silky waves. Hair sew-ins can give you a chance to get the hairstyle you always dreamed of. Be careful, good hair is addictive!
3. Stunning ombre sew-ins
How do you get a stylish ombre without dyeing your hair? Get amazing curly hair sew-ins that are dyed a different color from your natural locks. This hairstyle will make your day.
4. An awesome afro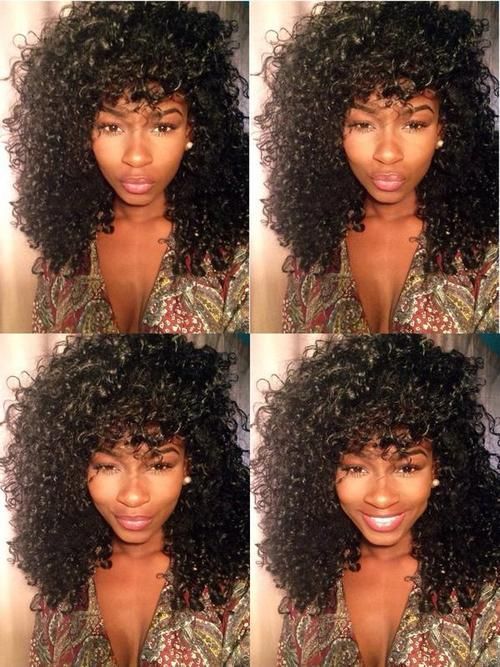 Growing an afro is not an easy task and not many black girls are up to it. Another way to get an awesome afro is to attach hair extensions. This detachable afro will look just as good.
5. Get more volume
If your locks are lacking thickness and volume, you can get the simplest wavy and straight hair sew-ins to make your mane look more voluminous. Experiment with colors while you do it.
Sew-In Hairstyles for Black Women
6. Long tresses
Many girls dream of very long hair. But growing it takes such a long time and not all locks look great when long. Get amazing curly hair sew-ins to make your dream of long tresses come true.
7. Bluish-black
If you've always dreamed of a certain unique color for your locks but were afraid of dying them, get straight hair sew-ins and see if it suits you. You can enjoy the color and then switch to a new one.
8. Curly & straight hair sew-ins
You can diversify your style by keeping the top 3-4 inches of your hair straight and then attaching curly sew-ins. Such hairstyle will surely turn some heads your way.
9. Outrageous colors
Hair extensions give you a chance to experiment even with the most outrageous hair colors. You can try several at once and see how great you can look without actually dyeing your hair.
10. Beautiful coils
Don't waste your life trying to make your hair look like something it just can't. Get hair extensions and create a style you've always wanted. Sew-ins are a great way to do it.
We hope these curly and straight hair sew-in options allowed you to make up your mind about how you want your hair to look with the help of hair extensions. Don't allow yourself to go around with a hated hairstyle. Fix it!