Inverted bobs are always in high demand, whether we are talking about women with thin and fine hair. Any lady out there would love to give their hair volume and have better face-framing, and this particular type of bob is here to help.
Inverted bobs involve loads of stacked layers that make even the dullest hair look stunning, with lots of movement and dimension. This fabulous hairdo keeps your back hair shorter and gives a particular shine to the longer locks in front.
Remember that ombre makes a great pair with the inverted bobs, and so make bangs! All being said, let's get creative!
New Ideas of Inverted Bobs
We created a collection with the best inverted bob hairstyles that will undoubtedly inspire you to pick this fabulous haircut. Check out the images and get ready to obtain the look you always craved for.
1. Inverted Choppy Bob
After styling this inverted bob hairstyle, you will get a stunning look that will feature so many magical ingredients: choppy ends, volume, bangs, and so many colors. Everyone will look stunned if you create a gradient between purple, green, gray, and black. These colors will give your hair so much texture, and you won't get enough of it.
2. Inverted Bob with Bangs And Layers
To reproduce this inverted bob hairstyle, you need to follow a few steps: opt for a stacked bob haircut with long strands in front and create a choppy short fringe with a see-threw effect. Waves should not miss from this hairdo if you want to impress wherever you go.
3. Inverted Bob with Undercut
Every time you opt for a new haircut, you should get creative and try something new. In this case, style an undercut for one side and shave the other. Keep your crown hair long and dye it in an electric green color that will stick out wherever you go.
4. Inverted Bob Cut for Fine Hair
As you know, having fine hair can be quite struggling! Create loads of layers in the back and keep your bangs long. Style smooth waves to give your hair even more volume and texture. You will get incredible framing, and you will kiss bye-bye that dull look.
5. Inverted Shaggy Bob
Shaggy inverted bobs are probably the best options for those who have dull, thin hair. You can really make a big difference for your hair if you also choose to give tour locks more texture with some dark burgundy red and bright blonde highlights. Give your hair even more volume with some relaxed waves.
6. Blonde Inverted Bob
When we look at this inverted blonde bob hairstyle, we see perfection! You can replicate it by designing a stack of layers for the back and long bangs in front. A stunning bright blonde color dye will give your locks that flawless look you've been searching.
7. Inverted Pixie Bob
Start your back layers high and make them gradually fall one over each other to create that impressive volume. Flip your hair over the ears and your bangs on one side. Color is also essential if you want to recreate this stunning look, choose a dark burgundy color with purple shades.
8. Inverted Bob for Round Face
If you have a round face and want to hide some prominent features like your cheekbones, a stunning inverted blonde ombre is ideal for you. Keep your back hair and your fringe layered, and you will obtain the desired effect.
9. Inverted Wedding Bob Hairstyle
Who said inverted bobs aren't perfect for weddings? They probably haven't seen this great hairdo that features precious, tight curls and bangs. You will get a lot of volume and texture, and with a diadem, you'll get the perfect look for a wedding, whether you are a bride or a bridesmaid.
10. Brown Inverted Bob
Ombres surely make any inverted bob hairstyle with bangs stick out! Make the transition from the bright brown base to a light caramel blonde hue for the tips. Use a curling iron and style the tips inwards and tousle your fringe on your forehead.
11. Inverted Thick Bob
A stunning inverted bob with blonde highlighted tips looks fabulous, especially if you keep the rest of your hair in a dark brown or black color. Create a middle part and style the tips inwards.
12. Inverted Bob Haircut for Older Women
If you are a woman over 50 that loves looking fashionable and classy at the same time, an inverted bob haircut with middle-parted bangs will make you accomplish your goal. Choose a platinum blonde color to look fabulous!
13. Very Short Inverted Bob
Are you more of a short -hair girl? Inverted bobs come in any shapes and lengths! Keep your back hair short and layered to obtain that stacked effect and trim your bangs really short. A deep red color will give your hair texture and will totally transform your dull hair.
14. Inverted Bob + Shaved Nape
Such a stunning idea to add volume to your back head! Shave that area to enhance the stacked-layers and leave your bangs longer in front, reaching your chin level. Choose a bright electric red color!
15. Inverted Bob for Long Face
When you have a long face, you need a hairdo that will make your forehead look smaller. Choose a natural inverted bob with loads of layers in the back. When you pass your bangs over your ear, be careful not to include the sideburns because you will leave them loose.
The long inverted bob style is great for people who still want longer hair but like the look of a bob. It still uses stacked layers in the back. From the front, you have the look of long hair. It creates a very elegant look.
17. Shoulder Length Inverted Bob
This type of bob doesn't necessarily need to be used with long hair. As the model here illustrates, it can also be used with shoulder-length hair. Bobs don't need to be flat either.
The model illustrates well that with a little teasing, this hairstyle provides a full look. It is great whether you are in the boardroom or out on the town. It is extremely easy to make the transition.
Check all posts on bob styles here
This type of bob provides a different look depending on the angle that you are viewing it from. The pictures below illustrate that well. From the side, you can easily see the bob. From the back, you get more of a shoulder-length look. No matter how you look at it, it provides a very low-maintenance hairstyle.
19. Short Graduated Bob
Inverted bob is also known as 'Graduated Bob'. We have discussed that a bob looks great at any length. Our next model is a great example of that. She is wearing a very gradual short bob. It works very well with the natural curves of her face.
20. A-line bob with an ombre
This cute a-line bob will look great with an ombre. If you have dark hair, ask your hairstylist to dye just the top layer of it, while leaving the rest natural. This ombre will really make a great impression. Just make sure to keep it neat or the color border will be lost.
21. Cheryl Cole Inverted Bob
There are as many different combinations available for every type of inverted bob discussed in this article as there are people. Cheryl Cole is a great example of that. We discussed the long inverted bob earlier.
Cheryl adds her own style to it by lengthening the front, to give the look of long hair. She also has the bobbed even further. From the back you would think she has short hair. This is a great look to keep everyone guessing.
22. A Line
A line might not initially seem like a bob. But, there are many similarities between A line, graduated, and inverted bob. In fact, a hairstylist of 40 years explained to me that they are essentially the same thing but offer different looks.
She even stated that an inverted bob is just another term for graduated bob. No matter what you call it, our example illustrates that it creates a very alluring look.
23. Short Inverted Bob
This type of bob doesn't have to be used with long hair. That is what makes it so versatile. Our model bellows shows off a short inverted bob. It still offers layering around the back of the neck. The front is cut short to make this hairstyle even more low maintenance.
It is also great for women with faces that are short and round. It provides the same "framing" effect as the round bob that we discussed earlier.
24. Asymmetrical Inverted Bob
This type of bob is the newest trend in 2015. This is due to many extremely famous celebrities walking the red carpet in different versions of it. It can be cut long, short, or medium length while still providing an extremely attractive look. One of the draws for this type of style is that it works for women of all face shapes.
25. Jourdan Dunn Bob
Jourdan Dunn's hairstyle is yet another example of the versatility of the inverted bob. She has it very short in the back but keeps it long upfront. This is great for fashion models because it makes wonderful photographs.
Anyone viewing her pictures will be immediately drawn to her rounded face and beautiful eyes. But, you don't need to be a fashion model to rock this style. It is perfect for anyone with a rounded face that almost resembles a triangle.
26. Straight Inverted Bob
We have seen several examples of how you can style an inverted bob to frame the face. It also can be worn straight. It offers the ease of preparation that comes with a bob. It is also great for women that tend to have flat hair and find it difficult to get a fuller look.
27. Medium Length
The medium length bob haircut provides a great medium between the shorter look that we saw in #9 and the longer look that we just saw in #26.
It still offers the benefits that come with a haircut that properly frames the face and that is simply easy to care for. It also allows you to style it in multiple ways to create everything from a very "old school" to a very elegant look.
28. Long "Non-Bob"
We have stated multiple times that the bob is one of the most versatile cuts out there. This model illustrates just that. She is sporting a longer bob that we like to call a "non-bob".
We like to call it that because you have to look very closely to even notice that it is a bob. But, it offers the same benefits as the long and flat bobs. If you look closely at her left shoulder then you see how her hair still is bobbed in the back.
29. Long Bob with Bangs
Bob with bangs is yet another wonderful illustration of the inverted bob's versatility. Our model has a slightly rounded face. The sides of the bob frame that well. But, she also wants to take attention away from her forehead. By letting the bangs grow and cutting them level with her eyebrows, she is able to still properly frame her face.
30. Great Medium Bob
A bob is a great way to provide options when styling your hair. We have seen long bobs of several different lengths, some were teased to create a big hair look, and some were flat. This model is showing the greatest example of a medium bob that we have seen.
It frames her face well and provides the benefits of not having hair on your neck. It wouldn't take her long to get ready in the morning or after work.
31. Inverted Wavy Bob
Wavy hair poses some challenges. Unless you want to spend a large amount of time curling or straightening then it can be difficult to find a cut that works with your natural curls. But, we are all strapped for time these days.
So, any option that is lower maintenance is wonderful. That is exactly what you find with the wavy bob. Our model has done some straightening but you can still see how her natural waves, around the middle and ends, creates a very classic look. She explains that this look is "straight out of bed".
32. Wavy Highlighted Bob
There are many different ways to add depth to any hairstyle. This is true about the bob. Our model has created a look of hair that has incredible depth by using highlights with her bob. The look of great depth and body is aided by her wavy hair.
The light hits the highlights in such a way that her hair's natural body is accentuated. This is a wonderful example of how the bob can be used to accentuate the natural traits of any hair.
33. Long Swing Bob
This is a hairstyle that is extremely popular right now. If you are looking for a hairstyle that provides you optimal performance then you should consider the long swing bob.
34. Another Short Bob
Why would we include two short bobs? We did this because we wanted to showcase that a bob is more about the shape of your face then it is your body type. Our model here illustrates that a short bob works well, no matter what body type you are.
35. Dark Hair Bob
This bob is an illustration of how it works with all hair colors. Our model has very dark, wavy, and shiny hair. This is quite the combination to find the right hairstyle for. But, as you can see, the bob is perfect for her. It creates a very beautiful, versatile, and easy to care for look.
36. Inverted Messy Bob
This messy medium-sized bob is great for women who have wavy hair and are not ready to go to great lengths to keep it neat. This bob is initially created to look great when messy, so there is no need to worry about daily styling. Don't end up getting a bad bob cut!
37. Rounded Long Bob
This type of bob style is great for women that have a round face. The hair curves towards the ends. The length pairs with the curve to properly frame the face. As you can see with the model below, you don't even initial notice the hairstyle. Your eye is immediately drawn to the model's face. This is exactly what you want in a great hairstyle.
38. Creative color play
If you are looking to make a statement or are just tired of standard looking haircuts, go for creative color play. You can color just the frontal tips of your inverted bob to make your hairstyle fresh and unique. Experiment with different shades!
39. Get red!
Wild hair colors might seem out of the question for some women. However, you should try everything at least once, so why not start with your hair? Girls with light skin will look great sporting a bright red bob with side swept bangs.
40. Blunt bangs
If you are ready to do some daily styling, then blunt bangs are a wonderful choice. Such bangs look great with an inverted bob, since they do wonders for outlining your eyes. Blunt bangs do a great job hiding forehead wrinkles.
41. Hair extensions
Tired of your short bob and are looking for ways to improve it? Go for hair extensions. A weave can turn your bob into a real long hairstyle, so you can flaunt the long locks you've always wanted. Hair extensions need regular touch ups.
42. Long bob
Inverted bob hairstyles don't have to be short to look perfect. If you don't want to cut too much of your hair off, you can try a longer bob. The front parts can fall down your chest as low as you wish. Just make the back short and stacked.
43. Short and cute
Bob is a perfect hairstyle to add some cuteness to your image. The shorter you make your bob, the cuter you will look. Don't make the frontal strands too long. Leave them at chin length. Make the back part a couple of inches shorter.
44. Very short inverted bob
If you are tired of long hair and looking for something short to replace your hairstyle, you can try a very short inverted bob haircut. This option is perfect for girls with fine hair. It is also great, since it requires little maintenance.
45. Long, straight and angled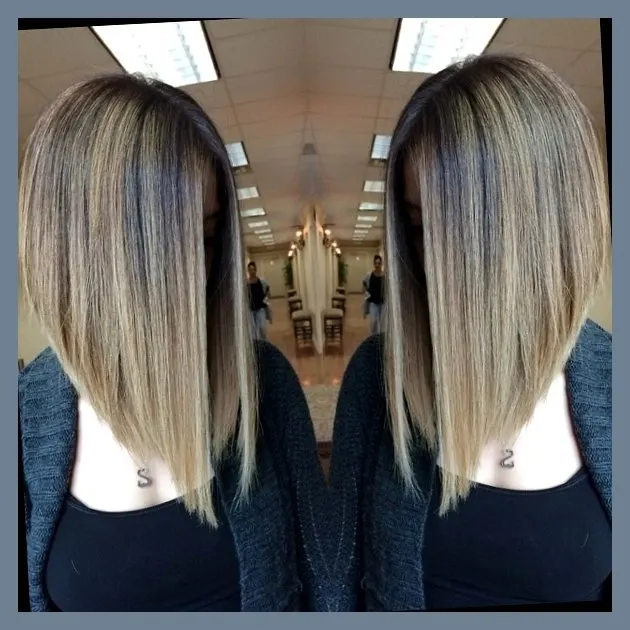 If you want a really impressive hairstyle, you can go for a long, straight and angeled bob. While looking truly original and stunning, this hairstyle requires a lot of care. In order for the angles to look neat, you will need very frequent brushing.
46. Medium length with side swept bangs
Medium-sized bobs are the most popular ones and they look great on almost all hair types. If your locks are wavy, such a bob will look amazing. Add side swept bangs and your image will become even more stylish.
47. Inverted bob with Highlights
Well-made highlights can turn any simple haircut into a masterpiece. If you have an inverted bob hairstyle, added highlights will make your image truly unique. Ask your hairstylist for the color mix pictured on the photo. You won't regret it!
48. Short and textured
Girls with thick hair can go for this short and textured bob, which is quite simple to make and very easy to maintain. Add some long swept bangs into the picture and make the hairstyle a little messy. You will love the result.
49. Wild colors
If you are into extravagant hairstyles, you can make this short bob with wild highlights. Don't be afraid of using really bright colors. Dye your bangs and several frontal strands for great effect. The rest of the hair can be left natural.
50. Short stacked inverted bob
Short stacked inverted bobs are great for any hair type. Girls with fine hair can use them to add their locks more volume. Women with thick hair can create this hairstyle to keep their unruly locks neat. If you are ready for some morning maintenance, this bob can be the best choice.
51. Accessorize
Simple short bobs look fantastic but sometimes women need some diversity. Cutting the bob even shorter is often not even considered. Dyeing it with wild colors might be scary. So, the third way out is adding some interesting accessories.
52. Add some layers
Girls with fine hair might not get the volume they need from a simple inverted bob. That's when the bob with layers comes in. Layers will add the hairstyle some volume and help make a completely different haircut out of your simple bob.
53. Inverted pixie
If your hair is too short to make a classical inverted bob, then you can opt for a stylish inverted pixie. The hair in the back is cut very short, while the frontal strands are left longer. The bangs are also long and can be highlighted for further effect.
54. Blunt bob
A blunt bob is a very impressive hairstyle and can be a good replacement for its inverted counterpart. Such bob requires a lot of maintenance to stay neat. You can make it any length you like. Just make sure to brush it as often as possible.
55. Wavy Ombre
A wavy inverted bob will look great with an ombre. If your hair is naturally wavy, your hairstylist will have loads of work to do in order to create a really impressive angled bob. If you will want to stick to it, you can go further to experiment with colors.
56. Round and asymmetrical
Asian girls like sporting round bobs. In order to make your bob even more special, make it "half inverted" by growing the hair long on just one side. The asymmetry will look very stylish on a round bob and will help you make a statement.
57. Short bob with short bangs
Short chin-length bobs are great for women with long face types. They are easy to create, help make the face appear more oval and are low in maintenance. You can add short blunt bangs to create an even better impression.
58. Wavy and messy
Wavy hair is very hard to cut well enough to create a classical inverted bob. However, you can still opt for it. Make the frontal strands much longer than the back, so the curls don't obscure the level difference.
59. Curly Inverted Bob with Bangs
Not every hairstylist can turn your curly locks into a neat angled bob, so more often than not you will have to settle for a short and messy bob. No need to worry, it will still look fantastic! Add asymmetrical bangs to complete the look.
60. Go low
Very long a-line bobs look very stylish. The frontal stands can get as low as you wish. However, the longer the bob, the harder it is to take care of. If you are not afraid of the hassle, you can sport a very stylish haircut!
61. Wedding weave
Your very fashionable inverted bob might not be what you want for your wedding. So, you can add a weave to get any hairstyle you wish for that one special day. Once the wedding is over, you can go back to your favorite haircut.
62. Sombre

Ombres are not as popular as they used to be and they are being replaced by sombres. Make your short bob even more stylish by making the color transition almost invisible. Your sun-kissed sombre will definitely make some heads turn your way.
63. Stacked and neat

This amazing stacked and neat bob will look great on women with dark and straight hair. The frontal strands are a bit longer than chin-length. The back is stacked up in the middle. Such hairstyle is suitable for women of all occupations.
64. Short blond bob with blunt bangs

Short blond bob with blunt bangs is considered to be the classics. Such haircut is best fitted for women with long faces and fine hair. Short blunt bangs outline the eyes, while a-line bob adds volume and style to the hair.
65. Creative bob and pixie mix

This creative hairstyle will do wonders for making any girl look impressive. The short pixie is complemented by long frontal strands that make it appear as an inverted bob. Try this mix together with highlights and you will definitely be the center of attention.
66. Layered Inverted Bob + Burgundy Hair Color
A dark mauve burgundy color has a royalty touch, and you certainly want that. Bangs are long and flipped on one side, the front strands are longer, while the back hair is layered. Therefore, with so much volume! Don't forget about the piece of resistance: the waves!
67. Stacked in Layers
The stacked layers in the back give the hairstyle plenty of volume, while the bangs tossed on one side provide the face a stunning frame. Also, you can opt for some blonde highlights to enrich your look.
68. Choppy Inverted Bob
Do you love colors and crave for a unique look that shows off your personality? An inverted bob haircut with a blue ombre is the ideal choice for you! To make this hairstyle look astonishing, keep your fringe long and tossed on one side.
69. Inverted Bob for Thick Hair
Everybody wishes for thick hair, and if you already have it, you should take advantage and show it off! A short trim with an undercut for the back and long bangs parted on sides will make you look ravishing!
70. Short Asymmetrical Inverted Bob
Asymmetrical bob hairstyles go hand in hand with fabulous colors such as silver platinum overtones. On one side, keep the hair shorter and, for the other, cut it near the chin line. Style layers and tousle your hair to obtain a messy look.
Adding a lot of layers to this messy bob haircut is a great way to add volume and enjoy a slightly more shaggy and messy look. These short inverted bobs are very simple to style by using a lot of mousses or texturizing cream to help separate and define the hair.
This results in a wet look that is fun and perfect for going out with friends. Make sure to have plenty of layers cut into the hair to ensure that it looks messy and shaggy and doesn't fall flat and smooth around the face.
72. Longer Front Layers Add Swing and Movement
Very long layers in the front of the face add a lot of movement and body to the hair. This short layered inverted bob is a great option for women who have naturally thick hair and want to show off how thick and full their hair is.
By stacking the back short and leaving the front layers a lot longer, the end result looks professionally designed and striking. It adds a lot of dimension to this asymmetrical bob.
73. Curly Inverted Bob
Sometimes short inverted bob haircut can look a little lifeless, which leaves hair looking flat, tired, and droopy. This often happens on women who have very fine and thin hair, as they have to learn how to combat this appearance by adding body.
Using a curling iron to add some curls throughout the hair is a great way to add body quickly and easily. The additional curls in the hair add thickness and make the hair look much fuller than it actually is.
74. Lift the Roots
Inverted short bobs look great because they have a lot of movement and volume due to the angles and layers cut into the hair. Even shorter stacked bobs can be impressive as long as they have enough lift and volume at the roots.
Adding volume to the roots by using a powerful mousse and pairing it with some backcombing will help keep this style from falling flat. This is a great way to give more life to thinner hair and enjoy hair that makes a statement.
75. Short Inverted Bob With Bangs
A lot of women opt for longer strands in the front of their short inverted bob cut to add volume and keep the look chic and sleek, but bangs are a fun alternative.
Fringy bangs help to keep the look feeling a little more feminine and much softer than if the bob only has harder lines. This prevents the look from being too bold and draws attention to the face. Look how glam this Asian bob looks.
76. Short Inverted Bob With Color
Two-toned inverted short curly bobs instantly look refreshed and are a lot more exciting than a hairstyle that only has one color. Pairing high-contrast colors together in the same style is a wonderful way to attract attention.
While opting for natural colors is a great choice for some people, anyone looking for more attention and for a brighter and more impressive look will want to consider deep browns and blacks with blue highlights for interest and variety.
Finding the right inverted bob hairstyle is never easy. If you are afraid of wild experiments, you can start with the classics. Go on to more complicated and interesting bobs to make your image even more fantastic. Give a couple of these bobs a chance and you will love the way you look!