Inverted bobs are always in high demand, whether we are talking about women with thin and fine hair. Any lady out there would love to give their hair volume and have better face-framing, and this particular type of bob is here to help.
Inverted bobs involve loads of stacked layers that make even the dullest hair look stunning, with lots of movement and dimension. This fabulous hairdo keeps your back hair shorter and gives a particular shine to the longer locks in front.
Remember that ombres make a great pair with the inverted bobs, and so make bangs! All being said, let's get creative!
New Ideas of Inverted Bobs
We created a collection with the best inverted bob hairstyles that will undoubtedly inspire you to pick this fabulous haircut. Check out the images and get ready to obtain the look you always craved for.
1. Inverted Choppy Bob
After styling this inverted bob hairstyle, you will get a stunning look that will feature so many magical ingredients: choppy ends, volume, bangs, and so many colors. Everyone will look stunned if you create a gradient between purple, green, gray, and black. These colors will give your hair so much texture, and you won't get enough of it.
2. Inverted Bob with Bangs And Layers
To reproduce this inverted bob hairstyle, you need to follow a few steps: opt for a stacked bob haircut with long strands in front and create a choppy short fringe with a see-threw effect. Waves should not miss from this hairdo if you want to impress wherever you go.
3. Inverted Bob with Undercut
Every time you opt for a new haircut, you should get creative and try something new. In this case, style an undercut for one side and shave the other. Keep your crown hair long and dye it in an electric green color that will stick out wherever you go.
4. Inverted Bob Cut for Fine Hair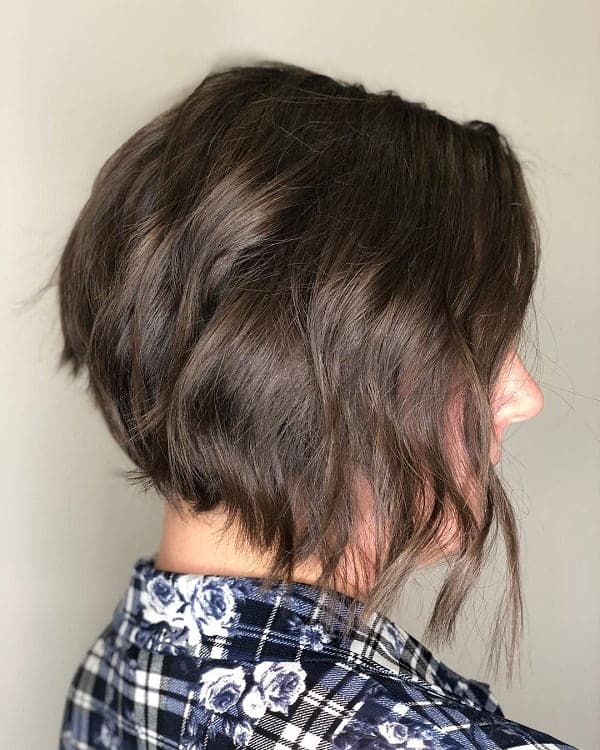 As you know, having fine hair can be quite struggling! Create loads of layers in the back and keep your bangs long. Style smooth waves to give your hair even more volume and texture. You will get incredible framing, and you will kiss bye-bye that dull look.
5. Inverted Shaggy Bob
Shaggy inverted bobs are probably the best options for those who have dull, thin hair. You can really make a big difference for your hair if you also choose to give tour locks more texture with some dark burgundy red and bright blonde highlights. Give your hair even more volume with some relaxed waves.
6. Blonde Inverted Bob
When we look at this inverted blonde bob hairstyle, we see perfection! You can replicate it by designing a stack of layers for the back and long bangs in front. A stunning bright blonde color dye will give your locks that flawless look you've been searching.
7. Inverted Pixie Bob
Start your back layers high and make them gradually fall one over each other to create that impressive volume. Flip your hair over the ears and your bangs on one side. Color is also essential if you want to recreate this stunning look, choose a dark burgundy color with purple shades.
8. Inverted Bob for Round Face
If you have a round face and want to hide some prominent features like your cheekbones, a stunning inverted blonde ombre is ideal for you. Keep your back hair and your fringe layered, and you will obtain the desired effect.
9. Inverted Wedding Bob Hairstyle
Who said inverted bobs aren't perfect for weddings? They probably haven't seen this great hairdo that features precious, tight curls and bangs. You will get a lot of volume and texture, and with a diadem, you'll get the perfect look for a wedding, whether you are a bride or a bridesmaid.
10. Brown Inverted Bob
Ombres surely make any inverted bob hairstyle with bangs stick out! Make the transition from the bright brown base to a light caramel blonde hue for the tips. Use a curling iron and style the tips inwards and tousle your fringe on your forehead.
11. Inverted Thick Bob
A stunning inverted bob with blonde highlighted tips looks fabulous, especially if you keep the rest of your hair in a dark brown or black color. Create a middle part and style the tips inwards.
12. Inverted Bob Haircut for Older Women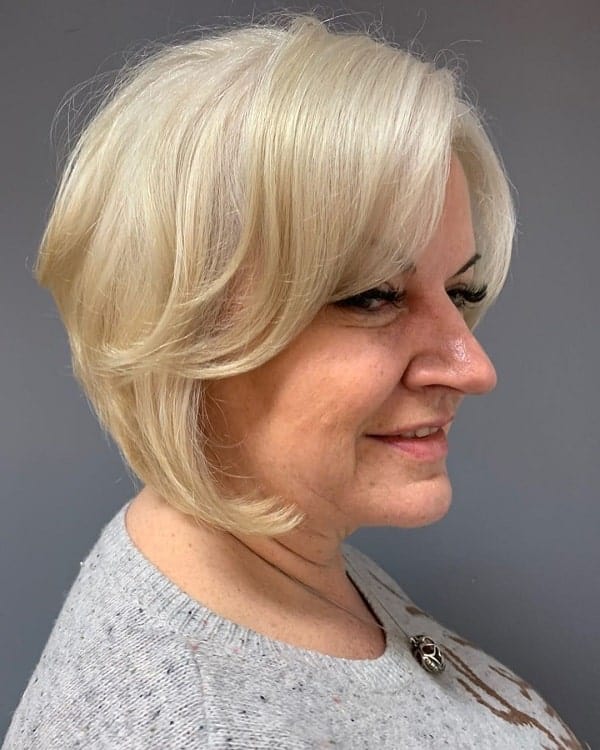 If you are a woman over 50 that loves looking fashionable and classy at the same time, an inverted bob haircut with middle-parted bangs will make you accomplish your goal. Choose a platinum blonde color to look fabulous!
13. Very Short Inverted Bob
Are you more of a short -hair girl? Inverted bobs come in any shapes and lengths! Keep your back hair short and layered to obtain that stacked effect and trim your bangs really short. A deep red color will give your hair texture and will totally transform your dull hair.
14. Inverted Bob + Shaved Nape
Such a stunning idea to add volume to your back head! Shave that area to enhance the stacked-layers and leave your bangs longer in front, reaching your chin level. Choose a bright electric red color!
15. Inverted Bob for Long Face
When you have a long face, you need a hairdo that will make your forehead look smaller. Choose a natural inverted bob with loads of layers in the back. When you pass your bangs over your ear, be careful not to include the sideburns because you will leave them loose.
16. Long Inverted Bob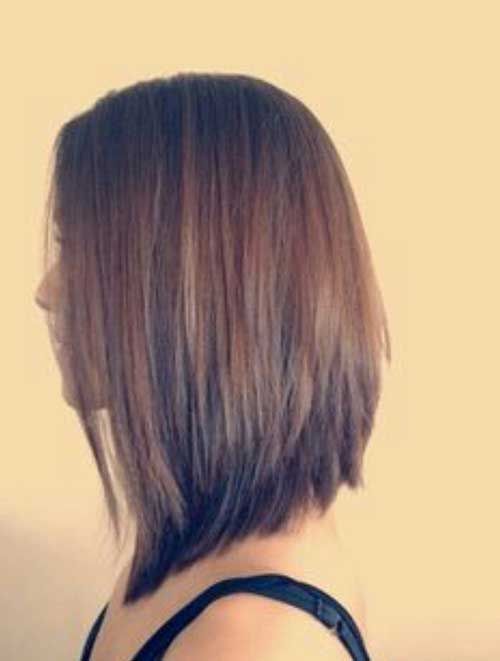 The long inverted bob style is great for people who still want longer hair but like the look of a bob. It still uses stacked layers in the back. From the front, you have the look of long hair. It creates a very elegant look.
17. Shoulder Length Inverted Bob

This type of bob doesn't necessarily need to be used with long hair. As the model here illustrates, it can also be used with shoulder-length hair. Bobs don't need to be flat either.
The model illustrates well that with a little teasing, this hairstyle provides a full look. It is great whether you are in the boardroom or out on the town. It is extremely easy to make the transition.
Check all posts on bob styles here

This type of bob provides a different look depending on the angle that you are viewing it from. The pictures below illustrate that well. From the side, you are able to easily see the bob. From the back, you get more of a shoulder-length look. No matter how you are looking at it, it provides a very low maintenance hairstyle.
19. Short Gradual Bob
We have discussed that a bob looks great at any length. Our next model is a great example of that. She is wearing a very short bob that is very gradual. It works very well with the natural curves of her face.
20. A-line bob with an ombre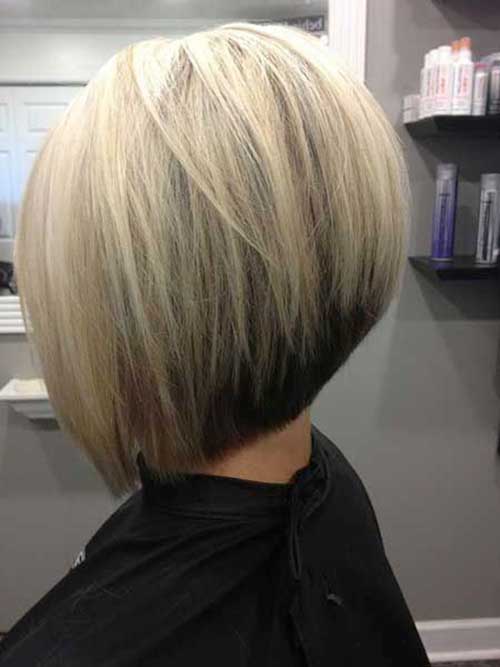 This cute a-line bob will look great with an ombre. If you have dark hair, ask your hairstylist to dye just the top layer of it, while leaving the rest natural. This ombre will really make a great impression. Just make sure to keep it neat or the color border will be lost.
21. Cheryl Cole Inverted Bob

There are as many different combinations available for every type of inverted bob discussed in this article as there are people. Cheryl Cole is a great example of that. We discussed the long inverted bob earlier.
Cheryl adds her own style to it by lengthening the front, to give the look of long hair. She also has the bobbed even further. From the back you would think she has short hair. This is a great look to keep everyone guessing.
22. A Line

A line might not initially seem like a bob. But, there are many similarities between A line, graduated, and inverted bob. In fact, a hairstylist of 40 years explained to me that they are essentially the same thing but offer different looks.
She even stated that inverted is just another term for graduated. No matter what you call it, our example illustrates that it creates a very alluring look.
23. Short Inverted Bob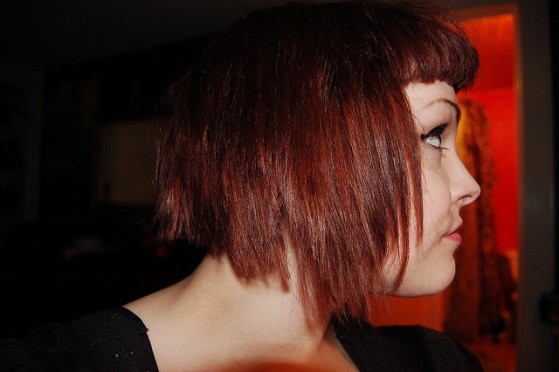 This type of bob doesn't have to be used with long hair. That is what makes it so versatile. Our model bellows shows off a short inverted bob. It still offers layering around the back of the neck. The front is cut short to make this hairstyle even more low maintenance.
It is also great for women with faces that are short and round. It provides the same "framing" effect as the round bob that we discussed earlier.
24. Asymmetrical Inverted Bob

This type of bob is the newest trend in 2015. This is due to many extremely famous celebrities walking the red carpet in different versions of it. It can be cut long, short, or medium length while still providing an extremely attractive look. One of the draws for this type of style is that it works for women of all face shapes.
25. Jourdan Dunn Bob

Jourdan Dunn's hairstyle is yet another example of the versatility of the inverted bob. She has it very short in the back but keeps it long upfront. This is great for fashion models because it makes wonderful photographs.
Anyone viewing her pictures will be immediately drawn to her rounded face and beautiful eyes. But, you don't need to be a fashion model to rock this style. It is perfect for anyone with a rounded face that almost resembles a triangle.