Braids are very simple to make and are a great way to say goodbye to the stress of hairstyling. They offer your hair rest and also prevent it from harsh environmental factors. We have prepared a list of Black braided hairstyles to help you learn many easy and latest braiding styles.
Micro braids, cornrows, box braids, Ghana, faux, and goddess braids will all give you a unique look.
Trendy Braided Haircuts and Styles for Black Girls
Braids are very common among African American women and most of them look really beautiful with the braids.
The most important factor is to choose the perfect braid according to your facial size and shape. Don't copy a braid haircut or hairstyle just because someone else looks amazing with it. Rather, choose one that'll suit your face and your personality so that others will want to copy your braids!
Here is a list of 110 lovely braided hairstyles for Black girls to look at their best.
#1. Large French Braid
French braids can make you look both sassy as well as sweet. This look is on the sassy side and will make you look the hottest among your friends.
Short Natural Haircuts & Hairstyles for Black Women
#2. Chunky Twisted Updo
This is a great style to have during the hot summer months. The style will make you look stylish and pretty and will also prevent frizzy strands.
#3. Jumbo Topknot
Oversized topknot are in huge trend nowadays. It makes you look pretty and is cool to carry on humid days. So next time you do not know what to do with your hair, try out this style.
#4. Side Braid
If you wish to accentuate your feminine features, go for the side braid. Whether it is Saturday Night Party or a get together with friends, this look suits all occasions. The style is simple and yet so sensual.
#5. Box Braids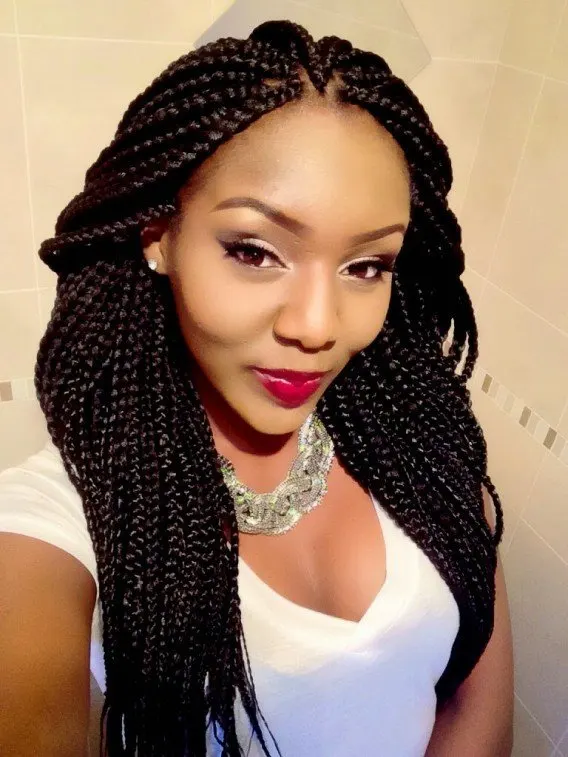 Box Braids are chic and give you a boho look. The only negative point is that it needs time. But, you will surely love the end results as it is so classy and sexy. You can get a look apt for any occasion.
Box Braid Hairstyles You'll Definitely Love
#6. Updo with a design
This one is one of the cutest braided hairstyles for black girls. You can use cornrows of various sizes to create a beautiful design that will make you look pretty. It can also be done for medium length hair.
#7. Box Braid Bun
Buns are a top style to rock this year. It is in huge fashion and so is this style. All that you need to do is wrap up all the box braids in a bun on top of your head. This is an impressive look.
#8. Half Updo with freely hanging braids
This style is a favourite of American African ladies at the time of summers. It is a great style and should be tried by all. A knot is made at the top and all the hair that is open is braided. This is a simple to maintain style with not much hassles.
#9. Braids with Curls
If you love both, keep both in one style only. Get Braids with curls. You can get 2 styles in one with this great hairstyle. Braiding at the top with curls at the tips looks very cute and sexy.
#10. Twist braided hairstyle
This hairstyle gives you an amazing look. It makes you look elegant in black or in any color which suits your skin tone. So whichever function you are going to attend this hairstyle adds to your personality.
11. Thick Braid Extensions
When you want extra long length in your hair, braid extensions are the way to go. They can be worn down or up in a cute high half ponytail to give the illusion of different lengths.
12. Cornrows and Straight Bangs
Young black girls love having bangs they can style to fit the way they wear their hair. When you're rocking cornrows, gather them into a low ponytail and straighten your fringe for a youthful contrast that will also help with face-framing.
13. Half Cornrow
A faux hawk for Black women is an edgy way to flaunt your beautiful thick hair. Braid only the first few inches of hair from the hairline, leaving the rest of the hair natural. The buzzed sides will make sure all the attention is on your mane!
14. Bob Braids
Short braids are ideal for any woman who likes a minimalist hairstyle. We love how the ends of these are slightly curled and there's even a pop of burgundy-highlighted braids.
15. Half Braid Bun
A high bun is packed with attitude to show the world what a Queen you are. This style shows off long braids while the rounded top gives you some fun styling to do.
16. Low Braided Pigtails
Many women think pigtail braids are a childish style, but there's a way to make it modern. Use neutral hair ties or ones that blend in with your natural hair color. Rock them at games or out at the beach.
17. Thin Braided Ponytail
If your natural hair is thin or fine, you can easily thicken your style up with lots of thin braids. These ones are gathered in a high ponytail and feature classy gold string woven throughout for a little glimmer.
18. Short Natural Cornrows
Once you've worked hard to grow out your natural hair, reward yourself with a beautiful hairstyle. Make five or six thick cornrows and tuck them in at the ends above the nape of your neck for true elegance.
19. White and Blue Braids
Are you a fan or both color and texture? You'll get them both in a stunning white and blue half-braided hairstyle. Extensions can be chosen at any length and will steal everyone's eye whether worn up in a thick pony or down and loose.
20. Brown and Blonde Braids
Thin tight braids take a little more time to be so precise, but their placement around your head makes it look like your mane is amazingly voluminous. Blonde and brown will flatter dark skin tones. You can even wind in string or yarn for accent.
21. Half and Half
Can't decide which color to rock in your new hairstyle? A half and half look means you don't have to choose. These long thin braids are separated by half red and half blonde.
22. Curly Blonde Braids
Looking for a black hairstyle that'll give your mane a little more texture? Go with wavy or curly braids. Aside from the envious length, blonde ombre is a fresh color that looks great against dark skin.
23. Side Ponytail
When you're in a hurry, gather your braids in a low side ponytail. A colorful hair tie or ribbons will stand out against dark hair and give the look a little more pep.
24. Looped Ponytails
To dress up your braids, make two low ponytails and loop them, tucking them in above your neck. This elegant style is great for evenings out.
25. Tiny Braids on Natural Hair
To show off your hair's ultra thick texture, wear the majority of it loose and unbraided. At the hairline, make a bunch of thin, short conrows, then gather the top half in a ponytail. Hair cuffs and beads are an easy way to give your hair color and charm.
26. Short Straight Braids
How chic and sophisticated is this short braided hairdo? The choppy layered pieces at the forehead are 'straight,' while the ends of the hair are curly.
27. Electric Red and Blue
Black women who love unique, eclectic hairstyles will really appreciate an electric red color, accented with dark blue and silver hair cuffs. Emphasize thick texture in a casual low half ponytail.
28. Oversized Braid Bun
One of the easiest ways to get a classy updo is with an oversized bun. Make a high ponytail in the center of your head, then wind your braids around. For formal occasions, you can even pin in a couple bright-colored flowers.
29. Half Curly, Half Braided
A cornrow band at the hairline leads the way to thick curls in this black hairstyle. Half and half is a no-fail way to get the best of both braids and natural hair.
30. Afro with Braid Crown
Light blonde or. amix of orange and blonde instantly brightens up a short thick afro haircut. Start from one end of your hairline and make a medium-sized braid to create a delicate 'crown' or headband.
31. Reverse Braid Crown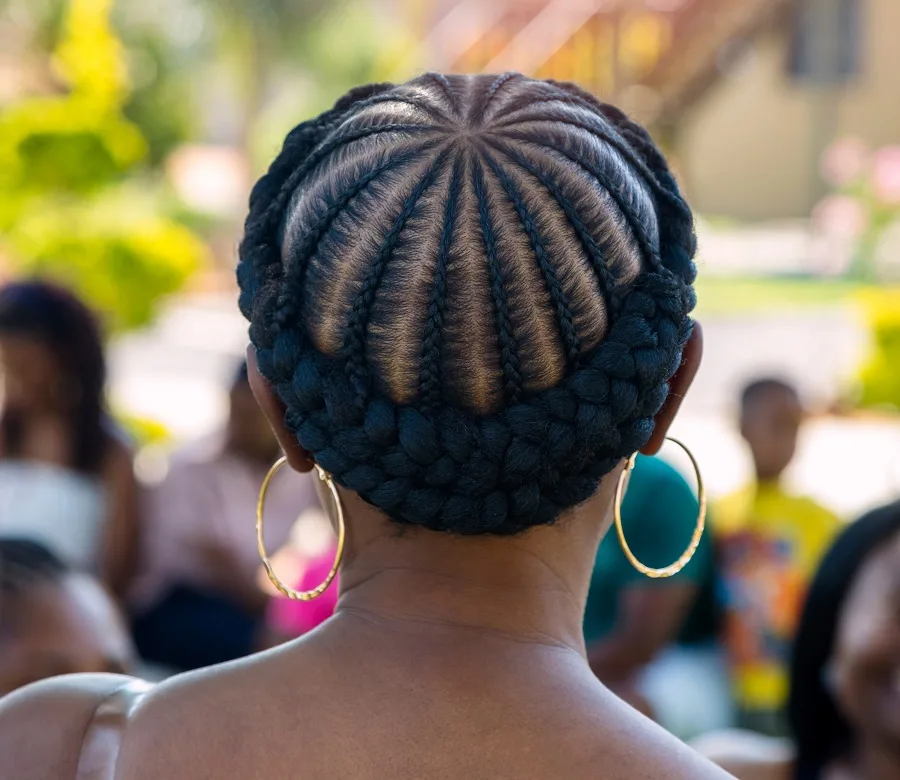 To switch up a traditional crown braid hairstyle, make lots of thin braids starting from the center of your head. Then, instead of making a braid crown along your hairline, flip it and make it along the bottom of your head.
32. Black and Blonde Braids
Everything from the blonde color with a natural black base to the half braids with loose wavy ends makes this Black women's style a winner. We know you can't wait to try it!
33. Green Braid Buns
Triangle box braids have a little more personality and are perfect for two high braided buns. The bright green color is great for women who love eye-catching hairstyles and aren't afraid to try bold hair colors.
34. Sleek Braid Ponytail
Sleek and smooth is guaranteed to make a fierce hairstyle. Try the technique in a high braided ponytail. It's length will hang beautifully down across your shoulder.
It is unusual and quite unique style. It makes you look pretty and classy at the same time. It is perfect to go with a cocktail dress or a traditional dress.
#36. Fishtail braided hairstyle
The fishtail braid is among one of the best hairstyles which attracts the attention of all. You look totally change and easily get a celebrity look with this amazing hairstyle. There will be no one to compete you in this beautiful style. Best style for festive seasons.
#37. Bulky braided crown bun
This is another fast and attracting hairstyle. Black women are gifted with strong and thick hair which are very strong from the roots. This hairstyle adds to the beauty of black girls.
#38. Asymmetric braided hair style
Sometimes you want to have a hairstyle which makes your face prominent. This is the style for you. This amazing black braided hairstyle will definitely make you look elegant and unique. If you are going outside with friends for fun then you will like to try this hairstyle.
#39. Jumbo double
For a dressy event, office meetings, for events where you want to look glamorous as well as simple this is the styles you should select. The best thing about this style is that it doesn't take much time. You can prepare this style within five minutes.
#40. Twisted faux hawk
Amazing hairstyle makes you look unique and appealing among a number of beautiful ladies. The style will add beauty and grace to your personality. For office events, you should try this hairstyle.
#41. Black braided hairstyle
If you want to get the attention of the opposite sex and want to look attractive then black braided hairstyle is for you. This hairstyle is for the girls who have an oval shaped face with a dark complexion. For wedding functions and formal events, you can wear this hairstyle.
#42. Long black braided hairstyle for brides
Wedding day is the most precious day in the life of every woman. To make this day the best day of your life, long black braided hairstyle is the best. This hairstyle will make you look stunning and gorgeous.
Short & Curly Hairstyles for Afro-American Women
#43. Braided hairstyle with weave
If you want to look sexy and appealing wearing a red dress, black braided hairstyle with weave is the best option for you. This hairstyle makes you look attractive and you will feel that everybody is bothering you. It suits on all the faces.
#44. Black braided hairstyle with puff
The super elegant hairstyle black braided with puff adds to your charm. Every woman can wear this hairstyle. Teenagers and woman above 50 years can also wear this hairstyle. It doesn't matter which skin tone you have and which shape of face you have.
#45. Braids plus curls
This is an awesome hairstyle which combines the characteristics of two hairstyles braids and curls. With a single hairstyle you can get two hairstyles in one. This hairstyle gives you a charming look.
#46. Sexy Mohawk
This is a gorgeous hairstyle which gives you a sexy look, it highlights your face and beautiful neckline. This fashionable hairstyle adds to your grace and makes you look appealing.
#47. Showy diagonal braids
This hairstyle suits all the face shapes and on the women of all ages. If you are going outside with this hairstyle you must get appreciation.
#48. Creative cornrows
Elegant hairstyle with a half bun on the top gives you amazing look. If you want to look stylish, fashionable, and attractive wear this hairstyle and you will achieve the best results.
This hairstyle is unique and pretty. For all the faces this hairstyle is perfect and leaving some hair on the shoulders adds to the beauty of style. You can select this hairstyle for any outfit. This braided hair looks great on black teenage girls, women in forties, and even fifties.
#50. Sleek and refined braided hairstyle
This hairstyle gives you a charming look. If you are visiting an event in the evening with a gown then this hairstyle is the best for you. Or if you are going to visit an office you can wear this hairstyle which gives you a charming and nice look.
#51. A snail shell
You can try this hairstyle when you want to look stunning and gorgeous at some special events. You look graceful and attractive in this hairstyle.
You can make your hairstyle colorful and more attractive by using beads which are not only for children but girls of different ages can use beads with braided hairstyles. Beads make your hairstyle more prominent.
#53. Braided Bun Hairdo
Thinking of the perfect hairstyle for your prom or any other formal event which compliments your skin color? Well this elegant and graceful bun is exactly what you want. This hairstyle not only compliments your skin tone but also provide you some extra inches in you height.
#54.Classy Braid Bun Up do
This hair do is good for formal dinner parties it makes your eyes pop, giving you a positive and confident personality. Also it allows you to beautify yourself with stylish jewelry. It gives your face a toned look by making your face cuts visible.
This is the best hairdo for black skin tone it gives a jittery and edgy look to your naïve and innocent looks. These looks are most suited on the funky and wild parties. This hairdo with the right makeup will give you the most eye-catching look.
#56. Elegant Side Braid
If you want to look classy, cutting edge and want and eye-catching appearance in a party then this is the look for you. It not only gives you an extremely elegant look but also makes you drop dead hot.
#57. Cornrow Braided Up-Do
If you are planning to go for a long trip and want a lasting hair-do then this is what you need it tend to stay longer because of the smaller braids. You will always be ready to go out and enjoy during your vacations without even spending hours to choose the best hairstyle which goes perfectly with you warm toned skin.
#58. Classy Front French Braid
Planning to go on a dinner date with your significant other? If yes then this style will look the best on your African American face. It gives you a Diva look that you desire for. You can always enhance it with small accessories to give it little flashy appearance.
#59. Small Side Braids

This hairstyle is the easiest and you can do it yourself in no time. It gives a very innocent and younger appearance to edgy looks. And you can also have the freedom with your hair to do any other style or just leave them as it is.
#60. Corn Row Braid with Frizzy Curls
This look has 2 in 1 you can style your hair with braids and have curls in the front. It suits your black skin tone a lot. It gives room for you to style short haircut perfectly with braids.
#61. Puffy Front with Stylish Small Braids
This is perfect for round faces because it provide length to your face making it look a lot more stylish and confident. The braid here will give you extra style and you can leave rest of your hair as it is showing off your long hair.
#62. Sleek Long Braids
This is the look for you to attend a dinner date with someone special. It gives a glossy, sleek look. Hair is considered to be the frame of your personality and face, this is the look which makes your black skin embossed.
#63. Half Up Do Braids
This is the style you can carry anywhere whether it formal like dinner parties or college parties. This is the hairstyle on which you can count on anywhere you go. It gives a sleek and classy look. You can also accessorize it using beads or pearls.
#64. Funky Accessorized Braids
This is a mixed messy hairstyle which is easy to make in just within a little time and has a very flashy look because of the use of accessories. This hairdo has loose curls and braids all bind together to make it a perfect look for your dark complexion.
#65. Sleek but messy bun

This hairdo sure has everything in it braids, buns, neat but messy look, so it is 4 in 1. It is best for the casual dinner parties were you can carry it with elegant gowns. This helps to make you face cut prominent and your eyes pop.
#66. Simple but Perfect Hair Do for Medium Hair

This hairdo gives you freedom to play with your hair any way you want it swirly curls as well as half braids starting from the top. It is best suited on big foreheads if you want to cover it with braids. You can also fancy it up with head bands.
A bun is never out of fashion because it gives you a very graceful appearance. By adding braids in the bun you can have an African American touch in it in no time. This hairdo has French braid on the front side and bun with another braid on the back. It is best to wear on formal parties and also it gives you space you showoff your stylish jewels.
#68. Messy Side Braid
Messy looks always catch your eyes as it gives you elegant as well as carefree and cool looks. Messy braided looks surely compliment your black complexions. The best part about this hair do is that it doesn't bind you to specific parties or weather it looks perfect anytime and anywhere.
#69. Traditional Braided Look
The best thing about braids is that it never gets old or out of fashion. Doesn't matter where you are you can always rely on this sleek and shiny looks. It brings out the traditional African American look within you and is perfect for any event.
#70. Sleek Corn Row for Long Hair
When it comes to micro braids it is difficult to style them up in so many different ways. One may get confused about what to do with their hair.
Especially it is a little hard to choose a style for long hair. This particular hairdo it the best solutions for all your worried as you can carry it at any party or anywhere.
#71. Traditional Front French Braid
This kind of hairstyle shows your traditional side, glows your eyes because of the front braid and most importantly properly binds your hair together. This particular style is the easiest one and you can always add a little glittery touch with pearls or can also add fresh flowers of a spanking new look.
#72. Corn Row Braids with Ponytail
Braids can be real fun, you can easily style them up or if you untwist them you get the perfect curls which last for a while. This hairstyle shows how you can play with braids by untwisting them from lower ends and then binding them in a ponytail.
#73. Graceful Side Corn Rows Braids
This braided hairstyle is the perfect Diva look which you dreamed off. This is a hairstyle particularly for formal dinner where you can show off your African American style combined with your modern and sassy looks
#74. Crown Bun with Thick Ghana Braids
These thick Ghana braids are the perfect combo with a Crown bun giving a length to your face and add little inches to you height too. It surely gives you a very confident and bold look. With the perfect makeup, it compliments your skin tone stupendously.
#75. Sassy Braids with Ponytail
This extremely seductive look is best for dinners, especially with your other half. Girls like to play with their hair a lot so this style gives a sleek and tidy look from the front and your long hair to shower on to your shoulders giving you a very sassy look.
#76. Cascade of Loose Curls
This is a braid hairstyle which is best of in this you can show off you long loose curls with while still adding up a traditional African style on the front. It does not hide or cover your beautiful and hypnotizing eyes making everyone fall in love with your royal yet classy looks.
#77. Ponytail of Janet Braids
Ponytails are something which never gets old and mostly give a cooler look on hot summer days. A high ponytail always gives a confident and proud personality but adding it up with Janet Braid makes it even more classier showing a fusion of African American look with modern styles.
#78. Corn Row Braids with Coil Hair
Don't know how to handle your frizzy curls? Well just let them free and for a cuter look add some corn row braids on sides. This allows you to wear nice big ear rings or other accessories. This hairstyle helps to show out your face cuts and your warm skin tone.
#79. Box Braids with Buns
African-American black girl look extremely classy while having a braided buns. So in case if you are planned for a formal dinner or prom then this is the best you can do with your hair giving a very sleek and neat look.
#80. Micro Braids with Funky Accessories

Accessorize yourself by adding beads and pearls to your braids, this gives a very sassy look to your face. This is the look which suits the most when you are planning for a beach party or other wild, funny parties of college. It brings out a very modish look in you.
#81. Streaked Half Braids
This kind of hairstyle is completely traditional African American look but with a combo of this traditional look with a little streaked hair it really highlights your dye. It suits on the all African American black girls no matter what skin tone they have.
#82. Havana Twits with a little Twist
Havana twists are the most glorious braids of all and this look is the one which brings your eyes pop with the perfect makeup. Does not hide or cover your beautiful eyes making everyone falling in love with you.
#83. Voluminous but Magnificent Hairdo

This hairdo provides an extreme volume to your hair and having an appearance of crown over your head. It provides you room to play with your hair by leaving loose curl end open. It also allows you to show off you huge accessories and you long beautiful neck.
#84. Coral Braids
This hairdo gives coral colored hair with and small, sleek braid looking like small roses on your head. This hairdo has very close to the nature look. It pops up your eyes and if you have a small forehead, it can help to increase its length.
#85. Majestic Coils
This is another attractive braided hairstyles that are perfect for the black girls.
#86. Sleek Simple but Sassy
This one is a very simple look it does not require a thought all you have to do it through back your braided hair and tamed down your wild hair with some hairspray and you are good to go. Head bands also would look great with this hairstyle.
#87. Intricate Herringbone Braids
This hair do is with an undercut and looks amazing with Herringbone Braids. It gives out a very sleek look and shows off you long beautiful neck. Adding it up with long ear rings make it even more intriguing.
#88. Simple Black Braid for Long Hair
Simple braids look amazing on African American girls despite any skin tone. You can wear them long, medium or even short depending on what you what. But if it comes to women with lighter skin tones it not only looks good it looks mesmerizing.
#89. Long Sleek and Streaked Black Braided Haircut
The black box braided hairstyles can enhance your looks in an effortless way making you look great and intriguing. It is easy to implement as they hold big and longer braids that take a short time and you are good to go. They are not annoying to make and to uphold. They even look great when left to hang freely.
#90. Graceful Plait Hairdo
Black is the ultimate beauty, and if you add a style to your braided updo it gives a very young look and can be a source of attraction. These kinds of hairstyles are up to date, stylish, modern and simple to do but totally sexy and attractive.
#91. Asymmetrical Black Girl Braids
Symmetry is not always important to achieve a polished look. Asymmetrical protective black girl braids look ravishing when tied high and blended with faux locs. Such braid styles for black girls look dauntless when paired with appropriate attire.
Are you aiming for something out of the box? Then try the Dutch corn row weaved back in different breadths. Tie them high and end up in fishtail to achieve an iconic look in braided hairstyles for black ladies. Accessorizing the look with some metal rings will bring style and glamour.
#93. Swirled Braided Hairstyles
The diversity of braids for black hair makes them so popular. The Patewo or simple cornrows can be perked up by styling them in swirls. This will create a whole new look for braid styles for black girls.
#94. Goddess Braided Hairstyles
Goddess braid is probably the most less textured of all braided hairstyles for black girls. To add a little spice, blend them with intricate wavy cornrows. This will maintain the ferocious intensity of braid styles for girls.
#95. Face Framing Braid Styles
So, you have a bulky face? Not to worry, face-framing braids on for black girls hair are just for you. This style covers the sides of the face heavily making it appear slimmer.
#96. Under Cut Braids
To take your braid game to another level, then try some stunning undercut black hair braids. The box braids can be tied up in a knot while the undercut keeps the look razor-sharp.
Black braids look phenomenal in a romantic chignon. The diagonal Dutch braid styles for black girls creates a mesmerizing look, which is perfect for formal evenings.
#98. Two-Sided Cute Braids for Black Girls
Two-sided goddess black girl's braid styles for look pretty when done neatly. It is an everyday sporty look for young girls or people with busy lifestyles.
It's not necessarily important to complicate your braid style for black hair. Simpler forms can look equally good. A perfect example is the two-sided braids with a low bun.
#100. Long Braids
Braided hairdos for black women are perfect for sports. Long locks can be tied firmly in two-sided braids. Moreover, you can design the front with neat visible cornrows.
#101. Simple Braided Hairstyle
Basic braids are easy to create and give an effortless organic look. This simple yet intriguing hairstyle suits all. It looks equally good for longer and shorter lengths. A safe option in black braid styles for girls.
Originated from the ethnic African tribe Fula, you can describe Fulani braids as cute black girl braids. They usually follow the pattern of thin to medium tightly plaited braids that distribute into lengths of all sizes. Embellished with beads at the end looks groovy.
#103. Halo Braid for Girls
If you like your hair tied above your head, then halo braided hairstyles for black girls is just the right option. The goddess braid surrounds your head, and the crown-area is designed with asymmetrical cornrows.
Micro braids are the most time-consuming braiding of all for black girls. It takes almost six to seven hours to create the look. But despite all the effort and hard work, the results are breath-taking. A mane full of tightly plaited super fine braids looks ravishing.
One of the purest forms of braid styles for black women, a Ghana braid can be weaved neatly with the help of styling products. A casual hairstyle that can be worn any day but will never go unnoticed.
#106. Minimalism in Braided Hairstyle
The minimalism in the cute braids for black girls looks aesthetic. The two braids just above the forehead give an illusion of a headband. Little ornaments highlighted the intricate pattern. It is a modern version of an ancient craft that is adapted by the younger generation.
#107. Contemporary Braided Hairstyle
Blending ancient art with modern creativity comes out with some spectacular designs. Combining black hair braids with sleek high ponytail gives a contemporary voguish effect to your existing style.
#108. Cute Heart Braids for Black Girls
The little angel will surely enjoy these heart-shaped, cute braided hairstyle for black girls. A suitable headpiece will do the magic. But keep the delicate hair moist during styling. It is an ideal hairstyle for birthday parties.
#109. Back to School Cute Braids
Try some of these cute braids for little black girls back to school hairstyle. Your little princess will look adorable in a half-loose half-tied braided hairstyle. This hairstyle can easily be created on an everyday basis.
Play with your little darling, design her mane in a crisscross pattern. Instantly, she will fall-in-love with the beautiful pattern. Pay attention while kneading the braid as harsh pulls can damage the delicate hair follicles.
Let your inner stylist create the most lethal braid hairstyles for black girls ever imagined. The black girl braids are not just any braid. They are a tribal pride which a black woman carries most enthusiastically. Braid styles for black girls are the most celebrated trends of all time. The effort you put in to create cute braids for black girls instantly pays off when applauded by sincere smiles and praising gestures.
You can try any of these black braided haircuts and hairstyles that'll give you the best look. There are different hairstyles for each face shape and hair texture. You can select one of these cute African American black braided hairstyles from the list above according to your own face size and shape. So don't wait! Try the styles and enjoy different looks.