Braids are very simple to make and are a great way to say goodbye to the stress of hairstyling. It will offer your hair rest and also prevent it from the harsh environmental factors. We have prepared a list of black braided hairstyles to help you learn many easy and latest braiding styles. It can make you look unique and also give you a different look.
Micro braids, cornrows, box braids, fishtail, ghana, faux, goddess are just a few names of braid styles for black girls. The ethnicity of black girl braids is unquestionable at any level, even Cute braids for black girls are brimming with tribal creativity.
Trendy Braided Haircuts and Styles for Black Girls
Braids are very common among black African American girls and most of them look really beautiful with the braids.
The most important factor is to choose the perfect braid according to your facial size and shape. Don't copy a braid haircut or hairstyle just because someone else looks amazing with it. Rather, choose one that'll suit your face and your personality so that others will want to copy your braids!
Here is a list of 120 lovely braided hairstyles for black girls to look at her best.
#1. Diagonal Braids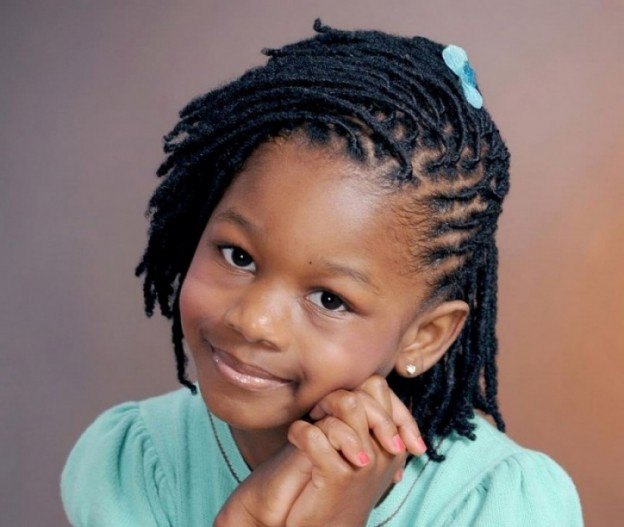 Diagonal Braids suit all face types and are good for any hair texture. It is suitable for all age groups and looks good on most face types. This is an unusual kind of hairstyle and a must try out.
#2. Braided hair with a big French Braid
French braids can make you look both sassy as well as sweet. This look is on the sassy side and will make you look the hottest among your friends.
Short Natural Haircuts & Hairstyles for Black Women
#3. Chunky Twisted Updo
This is a great style to have during the hot summer months. The style will make you look stylish and pretty and will also prevent frizzy strands.
#4. Oversized topknot
Oversized topknot are in huge trend nowadays. It makes you look pretty and is cool to carry on humid days. So next time you do not know what to do with your hair, try out this style.
#5. Side braid
If you wish to accentuate your feminine features, go for the side braid. Whether it is Saturday Night Party or a get together with friends, this look suits all occasions. The style is simple and yet so sensual.
#6. Ponytail Braid
This is a very simple braid to do and easy to carry. The style is very adorable and cute plus it suits on all the girls. The hair style looks apt for any situation and that's the best part about it.
#7. Fishtail Side Braid
Side Braids can never tire a girl as these are so gorgeous to the sport. It makes you look super stylish and sexy. The Fishtail Side Braid takes side braid to one step further and is a masterpiece.
#8. Box Braid
Box Braids are chic and give you a boho look. The only negative point is that it needs time. But, you will surely love the end results as it is so classy and sexy. You can get a look apt for any occasion.
Box Braid Hairstyles You'll Definitely Love
#9. Updo with a design
This one is one of the cutest braided hairstyles for black girls. You can use cornrows of various sizes to create a beautiful design that will make you look pretty. It can also be done for medium length hair.
#10. Box Braid Bun
Buns are a top style to rock this year. It is in huge fashion and so is this style. All that you need to do is wrap up all the box braids in a bun on top of your head. This is an impressive look.