We all want to look great and special. Blonde hairstyles of short length can make us look amazing. One of the most important choices we make, when getting ready is what to do with our hair and we often assume we are quite limited in hairstyle options unless we have Rapunzel-length hair.
That's simply not true! There are many amazing short blonde hairstyles that will make you look like the star of the night.
Things to Consider Before You Cut Off Your Blonde Hair
We donțt want to discourage you from getting a haircut, this might make you want to do it. The first thing you need to consider how do you normally wear your hair, or how it naturally falls.
If you love pinning your hair in buns or ponytails, you definitely need to keep some length. Also, if you think you need to keep the hair out of your face, bangs that cover your eyes are not necessarily what you need.
Getting a haircut that is flattering with your face shape is also very important. Remember that hair doesn't only have to do with your face, but also with the body shape. With the right cut, you can actually look taller, slimmer, and even happier. Keeping proportions right is really soothing and pleasing to the eye.
Short Blonde Haircuts and Hairstyles
Being blonde is a privilege many would say and it looks just great on short hair. Whether you prefer more conventional or crazy innovative, you can be sure you will find the right pick from the 50 classy short blonde hairstyles in this article.
1. Choppy Medium Cut
Short blonde hair with dark roots and some whispy bangs is flattering for women with rounded faces. They diminish the size of the forehead and that champagne nuance highlights your eyes and is complimentary for the skin tone.
2. Silver Blonde Bob With Highlights
For thin or fine hair, short straight bobs can give the impression of a thicker mane. As for the color, when going for silver-blonde hair with highlights, you must remember that things are not as easy as they seem. You'll need to previously bleach the hair to obtain that particular shade and use a shampoo that counteracts the orange.
3. Funky Platinum Blonde Cut
Wow! That's quite a haircut that inspires strength and the power to be different. What catches our eyes is not only the short trim with an undercut but also that funky platinum blonde color that tends to go white at the tips.
4. Strawberry Ginger Blonde
Once you section the hair, evenly apply the strawberry blonde hair color. Having freckles will give your full appearance a hugely diverse and brilliant look, and let"s not even mention how good they will work with that ravishing shade.
5. Chin Length Bob
Straight chin-length bobs do such a fine job at framing faces. If your eyes are brown-green, mix more colors when dyeing your hair. A honey tone will give that warmth and softness, and a champagne hues will transform the mane into this eye-catching hairdo.
6. Small Pony with Undercut
Those razored sideburns are a true statement for your short sleek hair. The blonde shade must be dark, with caramel tones. When having thin hair, pinning the strands in a short casual pony is an ideal option. It will reveal your face allowing you to stun your audience with impressive makeup.
7. Blonde Ashy Ombre
Inverted bobs are probably among the best short haircuts and if you want to get creative, sport a blonde ombre. The side and back hair should be enlightened at the tips, lower than the fringe, where you can switch things up and apply the color closer to the roots.
8. Blonde Pixie for Women over 50
Short blonde pixie hair like this is a full of complexion hairstyle that will greatly fit any older woman. A bright blonde will be the perfect makeover for those who want a little bit of sass, more volume, and height for the top. Use a blow drier to style those bangs and keep the eyebrows in a darker shade.
9. Blonde Balayage with Waves
Take your natural brown hair one step further by enlightening it with a blonde balayage. This technique gives any short hair more texture and the waves provide more volume, transforming your hair into a bold and vibrant piece of art.
10. Tomboy
This short blonde hairstyle is extremely suitable for confident, slim and tall girls. It opens your face and emphasizes your fine features. It is very easy to style and does not require any special products for finishing.
Different Blonde Hair Types & Shades
11. Short and Curly Blonde
A more festive look for those of you who insist on putting an effort and be noticed. You can use a curling wand to form curls in various directions to give your hair more texture and volume. Use a light hairspray to finish.
12. Messy Bob with Straight Bangs
This short hairstyle is very suitable for natural blondes like Taylor Swift. The front bangs will complement your jaw and cheekbones and the messy waves will give you that effortless but fabulous look.
13. Blond "Audrey Hepburn"
A fantastic classy blonde short hairstyle, inspired by the great Audrey Hepburn and embraced by many other Hollywood stars and ordinary girls. It is very flattering for women with round or heart-shaped faces from slim to average body build.
14. Pixie
The pixie is a popular choice for women of all ages because it gives you a cool and effortless look. Use keratin products before blow drying to keep the straight edgy ends. To make a statement, mess it up a little and finish with hair wax to maintain the softness.
15. Barbie Bob
If you are after the High Fashion look, go with the Barbie Bob, which looks extremely neat and sophisticated. Use a ceramic straightener with ionic cover to perfectly flatten your hair and ensure there will be no naughty hairs sticking out.
16. Spiral Curls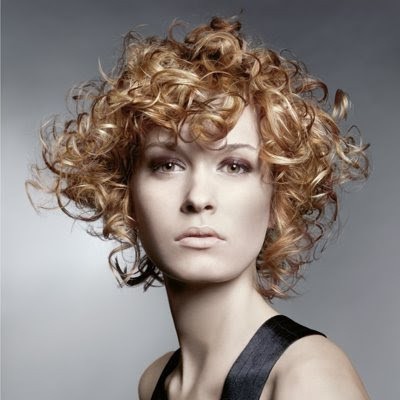 Another great option for tall ladies would be spiral curls on short hair. It is probably more suitable for women in their 30's and 40's rather than very young chicks because it gives a more elaborate but still vivid look. The best way to style it is with a thin curling wand and strong hairspray for the finish.
17. Asymmetric Bob with Side Bangs
Beautiful, energetic and innovative! This short blonde hairstyle will make everyone around gasp and stare at you, in a great way of course. It is a very good choice for curvier ladies and gives you chance to put an emphasis on your favorite profile (if you have one).
18. Spikes
Talking about unconventional hairstyles… well, this spiky look can bring out the punk in you. Pearl blond is the color that can bring the hairstyle to the next level, especially during winter. Style with hair wax to keep your hair soft, but give it a good edge.
19. Short Back, Long Fringe
Feeling posh and spicy, why not look like Posh Spice! Perfectly flattering heart-shaped faces and good bone structure. It is easy to style and maintain – all you need to do is straighten the long fringe and rub the roots to create more volume.
20. Hot Nerd
Smart but funky – this what this asymmetric short blonde hairstyle says. It looks really nice on round-shaped faces and flatters body curves. You can use a hair straightener to style or if your hair is naturally straight you can go for a messier, "au naturel" version.
21. Super Short Bob with Side Bangs
This is definitely one of the classiest short blonde hairstyles, adopted by many celebrities, politicians and respected public figures. It needs to be maintained neat and well styled to give you that sophisticated and elevated look.
22. Short and Layered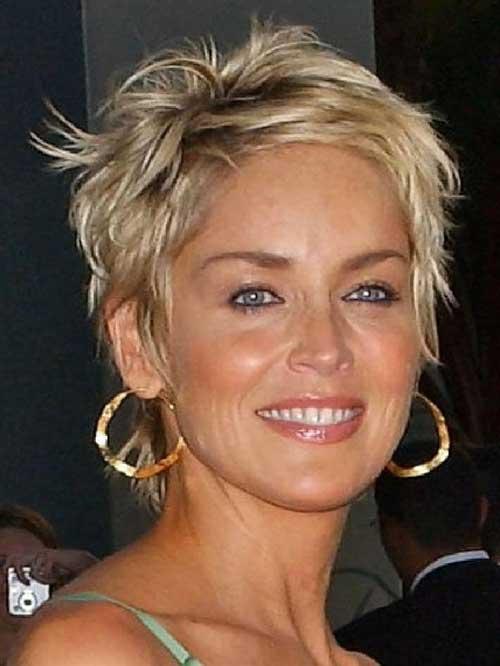 This is probably the easiest short hairstyle to keep. Its charm lies on the messy layers. To keep it soft and easy to style always use a leave-in conditioner and hair wax.
23. Dual Personality
Another youthful and a little crazy option is the 'Dual Personality' hairstyle where one of your sides is cut in a bob and the other is extremely short. To make it even more dramatic you can die the two sides in different colors.
24. Number 1
Definitely not a hairstyle for everyone! However, if you are bold enough and wear it with confidence you will certainly make a strong statement and great impression. The best about the Number 1 is that you literally don't have to do anything to it, except trim it regularly.
25. Curly Back, Straight Fringe
Want to look like the Ice Queen? This is the right hairstyle for you! With frizzy ends at the back and perfectly flat side bangs, you will surely get all eyes on you. It is also a great match for square faces and even short height.
26. Classic Bob with Flipped Ends
A little bit of Retro never hurt anybody… In fact, you will look really special if you can pull of this all-time favorite classic bob with flipped ends. For best results use a round brush and a hair dryer to blow your ends out.
27. Big Waves Long Bob
This is one very hot hairstyle right now. We have seen so many TV actresses and musicians to rock it this year. It is effortless and super cool – an ideal solution for a shopping day with the girls or a romantic date night with someone special.
28. The 'Fro
Embrace your natural hair, give it a quirky twist and make the most of it. Growing a 'fro is actually a very demanding and lengthy process but it looks amazing on women of color. Did you know that if you don't naturally have afro hair, you can still achieve the same result through special perming techniques or simply using bobby pins?
29. "Rihanna" Bob
When Rihanna first showed up with this kind of hairstyle in her 'Umbrella' video girls all over the world went crazy about her look. Her bob was unique and it is now known as "Rihanna" bob. We think that it looks just as amazing in blond as it does in black.
30. Show your Roots
Highlights and lowlights are a fantastic way of adding texture and depth to your hairstyle. If your roots are already starting to show, you can integrate this into your style by adding more streaks of the same color.
31. Modern Marilyn
This hairstyle is inspired by the glamorous looks of actress Marilyn Monroe. Her iconic look has been inspiring women for decades, so why not show your appreciation with your own modern version of her style?
32. Long Bob with Flyaway Layers
If your hair is shoulder length then a long bob is an ideal style to choose. A flyaway style is one which is a little bit wild and has a few hairs out of place. Cut in lots of light layering and run your fingers through your hair a few times to give it that flyaway look.
33. Voluminous Bob
A voluminous bob is another throwback to the 1960s. Backcombing your hair from the roots will help to give any style extra volume. Spray your style with a little hairspray to help to retain the volume all day long.
34. Bob with Tight Curls
Tight, defined curls are a great look for a night out with your friends. Wind thin sections of your hair tightly around your curling irons and then spray with holding spray. This will help to give you this amazing short blonde style.
35. Sleek Straight Short Blond Hair
A sleek straight bob is an elegant and amazing choice. The platinum blonde hairstyle of short length is at its most iconic when given a cut like this. Incorporate this easy cut into your everyday style for a perfect hassle free morning.
36. Platinum Blonde Bob
This sleek style is for professionals looking to carry off this color. This style is touted best for diamond-shaped faces. It's essentially very easy to maintain a simple style. Even as your roots grow back in you can maintain this cut until it reaches a little more below the ears.
37. The 90's Blonde Short Hair
This spiky hairstyle was a huge trend back in the late '80s and '90s. Seeing as everything from that era is back right now it's no surprise that haircuts like this are especially cool now. It requires a lot of serum and hairspray to give yourself with a messy wet blonde look.
38. Short Voluminous Bob
A bob like this with deeper roots and layers is perfect for creating texture in your hair. A fairer highlight and lighter ends can do so much to keep this bob looking voluminous. Fluffy hairstyles like these are super cute and feminine.
39. Short Blonde Buzz Cut
This buzz cut blonde hair is a solid haircut that bold personalities can rock. This haircut can give your face so much space to breathe. You can simply get out of bed and get started with your day with hair like this.
40. Short Layered Pixie
Pixie haircuts are amazing because they let you flaunt your personality in style. It's a great cut that has been a staple in the industry no matter what season. This short blond hairstyle is easily achievable with sleek straight platinum blonde hair.
41. White Hair Pixie Cut
Pixie cuts are of different types. Including them in a short hairstyle for blond women list is a must because they are an iconic style easily carried by a lot of women. If you have a squarish face, this type of pixie cut with hair over the ears is for you.
42. Perfectly Messy Bob
Messy bobs are a great way to shorten your hair without a lot of commitment. But this look especially can be achieved by keeping the roots much darker than the ends of the hair. A messy side part some hairspray and you're good to go!
43. Posh Pixie Long Bangs
If you're absolutely sure of your ace giving your pixie cut a crazy parting can look stunning. Keep longer hair in front of your face to achieve these bangs.
44. Short Pearl Blonde Hair
By using the right wax, it's easy to keep your pearly blonde locks shining. Now all these shiny lock needs is an edgy bob to sit in the right with the trend these days. A cute side partition and a lob of sorts can work too.
45. Pink Blonde Short Hair
If you naturally have a thin frame and small face, a short blond haircut like this should be definitely in the ones you ought to try. It emphasizes your features and the pretty pink will bring out a rose color in your face overall.
46. Short Blond Pixie
This looks easy to achieve because it's simply a hand pulled hairstyle created by using styling gel. But most importantly to have this look you must opt for the bangles pixie. A color like this can be pulled off my alabaster skin tones very well.
47. Messy and Short Curly Blonde
There are two ways to achieve this look. You either actually roll out of bed like this or you frizz up your messy hair with some volumizer and curls. Blonde hair with darker roots is an iconic hair color to wear with hair like this.
48. Blunt Chop
Blunt chops have recently become super trendy. They give off a much cleaner and modern vibe. Many young girls are opting for this cut as its super low maintenance and look professional as well.
49. Side Part Blond Bob
When it comes to celebrity bobs, Kristen Stewart has hands down given us a lot of inspiration. This fresh cut is perfect for a thin and short hairstyle for blonde women. A side part that suits your face with long hair in the front can be great for a face cut like that.
50. Silky Lob
This wonderfully straight and silky bob is perfect as a winter hair color or style. The added darker shades can add a lot of depth and volume to your hair.
These amazing short blonde hairstyles will surely make you look special. Follow our guidelines to pick the best one that will match your physical features and personality. We have no doubt you will look purely stunning.