There are countless hairstyles for little baby girls from which you can choose the best one. Girls always remain conscious about their hair and want to try different haircuts and hairstyles which enhance their personality.
This craze is not only among teenagers and women but also among little cute girls. Don't force your little girl for a long hairstyle if she doesn't feel comfortable with it. Choose one that'll highlight her look and personality.
Adorable Baby Girl Hairstyles
We have collected a list of some amazing haircuts and styles for little baby girls. Below are 70 popular and cute baby girl hairstyles which we hope your baby girl will like and she'll look like a princess. Also, check our list of some amazing baby boy haircuts.
1. Straight Blunt Haircut for Little Girls
This hairstyle is one of the cutest hairstyles for baby girls. It looks amazing on the baby girls with straight hair. No matter what is the shape of your face, you can apply this hairstyle.
It's simple and easy to do. Just show this photo and ask your barber to do this hairstyle, he'll do it.
2. Sleek and Straight to The Shoulders
This hairstyle looks beautiful if you have straight hair. Babies with sleek and straight hair to the shoulder look very cute. This is the simplest hairstyle that your babies can apply for school, parties and even in a normal routine.
3. Shortcuts for Thin Hair
This baby girl haircut suits better on thin hair. This hairstyle can be applied to any hair texture. It is very easy to maintain and simple hairstyle that can be applied to baby girls who can't manage their hair.
Best Haircut Ideas for Toddler Girls
4. Long Fringed Layers
If your baby has long and thick hair, this is the best hairstyle for your baby hair which adds the feelings of lightness. These stylish hairstyles can be opted on parties too. A blunt cut across the ends looks just amazing.
Some hairstyles focus on adding volume which looks beautiful on little girls. Stacked bob baby haircut is one of these hairstyles. This looks very attractive and gorgeous on babies who suits well with it.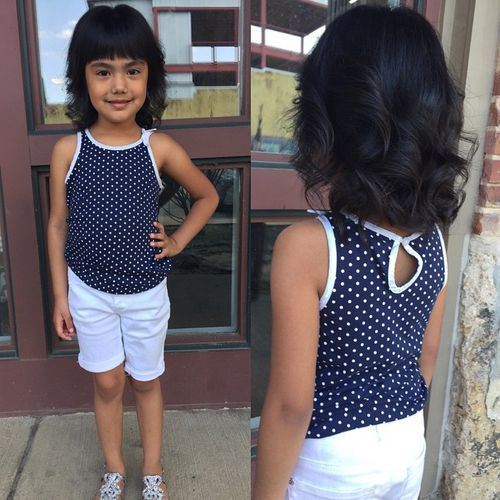 Some hairstyles focus on adding volume which looks beautiful on little girls. Stacked bob baby haircut is one of these hairstyles. This looks very attractive and gorgeous on babies who suits good with it.
7. Medium Length Haircut
If your baby has medium-length hair then this haircut will look good. This is a shoulder-length haircut for little girls who have a similar face shape like the girl in the photo. Understand your girl's face shape and size before choosing this haircut.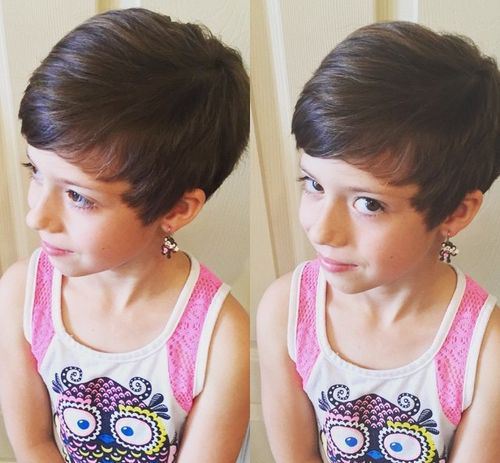 If your baby doesn't like long hair then a pixie cut is the best option for you. Babies look cute and adorable in a pixie haircut. During the summer season, you can try this haircut which keeps your baby girl cool.
9. Simple Cut and Pop of Color
While trying hairstyles and haircuts for little girls some of the traditional cuts are followed but you can apply some new and stylish haircuts on your babies. The front layers make a V shape in this haircut and give your baby a cute look.
If you want that your baby look stylish and pretty then you must select a baby beach waves hairstyle which gives a unique and fashionable look to your baby.
11. Curly Shoulder-length Hair
The babies with shoulder-length hair can apply this hairstyle using a curling iron the sided and the back hair can be curled which gives your baby a cute look.
12. Wild Child's A-Line
Side bangs with a line cut and the bright colorful lines of hair look amazing and attractive. If you are going for a picnic or taking your child for fun and enjoyment, you can apply this hairstyle.
13. Colored Hairstyle for Babies
Aside from traditional hairstyles, you can also give a new and beautiful look to your baby with a colored hairstyle.
Babies love colors and always attract towards brilliant colors so there are different washout dyes and henna available in the market which are safe for your baby. Your baby can enjoy the best-colored hairstyle without any danger.
14. Blonde Cute Hairstyle
In this hairstyle, a strand of hair is tied with accessories on one side of her head and some hair is brushed on her forehead.
15. Pony for Long Hair
For babies who have long hair, the ponytail is the best which looks very cute and beautiful. In this hairstyle, she remains relaxed and needs not to maintain her hair.
This is an amazing hairstyle which you can apply to your baby hair for everyday routine. The deep front bangs with a long pony on the side of her head hang down her shoulder looks very cute.
17. Princess Hairstyle
If you are attending some special night with a stylish hairstyle, then your baby should also go with a modern hairstyle like her mother.
Little locks and curls can make her hairstyle stylish and fashionable like you. So if it's a wedding night or a Christmas night your baby can opt this beautiful hairstyle.
18. Sweet Brown Hairstyle
If your baby has brown wavy hair then the best hairstyle which you can select for her is the one in which some hair is clipped on one side while the remaining hair is left hung with the waves.
19. Clip with Locks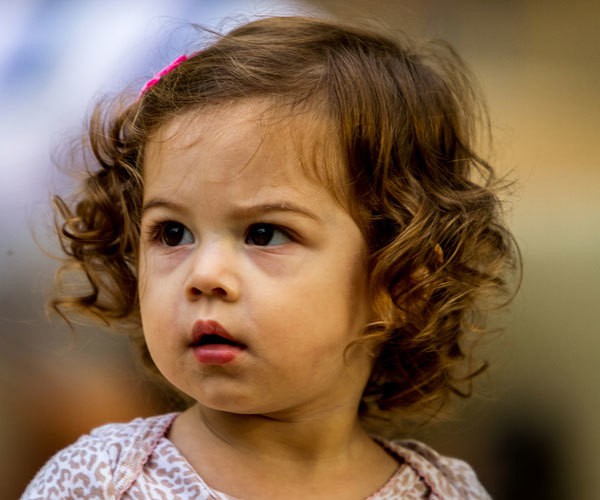 This is a beautiful hairstyle which your baby can apply for school and also during games. Small hair of the baby is clipped on one side while the rest hair is left with gorgeous soft locks.
In this hairstyle, two small buns are made on the two sides of the head. The cutest baby girl hairstyle can be applied to functions and parties.
21. Pull Some Hair Back and Pin
If a baby has long beautiful blonde hair then you can apply this hairstyle. Pull some hair on the back and pin them with a colorful clip or a pin. This is one of the most popular styles among babies and looks really gorgeous.
22. Updo for Little Baby
This is another stylish hairstyle for little girls. If you are tired of the common hairstyles you can apply this hairstyle which gives your baby a new look.
This is the cutest baby girl hairstyle which looks amazing. For curly hair this the best hairstyle which looks stylish and cute at the same time.
24. An Old Angel Hairstyle
This angel like baby girl hairstyle which features long layers with a combination of waves will look amazing on your baby if fitted to the facial size and shape.
25. Stylish Hairstyle with Flowers
The side parted hair which is styled into waves looks amazing with the decoration of flowers. This hairstyle gives your baby a fresh and beautiful look.
26. Front Bangs
This hairstyle in which the front bangs flying in the air looks fascinating is the best hairstyle for long-haired babies. The hair behind is pinned and some hair is left free on the sides.
The two braids on the two sides of her head give her a neat and maintained look. For school going baby girls, we suggest the braided hairstyle as it looks really cool.
28. Little Angel Locks
This is a simple hairstyle, particularly for toddlers. On one side of the head, there is a small clip while the other hair is left free with curls.
29. Long Hair with Clips
In this hairstyle, the hair is divided into sections and the strand of hair is pulled back with a pin or a rubber band. This hairstyle with colorful pins and rubber bands looks fashionable and charming.
30. A Little Braid for Baby Girl
In this hairstyle, the hair shine on both the shoulders and one side of the hair has a small side braid which hangs to the shoulder.
31. Red Bow Little Girl Haircut
For a maintained and neat look, the small curls, are pulled up in a high pony which stands above her head and gives a cute look. This baby girl hairstyle is very common and beautiful.
Oh i love this little girl's hairstyle. Just look how cute she is looking. This hairstyle contains two ponytails which are set free. If you baby is a bit healthy, you can try this hairstyle with medium hair.
33. Front Curls Hairstyle
The pony is created on the little back side to let the front wavy hair dance in the air. This is a cute hairstyle for playing babies.
34. Simple and Easy to Maintain
This hairstyle is very simple but gives a neat and stylish look. It is difficult for small babies to manage their hair so this is the hairstyle which is very easy to maintain.
35. A Little Girl Pinned Hairstyle
This is another beautiful and neat hairstyle for an everyday routine for little girls. The hair is pulled and pinned on the back. The hair reaches down the neck in this hairstyle.
36. Deep Bangs in Inverted V Shape
A sweet baby girl hairstyle with deep bangs styled in inverted V shape looks amazing. The bangs are shorter in length at the middle while on the sides the length of the bangs increases which gives a fabulous look to your baby.
This deep fringe haircut and two high ponies on both sides of the head looks beautiful for this girl. You can try this for your baby too.
The hair on the middle of the head is separated from the rest hair so that it can cover the forehead while the rest of the hair is left free.
39. Falling Curls
This is a simple hairstyle for long hair. The long hair with curls is left free which gives an adorable look. Falling curls will suit the girls with round faces.
40. Chinese Type Baby Girl Hairstyle
This is a unique and beautiful hairstyle which features deep front bangs and a rounded look at the back. This hairstyle can be applied to any shape of the face and any texture of hair.
41. Tousled Short Bob
Tousled styles are great for baby girls who have thinner hair. A short little girls bob look is a beautiful choice which has been chosen by many celebrities for their baby girls. Tousling a style will help her hair to look thicker until her hair grows longer.
42. Lightly Curled Bob
Many baby girls are born with a soft natural curl in their hair which may grow out as they age. If your baby has soft hair with a slight curl, a chin length bob could be a perfect choice. All that you will need to do to maintain it is dry her hair gently and then part it down the center.
43. Modern Short Pigtail Plaits
Modern plaits are not pulled as tightly as classic plaits are. You can see a looseness near to the front of the style which actually adds a little volume. Give the style an extra cute factor by tying her plaits into place with little fabric bows.
44. Roots on Show
Although it is not sensible to use any kind of adult hair dye on a baby girl, you might find that your baby girl ends up showing her roots. Many children's hair will gradually change color as they grow older, so they might not end up with the same color of hair that they were born with.
45. Choppy Cut with Heavy Bangs
If your little girl has dark eyes, a style with heavy bangs will be a brilliant choice. A choppy cut is also ideal if she likes to run around and play because the style will still look good even if it gets messed up a little bit.
46. Heavy Bangs and Flyaway Hair
Some parents worry about their little princess having Flyaway hair, but it is perfectly natural because baby hair is much softer and lighter than adult hair. Heavy bangs like this will actually complement your daughter's hair if it has the tendency to get a little bit Flyaway.
47. Chin Length Soft Hair with Side Parting
Keep chin length hair soft by brushing it regularly to make sure that no knots form. Do not wash it too often or else you risk stripping the important natural oils away which could damage the hair. After brushing, complete the style by sweeping most of her hair to one side with a side parting.
48. Pin Updo with Face Framing Strands
For a special occasion, separate her hair out into lots of little sections. Twist each section twice and then pull it up and around onto the top of hef head. Pin each section in place with a bobby pin. Leave a few asymmetrical sections down at the front to frame her face.
49. New kids on the Block
For a princess who is more of a tomboy, try a simple style that needs very little maintenance. A symmetrical cut will only need brushing a couple of times to make it sit perfectly. Finish off her tomboy style with a backwards baseball cap which will help to protect her hair as she runs around and plays.
50. Flower Accessories
Any princess can enhance their style by adding beautiful accessories. A simple headband can be given a regal look with the addition of a gorgeous silk flower in her favorite color. A headband will help to keep her hair out of her eyes.
Your baby girl will adore this hairstyle. It consists of fishtail braids across the taper that are gathered in space buns at both sides. The rest of the hair should be flat and perfectly brushed. Your girl will definitely stand out from the crowd with a baby hairstyle like this.
All little girls love braids. They make them look fantastic, but they are also practical for moms. You can be sure that this hairstyle will make your girl love summer and warm temperatures. Braid her hair on both sides, by making two tight French braids bun.
Once you learn to make the infinity braid, you will make your daughter looks like a princess. Long and thick braid is perfect for both casual school days, as well as for special events. Make sure to comb her hair at the back and to secure it with an elastic.
Then start braiding until you come to the hair ends. Make this look like a half up by leaving the half of the hair straight.
54. High Bun with Colorful Elastics
All little girls love pink color. Make them look like princesses by adding some colorful elastics to their hair. Divide and comb their hair.
Make a huge bun and decorate it with pink flower hairpins. This baby girl hairstyle is perfect for birthday celebrations and days at playgrounds.
55. Long Hair with Side Braids
Long hair is great for all little girls. However, it can represent a problem for moms, who need to comb it and re-tangle it every day before their princesses go to bed. To make this baby girl haircut easier, you can braid your girl's hair. Don't do it completely though – leave her hair straight, while braiding only the sides in beautiful French buns.
56. Web-inspired Ponytail
This web-inspired hair is perfect for pool days. You can be sure that your little girl will look great, while her hair won't bother her. Comb her hair, split the few strands, and secure them with elastics. Then gather all her hair into a ponytail. This ponytail can be secured with a lot of colorful elastics, so the tangles are minimal.
Rainbow colors in the hair of your little girl will make her feel gorgeous. She will be the main star in the playground, that is sure! Braid her hair at the taper, and gather all the hair in a low ponytail. Then you can use hair spray in different rainbow colors and make her hair look fantastic.
Braided hair is perfect for little girls who would like their moms to make them look like princesses. Don't forget to add floral hairpins. They should be in pink or some other pastel shades. This girl can wear this lovely updo for birthday celebrations or at playground parties.
Instead of getting only one bun or two space buns, make your girl a bunch of buns. Position them all along the center of the head by gathering the hair from both sides. This hairstyle for little girls is perfect for warm summertime when your kids hate the hair to be on their face.
A low bun is excellent, but make it look even more attractive by braiding it. You can opt for one or two side braids and gather them in a bun. However, without accessories, your girl may find baby girl hairstyles like this boring. That is why you should add some ribbons.
61. Twisted Updo
If your baby girl has medium length hair, then you can absolutely make her updo like this. Half up half down hair is perfect for daily wear. However, by adding some interesting hairpins, like this one, you can transform this hairstyle from casual to elegant.
62. Hairstyle Inspired By 4th Of July
4th of July is a big holiday in America. So many parents opt to make their kids' hairstyles inspired by this date. You can braid and gather the hair of your little girl and add some flag-inspired ribbons to make it look even better.
63. Zig Zag Braids
Instead of doing your girl simple and usual braids, make them look interesting by braiding them zig zag. You can also gather the hair ends into two ponytails and secure them with colorful elastics.
64. Bows hairstyle
This updo is great for elegant occasions. Comb your little girl's hair, and then make it look like little bows. Secure everything with a lot of bobby pins. The bow at the front is perfect for girls to stand out from the crowd.
65. Colorful Threads Hairstyle
Space buns are great, but let's make them look more appealing. By wreathing colorful threads at the taper of your kiddo hair, you will make her hairstyles look even more attractive. Once she sees how good she can look with threads, she will want more of these baby girl hairstyles!
66. Long half up half down hairstyle
If your little girl has exceptionally long hair, don't be afraid to style it. Yes, we know, more combing and tangles, but in the end, your girl get perfect hair that will make her stand out from the crowd. Simply make a half up half down style by braiding the part of your little girl's hair.
Ponytail like this will make your little girl look elegant and even fancy. Whether you need to go to some nice and special events, braid the upper part of your girl's hair and gather the rest of your hair in a ponytail.
Pigtail hairstyle is popular among little girls. The most important thing you should do is to style the elastics in a way your girl like – coordinate the color and material.
69. Large Waves
Nothing can replace simple yet powerful waves and curls. Your little girl will adore her long wavy hair, whether it is styled for a day or some special event. Keep her hair hydrated with oils and conditioners.
Fishtail braids might not be the easiest ones to make, but they are surely the most beautiful ones. Divide your girl's hair and make this braid at one side. It will look fantastic.
Baby girls are cute and innocent. Though they are too little to understand today's fashionable trends, you should get her the best baby girl haircuts and hairstyles that'll suit her the most. Even these little girls love their hair as hair is something very special for them. Hope you get the hairstyle ideas you are looking for you little cute baby girl.