Dutch French braid style is an all-time favorite style of young girls. They like to make these types of braids to school and to college as well. The best thing about French braid is that it can be made in many different styles and can even be decorated with different hair accessories.
1. Double Dutch French Braid Style
One can easily make a double Dutch French braid style. The young girls who love to have two ponies or braids can make them in this style. It is quite easy and you can make it yourself. The hairstyle is also perfect during workout or yoga as it doesn't come in the way of your activity.
70 Unique French Braids for Women
2. Micronesian
It is the French braid having various number of strands. The most awesome look has six strands. Young school girls usually love to make the six stranded French braids.
3. Basket Weave
It is a classic style which gives off the appearance of a basket of hair on the head. It is a somewhat difficult hairstyle and you would need help from a friend or some other person to make this Dutch French Braid style.
Watch the below DIY tutorial:
4. Lace Braid
It is a super cute hairstyle. This Dutch French Braid gives the hair an appearance of a hair band or a lace style present on the head. The front of the hair is styled with a French braid while the hair at the back is left straight.
5. Double French Messy Updo
This is a gorgeous hairstyle for parties and ceremonies especially a wedding ceremony. This Dutch French Braid Style is a perfect match to any formal dress. It needs a lot of practice and you would need bobby pins, hair spray, and the tail comb to get a perfectly neat look for this hairstyle.
6. Side French Braid
Side French braid looks cool for girls that are aiming for an elegant yet effortless look. This Dutch French Braid style is a combination of waterfall braid and the French braid. It gives off an awesomely decent look to the wearer. This loose French braid is made only till the hairline at the side of the head and a thick loose knot is made at the end to secure it. This style looks good on loose slightly wavy or curly hair, not too finely combed.
Difference Between Dutch Braids and French Braids
7. French Ladder Braid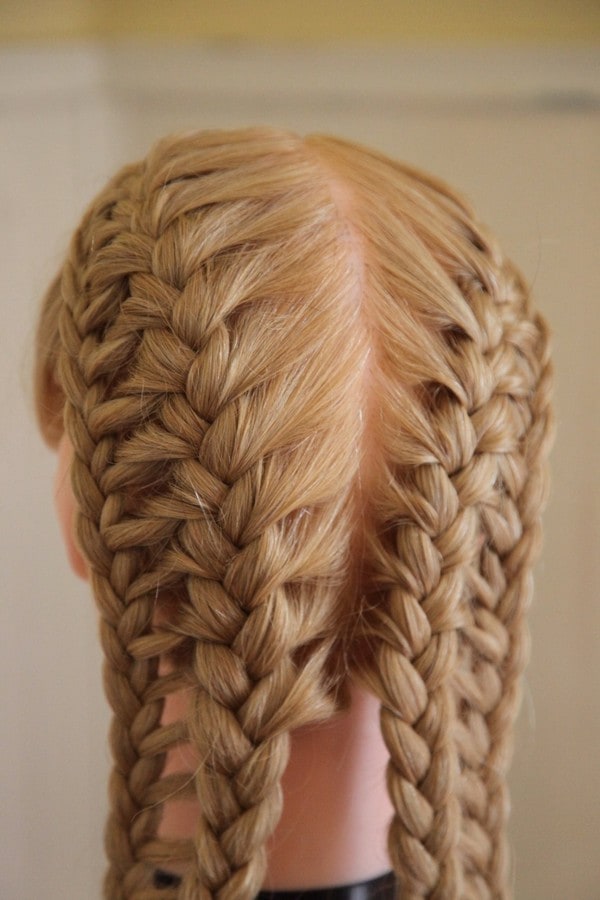 This is another decent and somewhat different Dutch French Braid style. It is a combination of French braid as well as the feather braiding. The girl who has the basic knowledge of French braid can easily learn to make this type of braid. Although it is somewhat difficult and time-consuming but only a little practice is needed to get this look skillfully in a short time.