Dutch French braids aren't that easy to achieve, that's the fact. You need a good amount of time and also practice mastering this hairstyle which will grab instant attention for sure.
The Best Dutch French Braids
Both the Dutch braids and French braids are very popular among young fashion enthusiasts. Combining the two hairstyles into Dutch French Braids can give you a unique look you always dreamt of.
1. Double Dutch French Braids
One can easily make a double Dutch French braid style. The young girls who love to have two ponies or braids can make them in this style. It is quite easy and you can make it yourself. The hairstyle is also perfect during workout or yoga as it doesn't come in the way of your activity.
We Love These Dutch Braided Bun Hairstyles
2. Micronesian Dutch French Braids
It is the Dutch French braids having a number of strands. The most awesome look has six strands. Young school girls usually love to make the six-stranded French braids.
3. Dutch French Braids With Weave
It is a classic style that gives off the appearance of a basket of hair on the head. It is a somewhat difficult hairstyle and you would need help from a friend or some other person to make this Dutch French Braid style.
It is a super cute braided hairstyle for little girls. This Dutch French Braid gives the hair an appearance of a hairband or a lace style present on the head. The front of the hair is styled with a French braid while the hair at the back is left straight.
This is a gorgeous hairstyle for parties and ceremonies especially a wedding ceremony. This Dutch French Braid Style is a perfect match to any formal dress. It needs a lot of practice and you would need bobby pins, hair spray, and the tail comb to get a perfectly neat look for this hairstyle.
Side French braid looks cool for girls that are aiming for an elegant yet effortless look. This Dutch French Braid style is a combination of waterfall braid and the French braid. It gives off an awesomely decent look to the wearer.
This loose French braid is made only till the hairline at the side of the head and a thick loose knot is made at the end to secure it. This style looks good on loose slightly wavy or curly hair, not too finely combed.
Difference Between Dutch Braids and French Braids
7. Dutch French Ladder Braids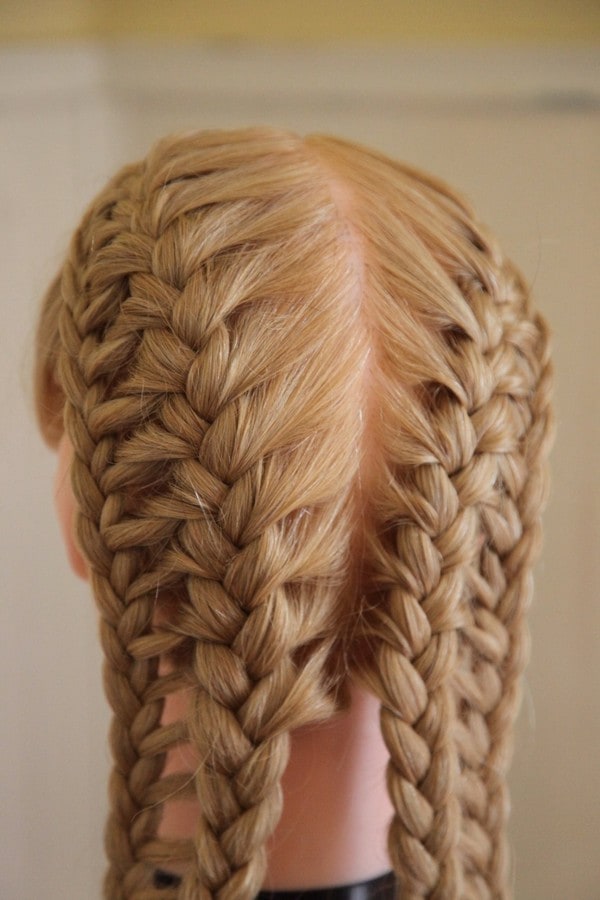 This is another decent and somewhat different Dutch French braid style. It is a combination of French braid as well as the feather braiding.
The girl who has the basic knowledge of French braid can easily learn to make this type of braid. Although it is somewhat difficult and time-consuming only a little practice is needed to get this look skillfully in a short time.
8. Ponytail Dutch French Braids
This hairstyle can be an attractive alternate aesthetic for a half-up, half-down hairstyle. This centered braid is intricate has an immense character in it. You could complete the look by styling the rest of your hair in light waves.
This hairstyle might seem time-consuming, but the result is more than worth it and is indeed one of the best braid styles that you must try.
Space buns have made a solid come back, especially as hairstyles worn for concerts and music festivals. The only downside about them is that it takes a village of pins to hold them in place.
A great hack for the same reason would be braiding your hair in a Dutch French style before securing the buns. This makes it both easy to hold in place and also, makes it more attractive.
Messy buns are everything amazing and fun these days, but a simple messy bun can become repetitive and boring. Adding Dutch French braids towards the side gives it a more alluring and graceful aspect. This way regular overworn hairstyle can turn into a unique one.
11. Dutch French Volume Braid
Sometimes we need inspiration for more than just regular hairstyles, sometimes we have to look divine for specific occasions. This hairstyle is one of the smashing hairstyles that are just ravishing to look at. It's a hairstyle that can be worn to a wedding or even to prom.
Crown braids can look both edgy and elegant based on the way you style it. This Dutch crown braid falls somewhere in the middle. The two Dutch style French braids that merge into one towards the end is a great look
. It is simple yet heavenly at the same time. This hairstyle can be worn for various occasions. It can be worn for both an important event or even for a fun evening out where you decide to dress it up.
This hairstyle is a living and breathing example of having the best of both worlds. You start with Dutch French braids and end up cutting that off at the base of your head.
Instead of going all the way, you choose to secure it and leave the rest of the hair looking like two ponies. This hairstyle is a great option for someone who is blessed with curly hair.
This hair updo is just magnificent to look at, even though it may seem difficult to carry our, in reality, it isn't. This hairstyle is a great way to step it up from a regular messy bun.
It has the same aura as a messy bun hairstyle but looks so much more beauteous. It's a perfect hairstyle for when you have to dress up all extra.
15. Ducth French Braids With Highlights
If you are looking for a stunning yet easy Dutch French braided hairstyle to wear for a fun day out or a to school, this hairstyle is right up your ally. Other than being super easy to achieve, it is also a great way to show off your hair color.