There are so many styles of braiding out there that you can try, and we are sure you will adore them all! No matter the event you are attending, a braided updo is something you need to get. You don't need to worry if your hair is not too long, hair extensions will do a phenomenal job at making your mane look thicker, longer, with more volume.
Different Ways to Style Braided Updos
Even if we are talking about fishtail, crochet, or box braids, the opportunities they gave you when styling an updo are enormous. By using these braiding styles, you can obtain hairdos that are perfect for school, office, weddings, parties, and luxurious events.
Check out the examples below and discover the best ideas to make your hair look outstanding!
1. Fishtail Braid into Updo
Whether you're attending a wedding or a fancy event where the looks need to be ravishing, a fishtail updo that ends in a sublime low big bun will certainly get anyone's eye. Spare a strand from your bangs and curl it. Let it fall on one side.
2. Braided Updo with Bangs
A halo braid that beautifully crowns your head is a spectacular idea for women who want a relaxed yet stylish look. To get better framing, spare the bangs and sideburns when knitting and let them cover your forehead.
3. Short Braids + Updo
Section your top hair in two parts and select two strands to create two braids. Roll them with the rest of the sectioned hair and meet them in the back. Use a small strand to secure the ponytail.
4. Cornrow Braided Updo
Cornrow braids can come in all shapes and sizes, and if your goal is to recreate this outstanding hairdo, gather all the twists into a high bun on top of your head. To give the hairstyle a great look, use hair jewelry and maybe some blue hair extensions to blend in the braids.
5. Box Braids Updo
A spectacular look is so easy to achieve when you opt for box braids. Section the hair in two parts and use only the lower area to make the knits. Some Jumbo hair might come in handy if you want to give the look an awesome twist. Pin the locks into a high bun.
6. Braided Half Updo
Create box braids for the whole hair and section the coiffure into two parts. Use the upper side to build a big bun on top of the head and let the rest of the braids fall on your back and shoulders.
7. Feed In Braided Updo
A feed in braided updo requires your favorite colored hair extensions. Build the knits and mix them into a big high bun.
8. French Braided Updo
A messy braided hair updo is everything you need if searching for a stylish, glamorous look. Section the hair in two and French braid each part. Secure the braids and build two big low buns in the nape area.
9. Braided Mohawk Updo
Using cornrows, you can design a fabulous mohawk like the one presented above. Style a voluminous braided updo that uses all the braids.
10. Crochet Braided Updo
A retro updo is ideal for black women who crave for a ravishing look. Build your braids and crochet your extensions on them. Decorate the hairstyle with golden cuffed beads.
12. Tribal Braids + Updo
13. Braided Updo with Weave
14. Braided Ponytail Updo
15. Jumbo Braided Updo
16. Messy Braid into Updo
17. Updo with Dutch Braid
18. Micro Braided Updo
19. Updo with Boho Braids
20. Lemonade Braided Updo
21. Free as a Bird
Show off your wild side by enhancing your braided updo with a few different hair accessories. Stick a clean bird's feather into your hair to give your hairstyle a free bohemian look.
22. Auburn Beauty
Auburn is a gorgeous color for a braided hairstyle. Auburn looks perfect on people who have a very pale or alabaster skin tone. A beautiful color like this should be worn with light or nude make-up.
23. Cute Curl
Style your hair so that the majority of it sits in a delicate braided arrangement. Take a few thin strands of hair down in front of both of your ears, and give them a cute little curl.
24. Strawberry Blonde Highlights with a Subtle Braid
In this hairstyle, the highlights are very delicate. Platinum blonde and strawberry blonde highlights work really well with one another because they create an expensive colour when they are mixed. The braid in this style is as subtle and delicate as the hair colourants.
25. Braided Beehive
In this braided updo, the stylist has created a spectacular beehive style by wrapping the braids around and around to create height. It is a brilliant style if you are looking for a real showstopper to wear to your wedding.
26. Thick Roots
Roots can be left very dark on purpose to create thicker looking hair with more depth and texture. Bleach your tips or dye them so that they are a really light colour in order to have the maximum effect with this style.
27. Low Braids with Floral Accessories
Low braids like these will sit quite low on your head and the style will not pull on your scalp or face. This means that this updo hair look is perfect for a wedding, as you will look relaxed and stress-free. Complete the wedding look with a delicate floral accessory to match your color scheme.
28. Voluminous Roots
Braided updos can look quite tight or small when they are styled onto women who have thinner hair. Give the look more volume by styling the braids further away from your scalp. This can also help to give the look more bounce.
29. Double Braids
Instead of styling your hair into just one single braid, style it so that you have two identical braids running alongside one another. Chunky, loose braids are a perfect style choice for brides who do not want to look over-manicured.
30. Diagonal Tight Braids
This intricate hairstyle draws all of the hair into a diagonal braid which runs down the back of the head. It looks amazing but it can take a lot of work to make sure that it stays looking perfect. That means that it is best for very special occasions.
31. Brown Hair with Caramel Highlights
Brown hair with caramel highlights looks really great when it is put into a braided updo. The caramel highlights help to give the braids a gorgeous textured appearance. Make sure that you do not go overboard with the caramel color.
32. Waterfall with Curls and Braids
Waterfall styles are very popular hairstyles for brides. Bold curls can be braided into a spectacular waterfall style by a skilled wedding hairstylist. Complete the style with a beautiful floral accessory that can hold the braids and curls in place.
33. Baby's Breath Flowers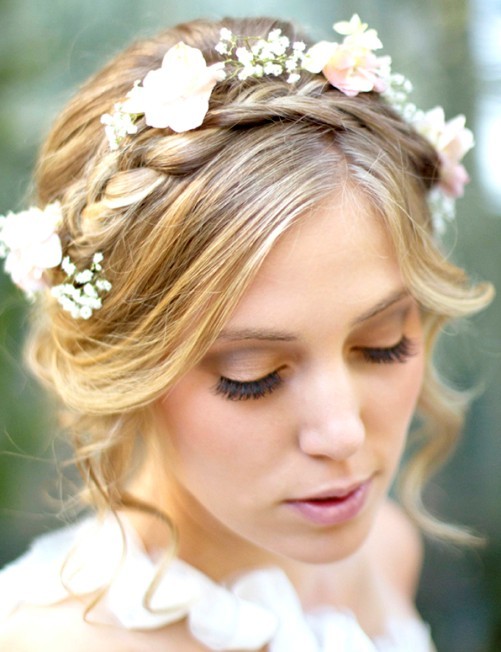 Baby's breath (gypsophilia) is loved by brides because it is such a delicate white flower. Incorporate baby's breath into a braided updo for a lovely wedding hairstyle. Add a few larger flowers for effect if you want to.
34. Braided Crown
Give yourself a gorgeous regal look by braiding your hair into a crown. The braids should sit high at the front of your head and then follow the curve of your head around.
35. Straggling Strands
For a cool messy style, leave a few straggling strands trailing loose from your braided updo. Messy chic is really popular with younger film stars and pop stars who don't want to conform with traditional hairstyling rules.
36. Halo Effect
Give yourself a truly saintly look by fashioning your braids into a halo style. Your braids should sit atop your head in a full circle hairstyle. This style will look great at a formal event.
37. Cornrows with a Topknot
Tight African inspired cornrows help to show off your beautiful bone structure. Give your style a touch of red carpet glamour by pulling your cornrows up into a braided topknot that sits high on your head.
38. Quirky Waterfall Braid
Waterfall braids can help to give you a really nice half-up half-down style. Pulling one strand of hair out of the normal sequence when you are styling your braid can give your look a modern quirky edge that nobody else can copy.
39. Faux Fascinator
Create a spectacular headpiece out of your own hair by winding thick chunky braids up onto the top of your head. Make it seem more like a fascinator by pinning the braided updo at the front of your head rather than at the back.
40. Punky Styling
This hairstyle is amazingly edgy but draws on a few different cultures and genres for inspiration. The low microbraids are very reminiscent of Native American hairstyles, whilst the backcombed centerpiece seems more like a Teddy boy style. All-in-all it creates a really punky look.
41. Braiding with a Rolled Chignon
A chignon style is a bun which sits at the nape of the neck. Chignon hairstyles like these are very popular for wedding hairstyles because they are relatively simple to style yet still look gorgeous. Braid your hair and then roll the remainder round into a low chignon.
42. Chignon with Braiding
For this chignon style, the stylist has carried on the braiding all of the way through the style. They have then pulled the braided hair up into a low chignon hair which sits at the nape of the neck.
43. Platinum Blonde Highlights
Platinum blonde highlights really help the braids to stand out more in an updo. Platinum highlights can help to completely transform mousy brown hair into something that is really special.
44. Flyaway Style
Flyaway hair does not always have to be a bad thing. A little messiness can still be part of your look, even if you are styling your hair for a wedding or a formal event. If a few strands of your hair come loose, it really doesn't matter!
45. Braided Croissant
A croissant style is one that sits low in your hair and follows the natural curve at the base of your skull. Thick braids in this part of your hair will make your hair look wonderfully pretty.
46. Twisted Cornrows in a Lattice Style
For a regal cornrow style, choose twisted braids instead of three-strand braids. Cross your hair upwards from the base of your skull towards the opposite side of your head. Twist all of the cornrows together into a topknot style.
47. Low Braid with Chignon
Style a single braid into your hair close to your hairline and then follow the shape of your head around. Pull all of your hair up into a low and loose chignon style. This is a gorgeous style for when you need to add a little bit more glamour to your look.
48. Mid-Braid with a High Bun
A mid-braid starts from the top of your head rather than coming from the fringe area. Style a loose mid-braid into your hairstyle and then pull all of the rest of your hair up into a high bun which sits near to the crown of your head.
49. Nautilus
The Nautilus style takes its inspiration from the gorgeous shapes which can be found in some seashells. Start off with a high braid and then roll your hairstyle round into a bun made up of concentric circles on just one side of your head.
50. Cornrows with Flowing Curls

Braid your hair into a cornrow hairstyle all of the way across your scalp. Once you have moved away from the scalp, you should stop braiding. Pull your hair up into a high ponytail and then fan out your hair so that your curls flow freely.
51. Double Croissant Style

This loose croissant hairstyle utilizes two braids instead of just one. If you choose to start your braided updo towards the back of your hair, you can leave a few strands of hair down or style in an asymmetrical fringe.
52. Baby Bouffant

Create a "baby" bouffant hairstyle by using your braids to force more volume into your hair at the top and rear of your head. Whilst this baby bouffant is a subtle nod to the 60's, it does not have all of the excesses of the time period.
53. Voluminous Latticework with a Side Bun

Any braided hairstyle can be given more volume by leaving the braids loose rather than pulling them tight. Make the most of your voluminous latticework by pulling your hair into a bun at the side of your head instead of the nape of your neck.
54. Simple Braid with Side Bun

Choosing a side bun instead of a bun which sits at the back of your head can help to take some of the harshnesses away from the style. Although it helps to create a softer women's hairstyle, it does this without leaving the style looking too casual.
55. High Braid over a Tight Bun

Many braided hairstyles will draw the braid into the bun, however, this women's hairstyle is a little bit different. Style your braid so that it sits above a tight bun. It doesn't matter if you have a few strands sticking out.
56. Braided Back with a Stylish Topknot

Braid your hairstyle from the bottom to the top, instead of doing it the other way around. Twist any hair that is left over and then pull it around into a secure topknot hairstyle. This braided updo is also great if you want to show off a neck tattoo.
57. High and Low
For this stylish woman's hairdo, you need to start braiding quite high on your head. Quickly drop the braid down so that it runs almost vertically to the nape of your neck. Pull the rest of your hair up into a rolled chignon to complete the hairstyle.
58. Tight Pixie Braids
From the front, this amazing hairstyle looks like it might just be a standard pixie cut. Once you look at the back of the style you will spot that it consists of lots of little braids that are tightly woven together.
59. High Braid with a Loose Fringe
Braid your hair so that your braid sits high on the top of your head. Leave a few strands of hair down at the front to frame your face. It is a great women's hairstyle for a red carpet event or for a Christmas party.
60. Braided Crown with Flowing Locks
Long hairstyles with flowing locks are a really glamorous choice for a night out or a red carpet event. Style in a braided updo element by braiding a crown across the top of the head. Big bold curls look amazing with a braided band.
61. Mixed Braids
Create a truly unique braided hairstyle by mixing lots of different types of braids together. You can include styles like thick chunk braids or twisted braids.
62. Thick Braid with Asymmetrical Bangs
A thick braid across the top of the head is quite a popular style choice for braided updos. Wear your hair with asymmetrical bangs and a few loose bits of hair to highlight your gorgeous eyes and lips.
63. Messy Style
Cool messy plaits help to give a braided updo an edgy modern look. The style is good for people who want a look which is non-conformist but feminine.
64. Chunky and Long Side Braid
For a quirky take on the Frozen hairstyle, braid your hairstyle into a chunky side braid. Having your braid thicker and to one side can stop your style from looking too childlike.
65. Tight Headband Braid
Braid your hair tightly over the top of your head to act like a headband. Straighten your fringe and let it cover your forehead to give yourself a really cute women's hairstyle.
Every time you want to make an impression, braided updos are a perfect choice. They are in trends, suitable for any event and you can see them on all red carpets. Mix them with waves, ponytails and buns and you'll be amazed by all those people complementing your look. Feel free to take your styling game to the next level!