How long has it been since you wore your hair in a French braid? If it was when you were a little girl, you're overdue on rocking one of the many updates the classic hairstyle has gotten.
No matter your hair thickness or texture, the French braid is one style you can count on to make you look gorgeous, whether it's for work, that fancy event coming up, or just while you're hanging out at home.
French Braided Updo
1.
2.
3. Braid Crown with Full Up 'Do
Once you have created a crown of braids, you can pull the rest of your hair up into a stylish up'do. Secure it in position with hairpins and grips for a flawless look.
4. Single Braid with Chignon
Using clear sections of hair from the front of your head in your braids helps to create a stepped look. Pull your hair up into a lightly curled chignon for the perfect wedding style.
5. Short French Braid
If you have thin hair or your hair is less than medium length, a short French braid will work. This one is formed by brushing all the hair forward and braiding right at the hairline.
6. Upside Down French Braid
Instead of the ends of your French braid being at the neck, this is where they'll start. Secure the ends of the braids at the crown and wind them into this cute ballerina bun.
7. Gorgeous Wedding Hair
For gorgeous wedding hair, incorporate a thick statement braid on one side of your head. Pull the rest of your hair up into a beautifully curled chignon bun.
8. Birdcage Chignon
To create this look you will have to section your hair off into lots of individual sections which you can pull round into waterfall braids. The sections which come out of the waterfall can then be pulled round and tucked under in a birdcage effect.
9. Two Tone
If the underside of your hair is a different shade to the top, then you can create a fantastic two-tone French braid hairstyle like the one above. The contrasting colors look absolutely amazing.
10. Bow Bun
Top your French braid style with an amazing bow of hair which is reminiscent of the 40's pin-up style. If you don't want to make a hair bow, use a statement fabric bow instead.
11. High Crown
Section off some hair towards the front of your hair. Use this hair to create a high crown braid which sits atop your head. You can wear the rest of your hair up or down.
12. Middle Parted French Braids
Instead of French braiding hair all the way to ends, stop at the neckline and wrap them together using a jeweled hair claw.
13. Braided Bun
A braid does not need to flow down the back of your head. For a really chic style, pull your braid up into a gorgeous chignon at the back and leave a few strands down to frame your face at the front.
14. Half Crown with Bun
Work in a braid around just one side of your head. Allow it to follow the natural curve of your skull. Pull the rest of your hair up into a tight chignon bun at the back.
15. Thin Braided Up-do
Create the appearance of a pixie bob with a manicured braided updo. Tuck stray hairs away under the chunky braid to ensure that you do not have a hair out of place.
French Braided Ponytail
16.
17.
18.
19.
20.
21.
22.
23. Braided Knot
If you are a fan of pulling your hair back into a high ponytail, you can actually enhance the look by using a braided section of your hair to "secure" the pony. Use an elastic hair tie to hold your ponytail firmly in place, but then wrap the braid over to cover the hair tie.
24. French Braided Side Ponytail
Create a fun twist on the French braid by making it into a sideways hairstyle. This braid starts at the temple on one side of the head and winds around the head ending at the ear. Secure with a pretty flowered clip.
25. Voluminous French Braid
Stop your braid just above the nape of your neck. Use a hair band and a knot of hair to pull the remaining pony away from your back. Run your fingers through the pony a few times to create extra volume.
Half Up French Braids
26.
27.
28.
29. French Headband Braid
If you like the headband look, create it without the use of an actual headband. Start a French braid at one temple and cross it over to the other side. Pull it loose for soft vibes and leave the rest of your hair wavy.
30. Front French Braid
Keep hair off your face with a side French braid that works even with side bangs. Part hair at the side, then start the braid and continue it down the opposite side ending at about ear level. Pull it the end back and secure it with a clip.
31. Top Waterfall
Waterfall braids normally start right on the top of your head, but you can try this twist where the "waterfall" takes hair from your fringe and sits atop your head instead. Make the waterfall asymmetrical for an even more unusual look.
32. Messy Half Up, Half Down
This is an amazingly funky hairstyle if you are looking for a mixture of up and down styles. Braid the front sections near to your forehead and then use curling tongs to create a beautiful loose curl in the back sections.
33. Loose braid with loose curls
To create loose tousled curls underneath a braid, you can use a curling iron and then run your fingers through your hair to help to separate it out into smaller segments.
34. French Twist
A twist on a French braid is created by pulling one section of hair out of the braid so that it looks like a twist. It looks beautiful as a half updo with the bottom half left straight or slightly wavy.
35. Braided Heart
Create two opposing braids starting from either side of your parting and use hair from your fringe to give the braids a solid structure. Pull these back around and then join together at the bottom to create a distinctive heart shape.
Waterfall French Braids
36.
37. Braided Flower
Use the same technique that creates a French braid to make this waterfall braid twist. The loops are pulled loose to thicken and widen the braid, and the end is secured with a pretty braided flower.
38. Diagonal Waterfall Braid
Waterfall braids are a simple yet striking choice. For a quirky take on this beautiful style, run your waterfall braids on a diagonal instead of on a level.
39. Waterfall Braids and Curls
This is a great prom or summer wedding hairstyle because it shows off the gorgeous curls without risking being too casual. It can be teamed up with flower accessories for amazing boho chic.
40. Connected Waterfall French Braids
Why have just one waterfall French braid when you can have two? Start with a small section of hair near the top of the head, connecting the waterfalls to another braid just below.
French Braids for Black Women
41. Braided Bun and Crown
Wrap a thick braid over your forehead to create the impression of a braided crown. Pull equally thick French plaits up into a classic bun style at the rear of your head.
42. Chunky Braids with Wrapped Fringe
If you have African textured hair, then chunky cornrows (French braids) are an excellent way to control your hair. Wrap portions of your fringe around from one side of your head to another.
43. Chunky Cornrows
For a big, bold statement style, plait your hair into chunky cornrows. This is a great way to keep your hair looking smart for the workplace.
44. Latticed Braids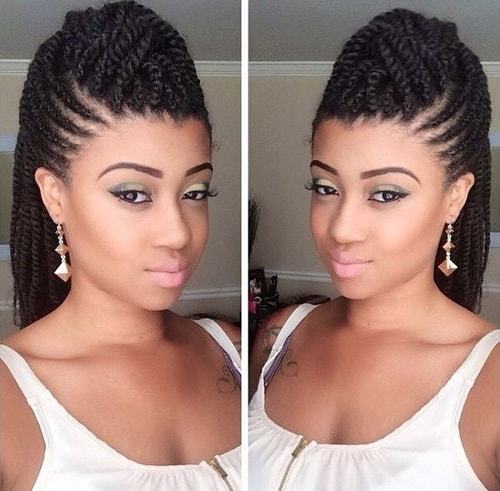 Weave individual cornrow under and over one another on top of your head to create a latticed look. Scrape your hair back into a high pony tail.
45. Natural Hair
Nappy natural hair looks amazing when it has been teased back into a classical single French braid style. Wear with a simple headband for everyday elegance.
Crown French Braids
46.
47.
48.
49. Swiss Crown
This Swiss Crown is a traditional hairstyle in many alpine regions, however, that does not mean that it has to stay in the mountains. A Swiss Crown is a suitable choice for red carpet events or other formal occasions.
50. Loose Crown
A loose braid crown can offer a very soft and feminine look to the wearer. It also helps to make thin hair look more voluminous. If you are looking for a sweet style for a wedding or formal event, then this might be the right choice for you.
Fishtail French Braids
51.
52.
53.
54.
55.
56.
57. Fishtail French Braided Updo
A jumbo fishtail braid that uses all of the hair instead of half is great for fancy occasions like weddings and dance recitals. The top of the head is decorated with a pretty clip that secures hair. It will be easier to braid the hair if it's straight first.
58. Side Fishtail Braid
Use the same technique that you would use for a classic fishtail, but create this braid at the side. It is a gorgeous choice for any special occasion or wedding.
Loose French Braids
59.
60.
61. French Braid for Wedding
Your big day deserves a stunning hairstyle. Go for this mix of French braid and fishtail braid for a detailed way to display your long locks.
62. Single Side Braid
A single braid at one side of your hair creates an eleven look which is straight out of Lord of the Rings. It is a soft and beautiful choice which would look perfect for a wedding or garden party.
63. Stepped Braid
Create a stepped look by bringing in loose sections of hair from all the way down your head. Knot your hair half way down and fan it out to create a gorgeous semi-casual look.
64. Casual Side Braid
This side braid is perfect for a fun, casual style. Loosely create a side plait hairstyle towards the back of your head. Do not fix it too tightly or it will ruin the casual look that you are aiming for.
65. Braided Fringe
Weave a single, thin braid into your fringe to help to keep your hair out of your eyes. This braided hairstyle will create a boho chic look when it is teamed up with loose curls or loose waves.
66. Rolling Side Braid
These rolling side braids are a perfect choice for glamming up a casual hairstyle. It is really quick to pull your hair up into this boho style, so it is a great look when you are heading out with your friends.
67. Highlighted Sections
A few contrasting highlighted sections can also look brilliant in a braided style. When small sections are highlighted, you can really see how your hair darts around from side to side within the plait.
68. Messy Style
Your hair can still look totally stylish even if you have a few stray hairs. In fact, the scruffy look can be really desirable in a casual "just threw this together" hairstyle.
Other French Braids
69. Long French Braids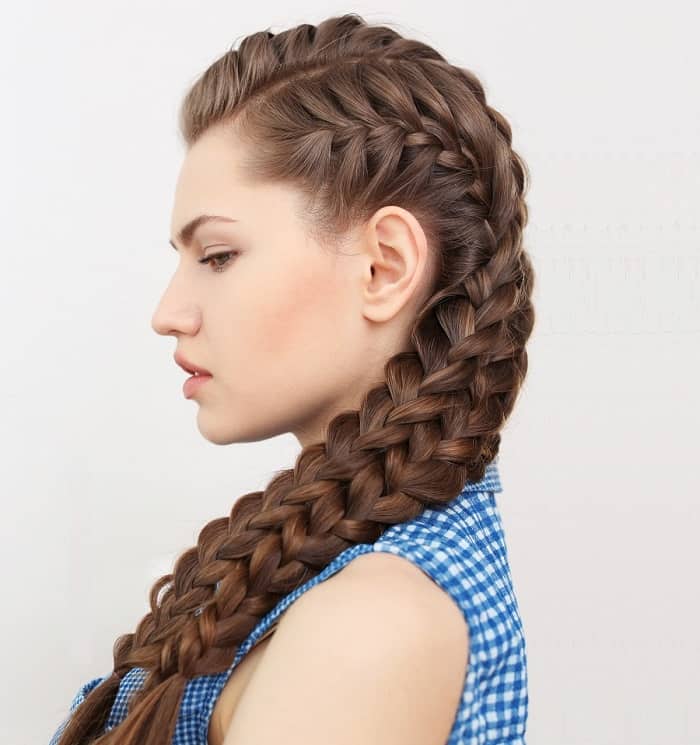 These two French braids are perfect for women with long hair. Keep your hair out of your face by creating a side part and starting these braids at the temples, braiding through to ends. Drape them both over one shoulder for a classy look.
70. Double French Braids
A dramatic hairstyle to rock features two French braids on each side of the head. They're combined to make the hair look thicker and look especially beautiful with a contrasting hair color, like this muted purple.
71. French Braided Dreads
If you're a woman with dreadlocks, you can still fashion your hair in a gorgeous French braid. This look is traditional, but instead of securing the ends with an elastic, a couple of locks are wound around the ends.
72. French Braid for Thick Hair
For thick hair, a luscious French braid like this can tame your locks in a gorgeous way. Form a couple traditional braids around the head first, leaving some hair loose, then combine them all in the French braid.
Looking for a unique braid? Try these box braid styles
73. Classic Single French Plait
This hairstyle was popular for decades with noblewomen in various different countries. It is a beautiful look for any special occasion.
74. Latticed Plaitwork
Make your plait look even more eye-catching with your interpretation of this wonderful latticework. Knot your hair at the nape of your neck and let the rest of it hang down freely.
75. Off-center Plait
Creating a single braid is a classic look, but it can be updated a little by plaiting slightly off-centre. The plait will then fall gently over one shoulder rather than falling straight down your back.
76. Messy Plait
Classic French braids don't always have to be perfectly manicured. A messy plait can be pulled together quite quickly and looks a little bit more casual than a carefully created braid.
77. Thick and Thin
Try this twist on a classic French braid. Start your main braid close to the nape of your neck and leave most of the top of your hair smooth. Feed a few thin plaits or twists into your style to create a unique look.
78. Beach Hair
If you have copper tones in your hair, then a classic French Braid is an excellent choice for your beach hairstyle this summer. The added bonus is that it will leave your hair with a beautiful wave once you remove the plaits.
79. Thin French Braid
If you only have thin hair, then you may worry about your single braid tapering away to nothingness. However, a French braid can still look stylish even with thin hair.
80. Multi-Braids
Take braiding to a whole new level by pulling lots of different thicknesses of braid together into one ponytail. This look gives your hair a gorgeous texture.
81. Coppery Tones
Put coppery highlights into your hair to give your hair a metallic shine when it catches the sun. This look is enhanced by wearing lots of reds and browns.
Try Brown Hairstyles with Caramel Highlights
82. Bow Braids
This incredible high fashion hairstyle incorporates "bows" of hair into the braids. It is a really bold choice when teamed up with a single side braid.
83. Diminishing Braid
This braid starts off being big and bold near to the top of the head but diminished in size towards the end of the style. It is a great choice for people with thinner hair who still want a braided style.
84. Sleek and Shiny
Perfectly straight hair looks amazing in a braid. A sleek and smooth style can help to show off the healthy shine of your hair.
85. Subtle Braid
Keep things simple and casual with a subtle down hairstyle. Loosely braid in an asymmetrical fringe and then run your fingers through the rest of your hair to create volume.
86. High French Braid
Pull your hair upwards and backwards to create a high French braid style. This style is wonderfully elegant and is the perfect choice for formal parties.
87. Distinct Sections to Create Steps
Use chunky, distinct sections of hair to give your style a stepped look. This means that all of your hair plays an important part in your style.
88. The Top
You can choose to braid only the top section of your hair. This style is great for shorter people who want to have something to show off on the top of their head.
89. Stegosaurus
This spiny braid is a little bit punky without being too extreme for the office. It is a great choice for those who want to stand out in a crowd.
90. Mixed Braid
This braid mixes two different styles into one by integrating a classic single French braid with a funky fishtail style. You might need someone else to help you to pull off a braid as neat as this one.
91. Mermaid Braid
This style uses complex latticework across the back of the hair, which then fans out into an open "mermaid" style. The hairstyle is made even more striking by the ombre bluey-green hair coloring in the lower section.