When it comes to the compelling Viking braids for women that a lot of actresses are flaunting nowadays with so many historical hairstyle inspiration on TV shows lately, there's practically no scope left for imagination!
Therefore, we couldn't avoid getting helplessly hooked on each and every braided design we spotted in almost every steamy scene! Hence, this is the exact reaction every female would want. That is, not to be left out of anybody's sight, let alone attention!
Historical Glory Behind Viking Braids for Women
There's no doubt that each and every one of us has been drawn to the badass warrior women of our cultures. Those women that we hear about in great rivalry tales, and those who left some major imprints in historical events.
Some find their tremendous strength to be admirable, while others just respect them because they have always kicked some serious ass in order to be respected.
So, whether is it Daenerys Targaryen, aka " Mother of Dragons" from HBO's "Game of Thrones, the great mighty warrior Xena, From Xena: The Warrior Princess, or Lathgertha from "The Vikings" there is a whole list of tutorials Viking braids for women and DIYs for you to try down below!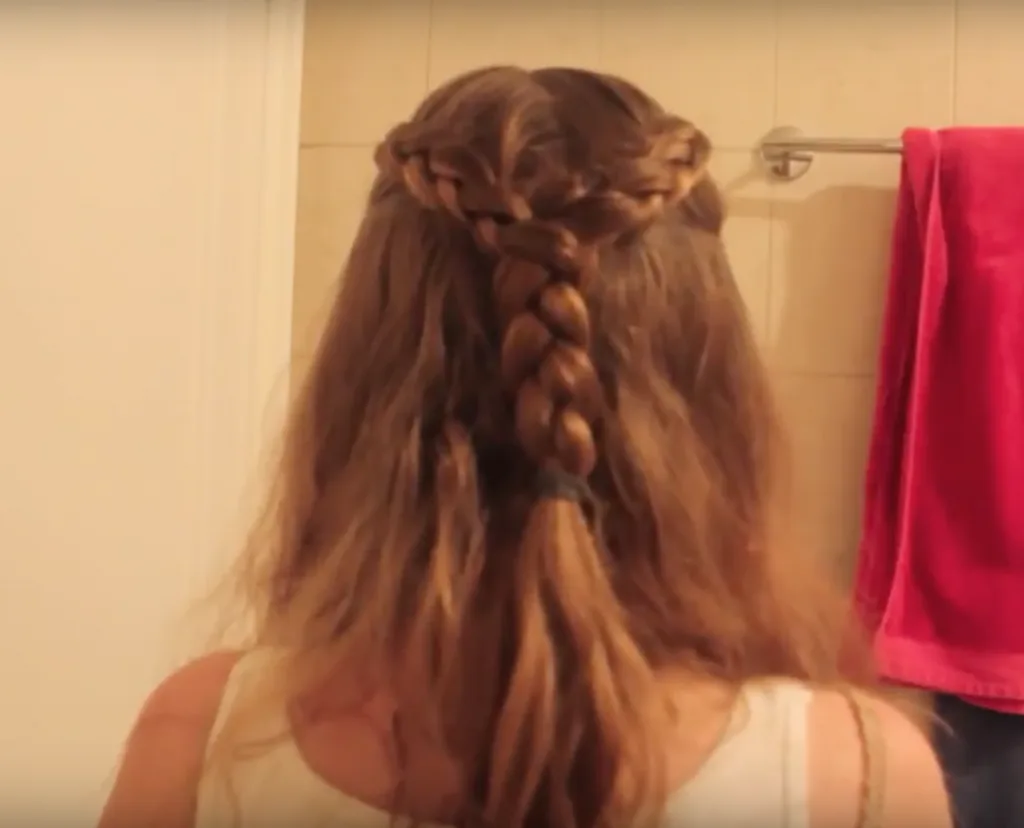 DIY Section: Tools You'll Need
Among all other hairstyles, braids need the least equipment of all. However, that doesn't stop them from being the most versatile designs of all. So, in order to create such complex braids you will definitely need:
Rat's tail comb to accurately section out each braid.
Hair clips to separate the braids from the loose hair part.
Elastic bands to secure the ends of a braid.
Hairspray to make sure each braid stays in place without any flyouts whatsoever.
Bobby pins to pin every braid in its rightful place.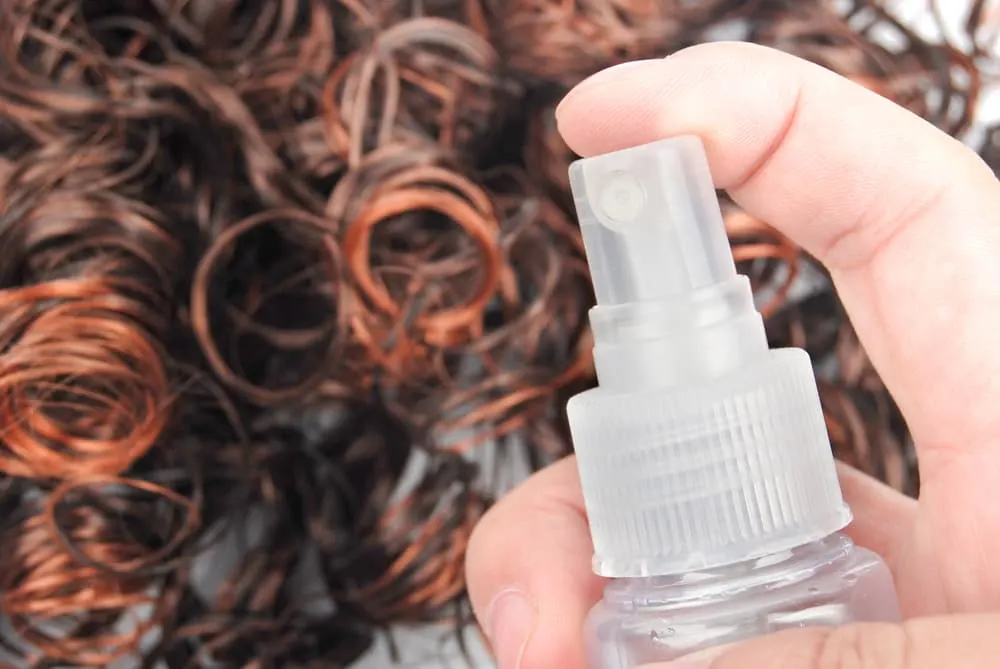 Side French Braids for Long-Haired Divas
Swoon-Worthy Viking Women Braids
So in honor of the Vikings of our past, we present to you interestingly twisted braids that are not so intricate as they might seem.
Check out the list below for some Scandinavian descent Viking braids for women. Learn all about the styling process and copy whatever design you desire most!
#1. Three Braids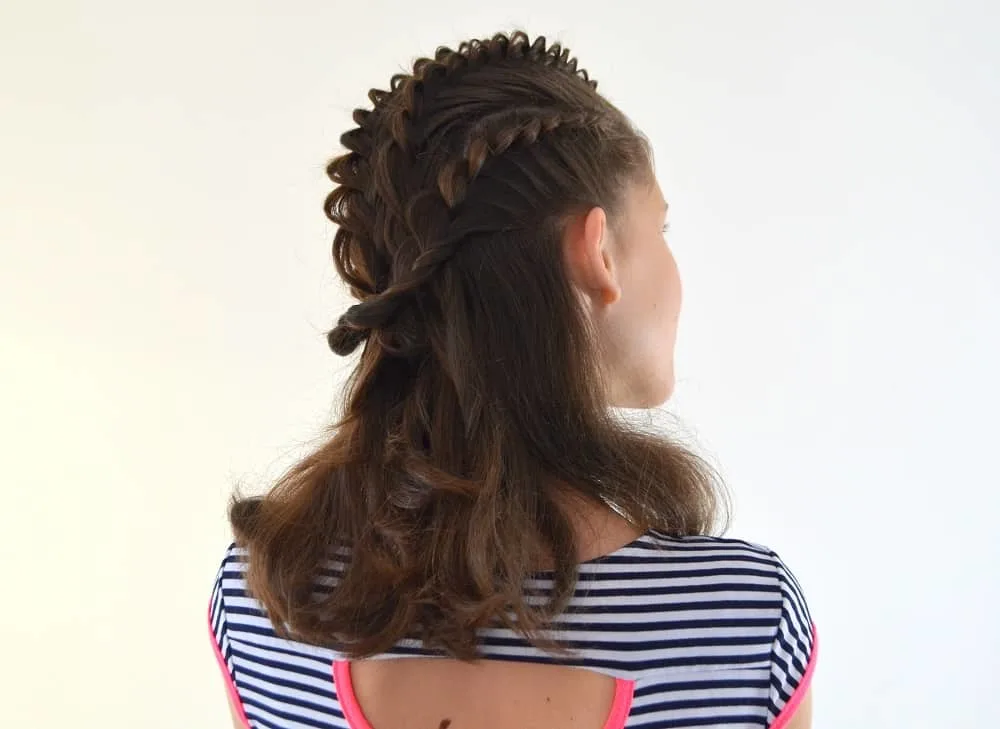 Giving your braids more volume and structure has never been easier. Once you've created the half-up half-down hairstyle with Viking braids, easily pull off the edges for more dimension. Use hair spray to keep the shape in one place.
#2. Crimped Hair and Viking Braids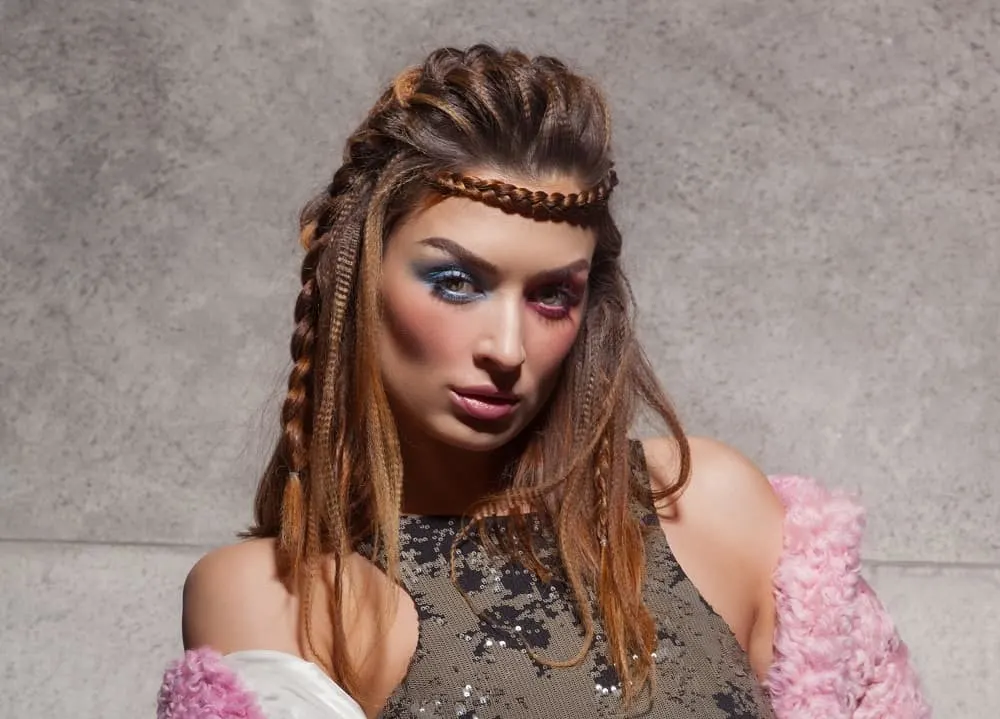 Crimping the hair with a small iron before building your hairstyle is a trick many stylists perform to give your hair and roots more volume. Finally, make a braid that starts from one side and goes to the other. Use another piece of hair to braid and create a knitted diadem.
#3. Ginger Braids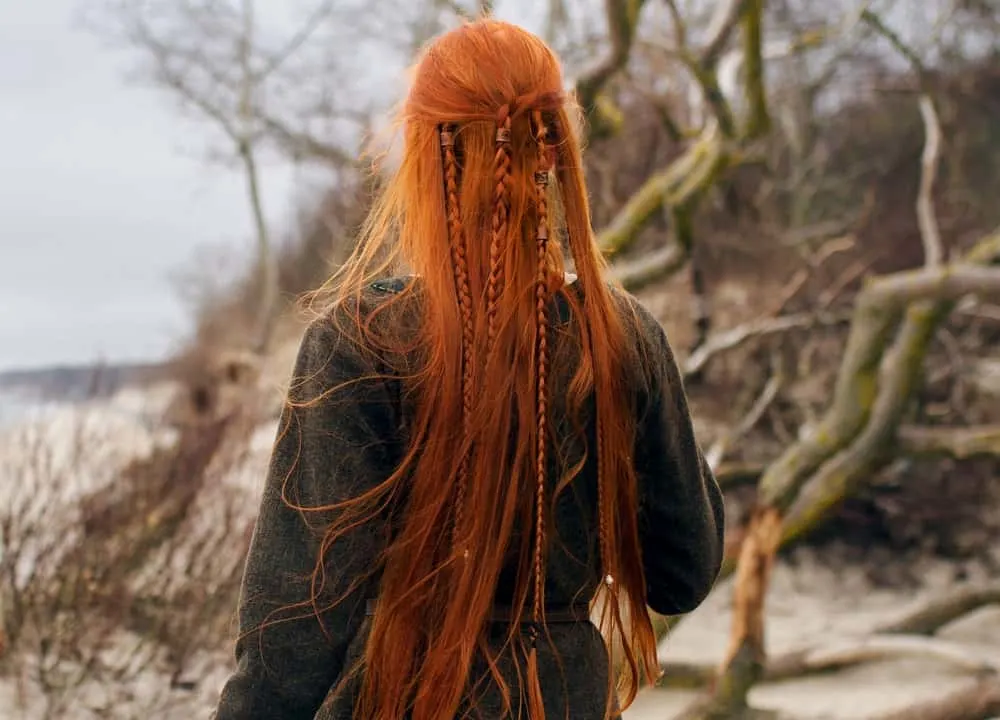 When having such a stunning color and length, your hairstyling options are limitless. Tie the crown hair in the back in a small ponytail. Create your thin long braids jest below and decorate them with leather hair rings.
#4. Intricate Braids with Shaved Sides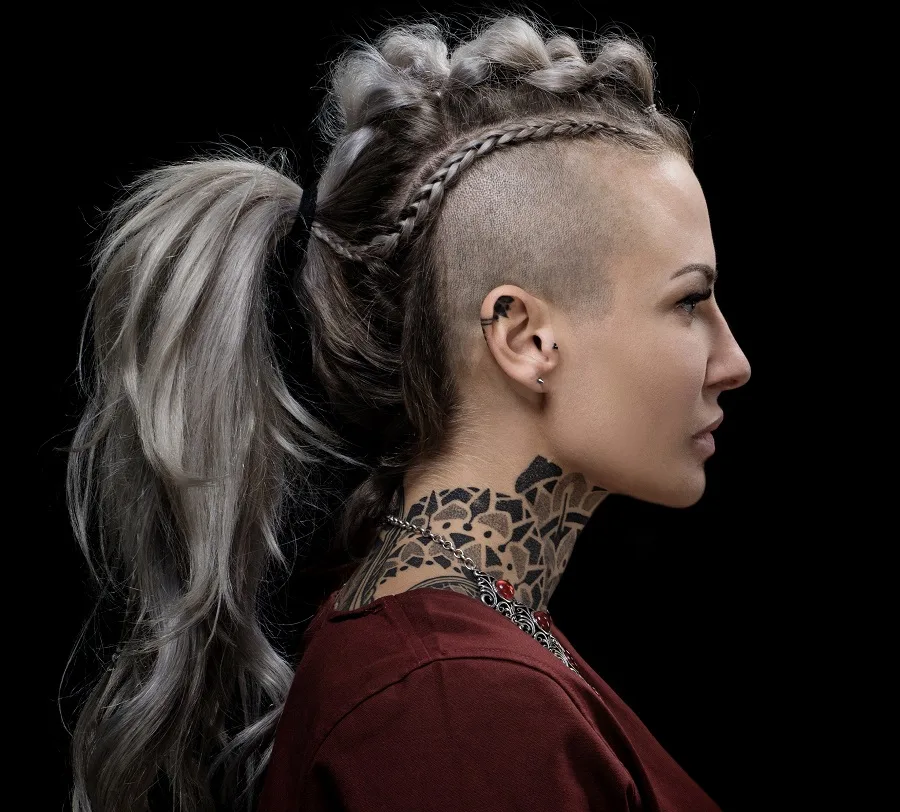 Undercuts and braids were frequently paired when styling Viking hair. This modern reinterpretation is cool, features a silver-gray hair color and shaved sides. The braids are styled mostly on top, giving the hairstyle volume.
#5. Warrior Braids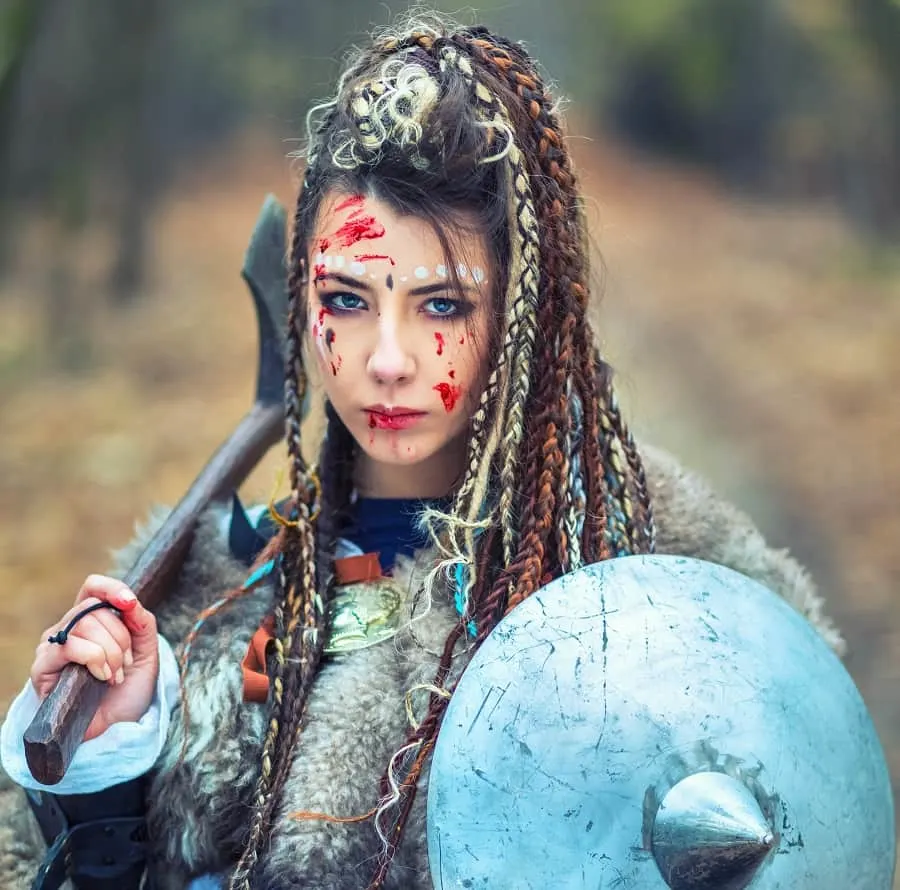 Cosplay is another way to keep Viking braided hairstyles alive. To create such a character, the braids play such an important role. Use colored hair extensions and colored threads to extend the hair and make your braids.
#6. One-Sided Braid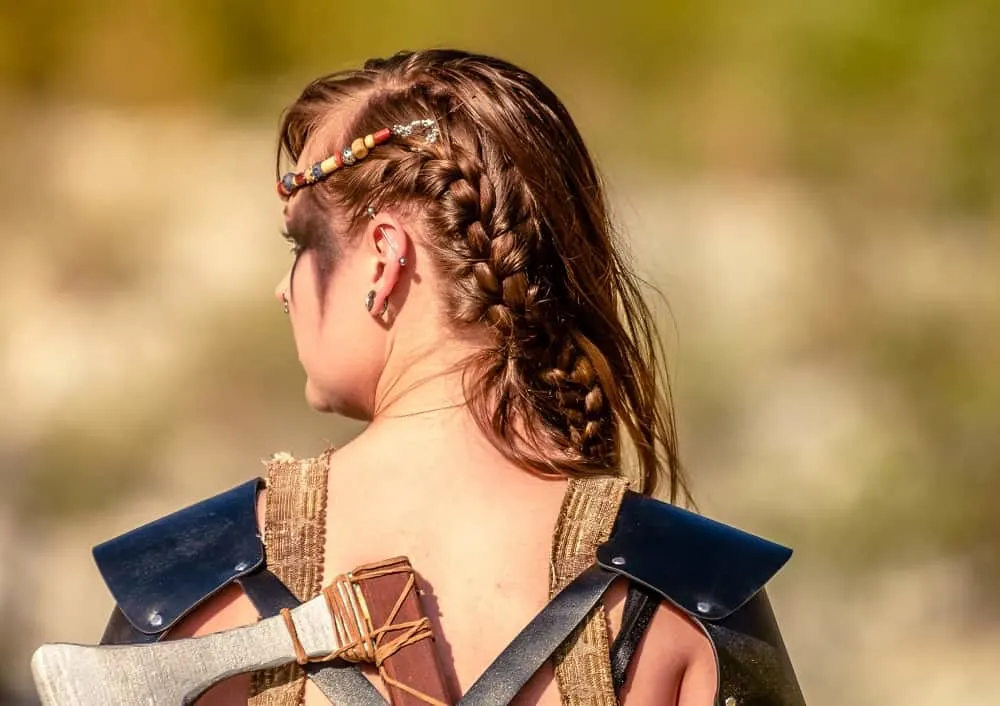 Vikings used braids to secure their hair when going to battle, and their stylings were absolutely exquisite. Nowadays, we have borrowed these styles and have adapted them to our modern times. To recreate this hairstyle you will create a French braid on one side, following the hairline.
#7. Fishtail Braid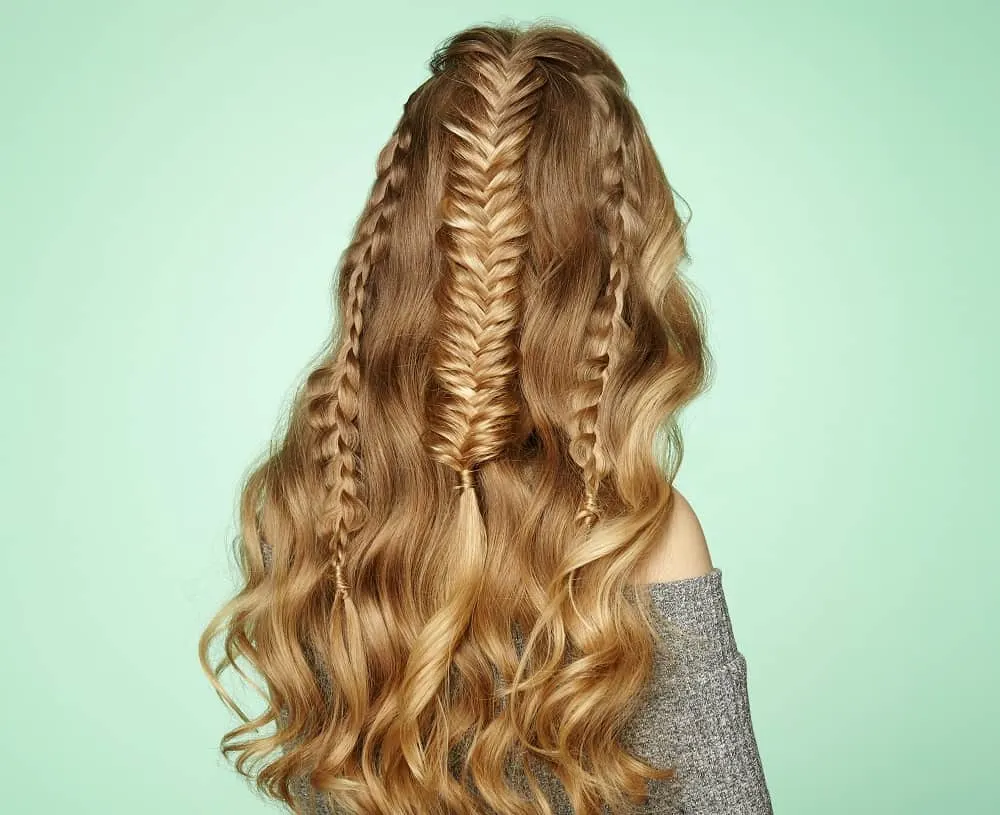 Inspired by Viking braids, this hairstyle in a more glamorous approach of different knitting techniques. It is a half-up, half-down hairdo that uses a fishtail braid as a centerpiece. So if you're going to a wedding or party, complete the hairstyle with some smooth curls and waves.
#8. Dutch Cornrows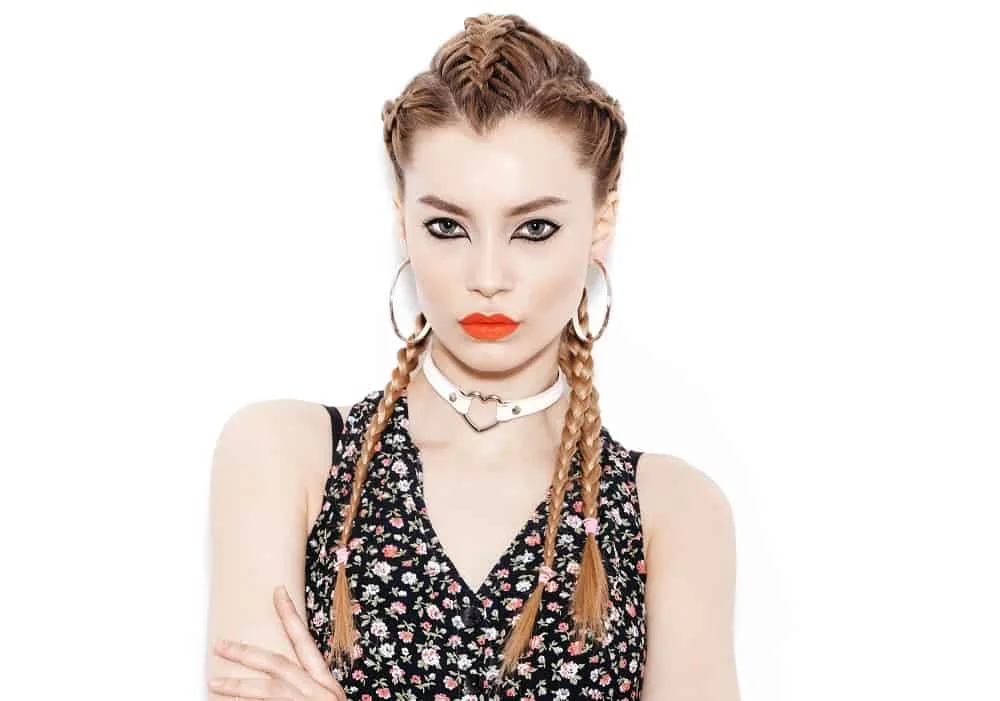 Do you need to give your braids more volume? Then Dutch knittings are the ones that can give you that dimension. Also, treat your hair with some spray before loosely braiding. Moreover, for a stunning effect, style three parts and keep the focus on the center.
#9. Nest Braids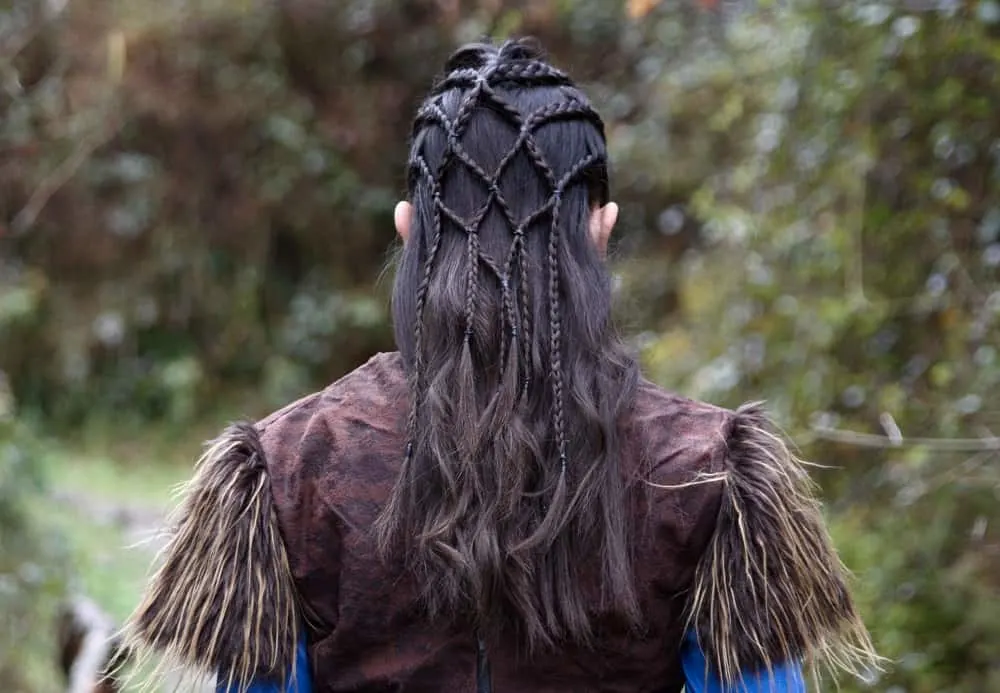 Intricate, chic, and dashing! Create several thin braids and use small rubber bands to tie the knits here and there. Follow the pattern above, and you'll get this beautifully braided net on the surface of the hair. Keep the underneath hair thoroughly combed and falling on your back.
#10. Curvy Viking Braids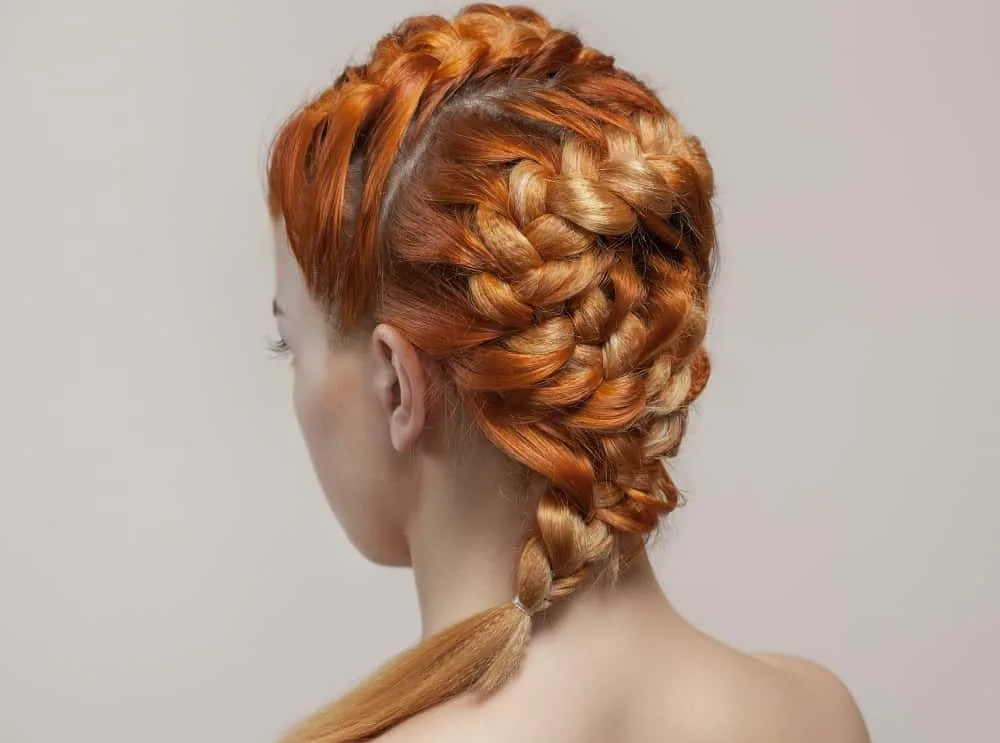 Every time you want to give your braids more thickness and volume, we recommend you use a small crimping iron before knitting. Start the braid from one side and create a zig-zag shape. If you have an ombre, your Viking braid will blend all the nuances beautifully.
#11. The Khaleesi Style

This is definitely the easiest hairstyle that Daenerys Targaryen as ever worn in Game Of Thrones. So, it is the perfect fit for girls with low tolerance levels or girls with little time to spare for hairstyling. Another advantage of this design is that it is way too simple for you to worry about it being done meticulously.
How To Style It?
In order to copy this style exactly, you will need a set of silver hair cuffs to give off the ancient effect. However, if you can't find or afford any, elastic bands will serve the same functionality of securing the ends of the Viking women braids.
Even though there isn't any braiding required for this one you can simply replace the hair strands with braids if you like the design. So, check out the following steps for further explanation.
Take two hair locks from each side of your head and secure them at the back of your head with a hair cuff or elastic.
Repeat the same step on a lower part of your hair. Then combine them with the hanging top section of your hair.
Repeat the same step with an even lower section while trying to maintain one axis by aligning the hair cuffs or elastics that are being used to secure the ends.
So, there you have it. The easiest Game of Thrones Inspired hairstyle that works for both straight and curly hair.
#12. The Sansa Stark Viking Braid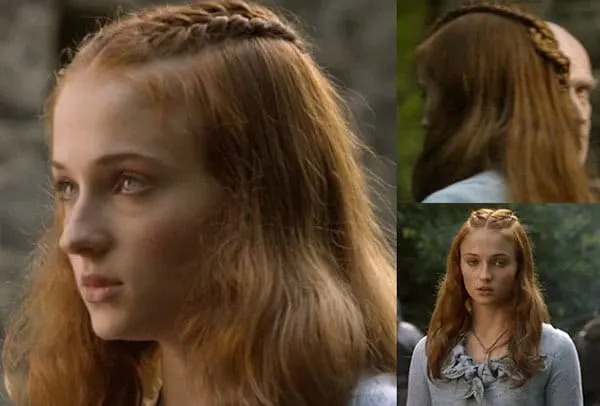 This easy double french braid hairstyle is a bit more challenging than the previous design yet still considered doable and fabulous. Not only does it make you look fierce, it doesn't require any further complications like hair extensions or special equipment! In addition to that, it works for straight, wavy, and curly hair.
How To Style It?
This is another of Game of Thrones' epic hairstyles that are guaranteed to leave everybody in the room speechless once they get the chance to lay eyes on you. Make sure to follow the simple steps below to make sure you get this style right. Let's get to styling!
Part your hair in the middle to divide it symmetrically into two sides.
Section out a lock on the left side. And make sure it is thicker than an inch. Because chunky braids come out as more bold and daring. Hence, exactly what we are looking for in Viking braids for women.
Split this section into three subsections in order to kick off your french braid. For beginners, French braids require crossing over the side subsections over the middle subsections while adding hair to the next subsection while crossing it over.
Continue braiding until you reach the crown section.
Stop French braiding, and continue with a normal plait.
Secure the end of the braid with an elastic band.
Repeat on the other symmetrical side.
Wrap the braids together to create the twisted braid look.
Secure the braids together with a clear elastic band.
Remove the elastics from each individual braid. Also, you can wrap a little strand of hair around the elastic if you don't want it to show in the final style.
#13. Halo Braid + Bold Undercut
Prepare yourself to rock any raid! Because these undercuts can never look edgier than with a halo crown braid inspired by the epic Viking age to spice things up. It's kind of a rock 'n' roll looks for short haired people who are looking for a sassy and stylish haircut to bring out their daring feminine characteristics.
How To Style It?
Begin with clipping out your front side swept hair.
Leave out a chunk of hair of approximately 1 -2 inches thick to create a bold chunky braid.
Stick with daring hair color like the white balayage shown in the photo above to add to the style's ambiguity.
Braid your hair on the side in any style you desire ranging from French plaits to fishtail and milkmaid braids.
Wrap the braid around your head like a crown.
Pin it using a bobby pin to fix it in place.
Lose the clips used to clip out the rest of your free hair.
Brush it according to the side you want it to be swept to.
#14. Red And Blooming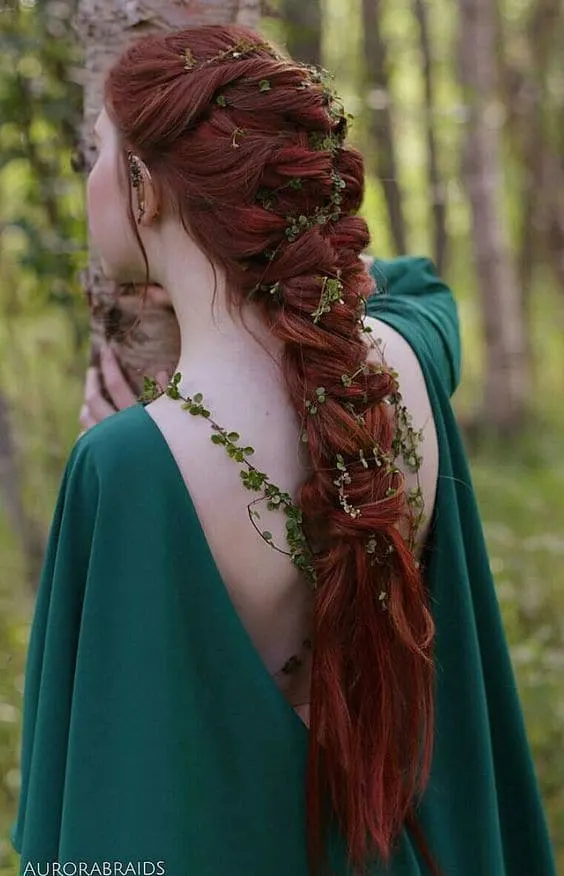 No matter how hard to try to pull ourselves away from the breathtaking Viking experience that Game of Thrones offers us, their compelling hairstyles are just inevitable!
With so many theories revolving around the real purpose of the powerful and eerie "Red woman", we cannot help but stare at her rich burgundy red toned hair.
Not only does it work wonders with her complexion, it also fits in perfectly with all the natural settings around her. Because it makes her blends with her surroundings, especially when paired up with nature-inspired hair accessories like the vines tangled up in the braid knots that are shown in the picture above.
And let's not forget the loose locks left to hang free on the opposite sides of your face to add to your feminine appeal.
#15. Ethereal Unicorn-Like Glory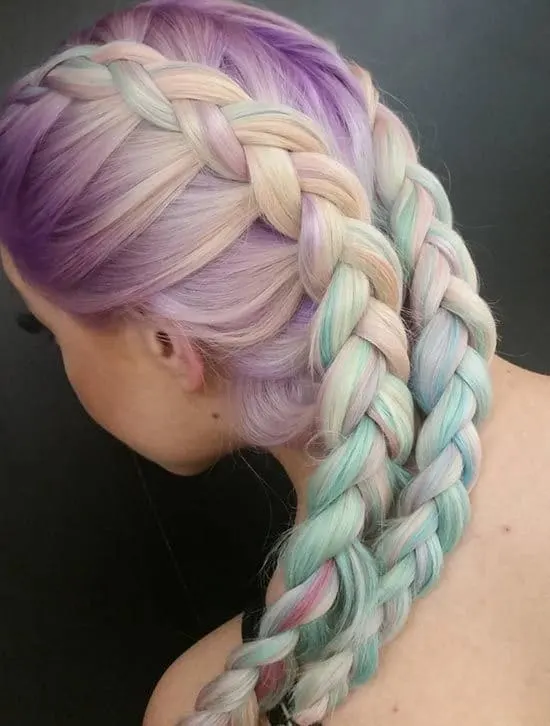 Since pastel colors make quite the trend these days especially for the summer season, why not combine the ethereal unicorn-like glory with the robust muscular look of Viking women braids to get your self some super cool summer vibes. There is no doubt that the result is some kind of rainbow unicorn fierceness. Go pastel power!
#16. Rebekah Mikaelson's Crown Headband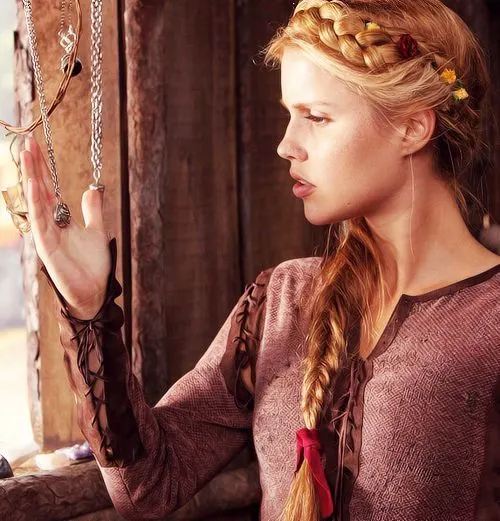 For authentic Viking braid enthusiasts, The Vampire Diaries And The Original's Rebekah Mikaelson has got you all covered with this head-turning crown headband and side braid combo. It works for longer hair lengths.
Because basically, it is a braid that wraps around your head. So, with the help of some floral accessories, this style can make you look like the badass beauty you have always opted for.
How To Style It?
Take a small section from each side of the head and keep them out of your way for now.
Section out another two sections. And split them into three subsections to start off braiding.
Secure the ends of each braid with a small clear elastic once you finish braiding them.
Wrap one braid around the middle of your head and pin it using bobby pins once you flip it up until it creates the silhouette of a headband.
Wrap the other braid around the back of your head to form the other half of the circle formed out of these two braids and pin in place using a bobby pin.
Tuck the ends of your braids under the edge of the braided sections to hide them.
Twist back the sections you kept away in step one and pin them behind the braid.
With the excess of hair left from the frontal twisted part, you can create two regular braids to add up to your styling points and secure them with some clear elastics. Then, tuck each of these side braids under the main back braid while wrapping it once or twice to get yourself the complex yet easy to accomplish the effect.
Adding The Floral Accessories
For this step, you will need some regular bobby pins and a set of cute floral decals. First off, insert the bobby pin through the leaves of the flower decal in order to make it possible to be pinned on your braids. Then slide it to the back and just stick it in.
Tip: Use contrasting colors of flowers to create a sense of chaos in your vicious Viking women braids.
Finally, if you don't wish to let the rest of your hair hang around your shoulders, you can always braid what is left using an intricate fishtail style.
Youtube Tutorial
However, some girls prefer the audiovisual learning technique for a better understanding of the process. Hence, we picked out an excellent youtube tutorial video to help guide you throughout all the detailed steps. So, make sure to check out the video below for further directions and instructions.
And Voilà! Rebekah Mikaelson Viking women braids can never look any more gorgeous!
#17. The Pyre Braid
Once again, the mighty Mother of Dragons from Game Of Thrones continues to inspire epic Viking braided hairstyles for us to fangirl over. It has become ridiculously astonishing how much power it has over us! So, for girls with medium mid-back hair length, here is a Khaleesi style that you can imitate.
What Is A Dutch Braid?
Before you hit it off with the DIY section, it is crucial that you know that these kind of Viking braids for women are all about Dutch braiding. So, in case you have a problem with Dutch braids, it is probably better if you pick out something else from our digital catalog.
However, if you are all in for the adventurous and exciting learning process, then buckle up. Because it is going to be a wild ride!
So, for those who don't know what Dutch braids are, they are a combination of regular french braids and some extra few steps. You might know them as inside-out French braids where you go under the knot instead of over. Anyway, you might want to freshen up on your rusty Dutch braiding skills with this video below.
Tantalizing Dutch French Braids to Stand Out
How To Style It?
Basically, it is a set of twisted Dutch braids wrapped around to create one whole chunky ensemble. So, if you want everybody in the room to be intrigued by your flawless mysterious look then check out the following detailed procedure and do it yourself!
Section out your hair into two; a top section and a bottom section using a rat's tails comb.
Part the top section in the middle and brush it until it tangles free.
Clip out one them out of the way.
Dutch Braid half of the strand you are working with.
Hold it in place temporarily with a clip.
Repeat the same steps on the other frontal section.
Join the two braided sections together at the back of your head by combining the six subsections into three and performing a regular braid. (Check video linked below for better understanding of this particular step.)
Loosen up the sectioned out part and let the rest of your hair hang on your shoulders.
Further Steps:
You can choose to stop here at this step if you are satisfied with the glorious outcome. However, if you wish to go for a full Daenerys look then follow the steps below.
Create three sections in the middle of what is left of your hair in the back of your head using a rat's tail comb.
Combine the middle Viking women braids that you already did with the middle strand of the part you just sectioned out using a combo of a French-Dutch braid in order to let your middle braid stick to your scalp at the back of your head. You can braid it as down as you can. However, in the scene, Daenerys wears it with a free tail. And that's actually an advantage in your favor in case you have choppy, layered hair, or split ends that might render the situation difficult.
Dutch braid the smaller sections on the side in order for them to match with the previous braided sections while trying to add hair to keep the look fresh and even.
Pin the thin side braids to the middle main braid in the back. Meanwhile, try to hide the bobby pins for a better view of the design.
Tie all the bottoms together with one clear elastic when you are finishing pinning all of the braids together.
The Youtube Tutorial Video Experience
It is safe to say that in the age of technology, we almost always refer to a handy DIY video channel to guide us through a puzzling process step – by – step as we replay it over and over again until we get it right. So, if you feel like you need further visual aids to make these Viking braids for women come to life check out the extremely helpful tutorial video linked below!
Finally, it is noteworthy to mention that this design is all held secure with only one clear elastic band. Furthermore, it requires no blow-drying or straightening whatsoever. Even though there is a lot of sectioning in order to go through this design, it is proven to be totally worth the trouble. After all, Rome wasn't built in a day.
#18. Royal Viking Hairdo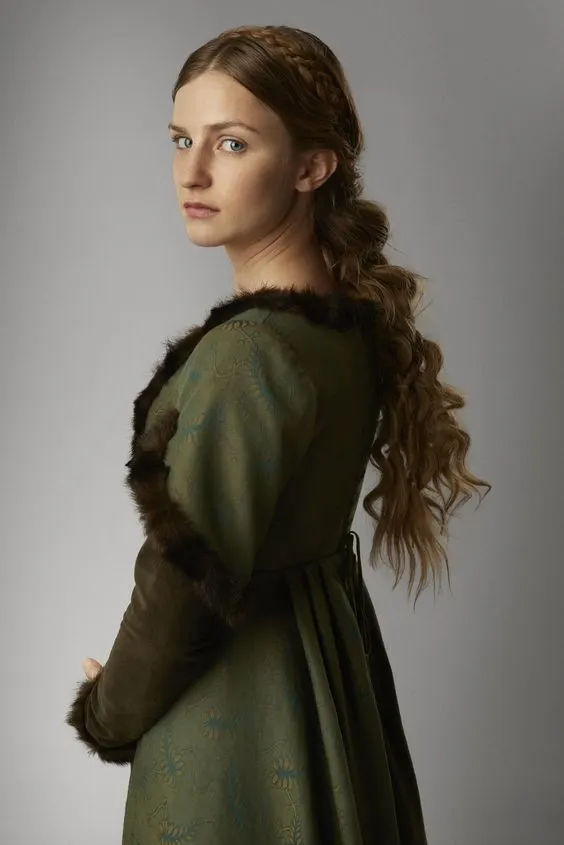 Practically all Viking women have had astonishing hairstyles that make us fall in love with them. However, royalty always has the best kind of Viking women braids that we are dying to just get our hands on. So, here's an Anne Neville inspired hair from " The White Queen" cinematography for you to go crazy about. It's simple, feminine, authentic, and way too gorgeous to be real!
How To Style It?
This style is pretty easy to do. In addition to that, it suits any activity ranging from school and works to any casual life event like strolling in the park or going out shopping in the mall. So, it can be pretty handy in your everyday life!
Grab a front section of your hair to create a rope braid by using a rat's tail comb to section it out.
Create a vertically symmetrical rope braid on the other side of the front of your head.
Wrap the two rope braids behind your head and tie them in a knot.
Fix them in their place using some basic bobby pins.
Gather sections from behind your ears.
Use these sections to create a back fishtail braid while making it look like it is sitting underneath the two rope braids.
Tie the two handing rope braids together beneath the middle fishtail braid.
Once you are done, you will end up with something like the Viking braids for women shown in the photo below.
Tip: Wrap a strand of hair around the elastic band at the end of the fishtail braid in order to hide the clear elastic from showing up in the final design.
The Youtube Tutorial Video Experience
And because it is way easier to learn from audiovisuals we have hooked you up with one of the finest youtube tutorial videos to guide you throughout the whole process. So, avoid any confusion by checking out the video linked below!
#19. Viking Braided Pony Tails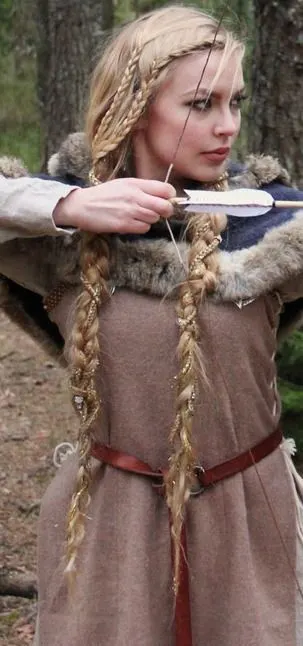 This style is inspired by "Shield Maiden" from Vikings. It offers another way to spice up your fierce Viking women braids is to twist them up and shape them into two long ponytails to dangle upon your chest.
After all, ponytails were not made for only little girls to enjoy them. So, embrace your bold womanhood by trying out this exotic style. And don't forget that accessorizing is really important when it comes to blending in with the surrounding nature.
So, don't hesitate to clip on some hippy vines or gypsy sparkling lines to bring out your best qualities.
#20. Handmaidens Of House Tyrell Look
And just like we started it off, we are finishing these marvelous Viking women braids with yet ANOTHER Game Of Thrones-inspired design.
However, this time it is an eerie look that the handmaidens of house Tyrell used to wear that results in the shape of a swirly flower in the middle.
Probably, it is implying their house's noble words " Growing strong" along with the flower totem. And let's not forget that it is both quick and simple so it is great for times when you are put on the spot and you still need to look fantastic.
How to Style It?
So, for those of you who would like to look extra feminine and cute for a rather more formal and elegant event, make sure that you check out the Youtube tutorial Video below to guide you through the detailed steps.
The Youtube Tutorial Experience
Flawless Braided Crown Hairstyles
In conclusion, Viking braids for women take up a great part of our epic cultural legacy. And the hairstyles behind the glorious triumphs are too irresistible for us not to notice them.
So, hurry up ladies and get yourselves one of these eyes capturing designs for a result that guarantees you sweeping every man in the room off his feet!