Most women tend to want lighter hair than what nature gave them. However, there are blonds that are looking for ways to darken their hair with lowlights. Whether you are a natural blond or dyed your hair blonde and now want a change, lowlights can be your answer. While blonde hair color will never lose its popularity, light blonde hues are not as mainstream as before. Women are exploring darker colors and enjoying them. Ombres and balayage are actually created to take the lightness out of the hair as much as possible. Lowlights are gaining popularity for the same reason. So if you are looking for something new and stylish for your blonde locks, consider lowlights.
A Complete New Look at Blonde Hair with Lowlights
Every woman wants to be different. Blonde hair with lowlights has its fans but hasn't become very mainstream yet. So if you want to make a statement with your unique image, consider adding lowlights to your blonde locks. There is no need to wait and think this over. We collected 30 different examples to help you see how amazing blonde hair can look with lowlights. Lowlights come in many different colors and can make your blonde mane appear truly stunning!
1. Strawberry blond lowlights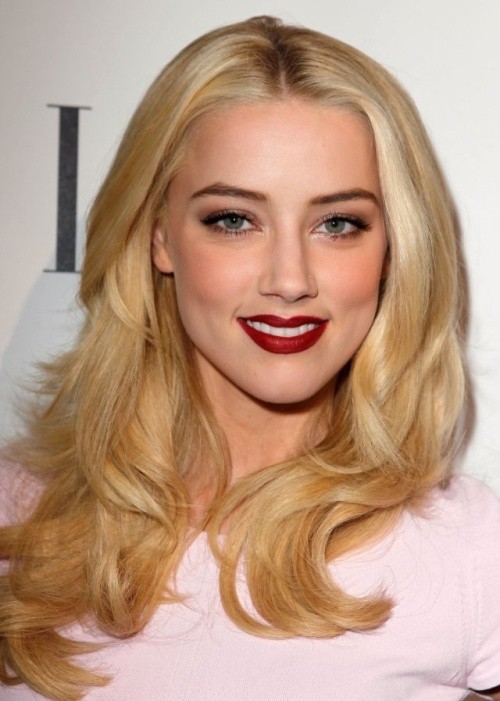 If your locks are dyed sandy blonde, you can add some strawberry blonde lowlights to make them look a little darker. This is a great idea for women whose natural hair is brown or chestnut.
2. Copper beige ombre
Blonde hair shades look great when mixed to create an ombre. Consider light blonde on top and copper beige blonde on the bottom. This color mix looks truly impressive and outlines your face.
3. Bronze blonde
Bronze blonde hair with lowlights will look especially amazing if you add more color to the bangs. Leave all your hair light and darken just the blunt bangs. The effect will be stunning.
4. Honey blonde lowlights
Honey and golden blonde lowlights are the best way to darken your blonde locks. If you use two or more colors, your mane will look even more impressive. Don't be afraid to experiment with several shades.
5. Sunrise blonde lowlights
The mix of sunrise blonde, light red, and chestnut create a soft and natural-looking color you always dreamed of. Only a good professional can make your hair look this magnificent. Ask your hairstylist to flaunt his skills.
6. Reddish blonde lowlights
Reddish blonde lowlights are a great way to darken bronze blonde hair. You will create dark strands while keeping the hair blonde. Make an experiment with adding honey highlights.
7. Light brown and blonde lowlights
Light brown and blonde hair with lowlights look great together in an ombre. Such an approach can make your locks appear natural without too much dyeing. Consider doing a balayage.
8. Bleached blond

Being a bleached blonde might seem like fun but after some time most women decide to darken up their mane. Yellow and light blonde lowlights can do the job fantastically well.
9. Crazy colors
Crazy and outrageous colors are always a great way to make a statement. No matter what color your natural hair is, dyeing a few strands blue, purple or even green will definitely help you make an impression.
10. Ash blonde lowlights
If you like the dirty blonde look but are looking for something new, consider partial lowlights to frame your face. Choose from ash blonde and chestnut blonde or go further to explore the darker shades.
11. Chestnut lowlights
If you have honey blonde hair, it will look terrific with chestnut lowlights. Ask your hairstylist to use the chestnut dye all over your mane to get a fantastic color mix that will last for a long time.
12. Dirty blonde lowlights
Dirty blonde hair with lowlights looks especially terrific. Use honey and golden shades coupled with ash blonde to get an amazing effect. You can even use light brown to darken the color.
13. Honey patches
If you are not ready to say goodbye to your wonderful sandy mane but still want it to be a little different, you can try patch lowlighting. Ask your hairstylist to use his or her imagination on this one.
14. Dark blonde lowlights
If your natural hair is dark blonde and you had it dyed light sandy blonde, dark lowlights can help you get your natural color back. You don't need to take drastic measures. Start with just a few strands.
15. Yellow blonde lowlights
Blonde hair with lowlights can look extravagant if you use yellow colors. Such mix of hues will create an impressive shade that can be unique for every woman. See how it looks on you!
16. Champagne lowlights
Champagne blonde hair with lowlights will look great if you add some reddish hues. Champagne blonde can easily be turned into light red with the right use of lowlights. This shade is truly stunning.
17. Bottom lowlights
When you decide to create lowlights you have a choice of where to make them. You don't need to create them all over your mane or make some patches. Consider dyeing just the very bottom part of your locks.
18. Red lowlights
Red lowlights are a perfect way to start turning yourself from a blond to a stunning redhead. Start by making partial lowlights that frame your face and then you can add a few all over.
19. Lowlights for short hair
If you think that lowlights can look good just on long manes, you are wrong. Pixies and bobs also look amazing with lowlights. However, short hair needs a special careful approach.
20. Brown lowlights
Honey blonde hair with lowlights will look especially fantastic if you are not afraid of drastic measures. Consider using brown and mahogany hues for your lowlights to completely change your image.
21. Golden mahogany
Golden mahogany lowlights are perfect for starting a transition from blonde to chestnut brown. The mix of golden mahogany and honey blonde is especially amazing. You must give it a try!
22. Silver lowlights

Silver lowlights might seem like a weird choice to some but others believe it to be the most fashionable color in the world. Gray locks are gaining popularity and trying them will make you look stylish.
23. Brown and nordic blonde

Nordic blonde hair with lowlights looks amazing. This is a good choice for girls who used to have light brown hair and then dyed it blond. Brown and chestnut lowlights will help you get your color back.
24. Ultra light blonde with satin lowlights

When your hair is dyed ultra-light blonde, the lowlights are often hard to create. Any color will look too dark. The best way to lowlight such blonde shade is to add a satin hue. It will look natural.
25. Honey and golden brown

Honey blonde hair looks perfect with golden brown lowlights. This rich color looks natural and lightens up your whole face. Meanwhile, the dark roots won't be as visible. What a great color mix!
26. Creamy and spring honey blonde

Creamy blonde is another variation of the ultra-light blonde shade. A great way to make it a little darker is to use the spring honey blond lowlights. Start with creating just the partial lowlights.
27. Strawberry blonde and honey

Blonde hair with lowlights can look even more fantastic if you use honey as the lowlight color. In fact, honey and golden shades are the most popular ones for lowlighting blonde hair. They are a fail-safe option.
28. Golden chestnut brown

Golden chestnut brown hair color is not easy to achieve. The best option is to start with dark blonde hair color and use chestnut and honey lowlights.
29. Nutmeg lowlights

Nutmeg lowlights are a perfect way to make your blonde color richer and reduce the amount of daily maintenance.
30. Ash and brown lowlights

Ash and brown lowlights are a great way to turn your ordinary dirty blonde hair into an amazing mane that features several bright and rich colors. Become a brunette!
Blonde hair with lowlights looks especially stunning. There are so many ways to keep your hair blonde while pumping up the color to make it richer and more impressive. Don't be afraid to lose your blond locks. Experiment!