Blonde is one of the top trending topics in hair color today. But hang on, are you confused by the word beige blonde hair color? Did you think it meant the same color?
Well, you should know better now. Blonde works differently for people with different color tones. That is why it becomes necessary to understand the range and concept clearly.
This also helps you to experiment in a comparatively creative manner and bring out the best in you. Beige blonde shade is striking, understated and most importantly low maintenance.
What Shade Is Beige Blonde?
Beige blonde shade belongs to one of those color palettes that are nothing near boring. These are cool, trendy and at best be described as the color of sand. Just like sand has some parts that are darker than the rest, the same goes for this shade. The beige bits are naturally darker than the blonde parts.
This brings in an illusion of controlled warmth with ash undertones. It's sparkling, shiny and lends a summery feel to your ensemble. Essentially, this is a happy mix of concept and perception that brings in most striking combinations. It is earthy and understated and often creates a sense of completeness just by the sheer quality of smooth pearl-like sheen that it brings forth.
The beige blonde hair color also has differing degrees of dark and light. That goes onto to create a light beige blonde version or a dark one. This can be achieved through tinkering the mix and sometimes you can also let your natural hair color play cupid. The best part about this shade is you can work it in a way that complements your natural skin tone and brightens up your face.
Things to Consider Before Going Beige Blonde
However, as we mentioned, making an informed choice is important for best results. Therefore, you must consider these factors before rushing to the salon for your beige brown fix.
Check the Natural Color Level: It is important to ascertain your natural color level. For blondes on a scale of 1-12 with 1 being the lightest, most score a minimum 7-8. Ascertaining this natural color level is crucial as it creates a better scope of adjusting the tones to your natural color and bring out a sustainable and striking look on the whole.
Fix A Budget: Depending on the actual hair color and the level of blondeness you will like, you have to decide on how often you will need. It can range anywhere between 4-12 weeks. That surely involves a certain cost too. So, be clear about how much you want to shell out.
Look for A Specialist: You will always come across many ads that offer these services very cheap or millions of youtube videos that will convince you that you can do it alone at home. Well, this is not entirely believable. Look out for people who sport a really pretty color and check where they have got it colored from. Look at reviews for a specialist that you may have in mind. Go for the best because you don't want to look hideous for the next few weeks.
Create a Hair Care Routine: However, once you use hair color, the hair needs a lot of care. It tends to become dry and frizzy, and you have to work towards keeping it constantly hydrated and moist. That keeps it smooth, shiny and make it appear fresh every time you step out. This hair care routine will also limit potential long-term damage to your roots as a result of using color.
Decide the Blonde Limit: Beige blonde is a very tempting shade to go for. But make sure, it goes well with your skin tone or else your hair may end up standing out. Even in beige shade blonde, think about the degree of darkness and the lightness that is ideal for you. You may have loved seeing somebody else wear it. But it is also important to adjust the shade as per your natural color tone. The surrounding light and your work area too will have a deep bearing on how the final shade looks on you.
How to Get Beige Blonde Hair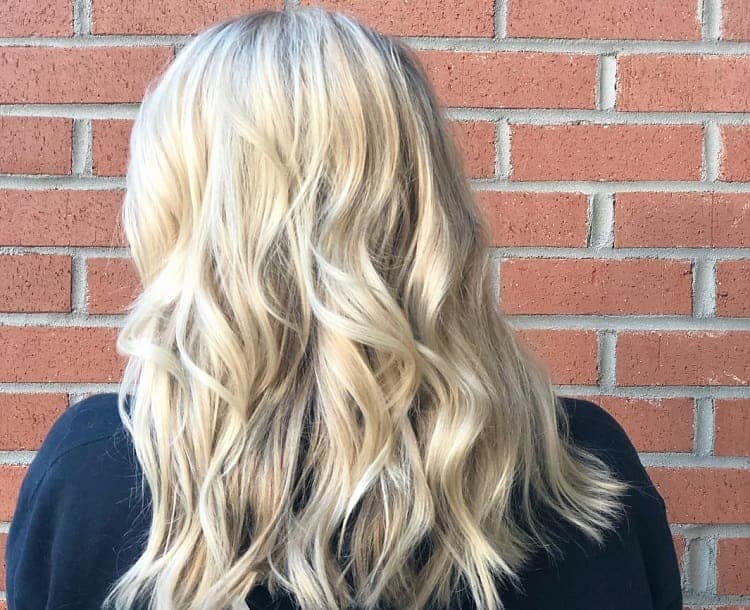 Once you decide on the exact shade of blonde, it is time to get it done. Ideally, blonde hair is not that simple to achieve and is best left to professional care. This is because even the smallest miss can end up damaging your healthy hair quite adversely.
Think about the maintenance of your blonde hair too and be realistic in your expectation. For example, if you have really dark hair, the platinum blonde will take a very long time. Get a picture of the exact blond shade you have in mind.
Most shades will need at least 3 sittings or more for the perfect result. So it is important to be regular and consistent. In case you are confident, you can try at home too.
Prepare Your Hair: Wash it the previous day and remove any product you may have used
Slowdown Color Distribution: Apply the color slowly and steadily. Use a handheld mirror to ensure uniform distribution at the back as well.
Use Conditioner: Once you dye your hair, a conditioner is a necessity. This will ensure that the hair does not dry out.
Choose Shampoo Wisely: Follow the instruction closely in terms of duration of application and washing off. Use a shampoo that is paired with the product you are dying the hair with for best results.
Don't expect the complete beige blonde look on day one. It is a slow and gradual process and takes effect steadily.
Watch The Following Video to Know How to Get Beige Blonde Hair
How to Tone Beige Blonde Hair Color
Toning the hair after bleaching is vital to maintaining the natural shine. Different color tones take a different amount of time when you are trying to remove them using tones. It essentially depends on the weight of the molecules that make it.
The more the toning, the better are the results. It essentially neutralizes the unwanted color tones on your hair. So, choosing the right tone for your bleached hair is important. You have to choose color tones that can counteract with your existing shade.
But remember, applying toner will not make your hair lighter. You can also use a toner to create a warmer or darker shade more appropriately. Essentially, it helps you adjust the hair color to the shade of your choice.
Dark and Honey Blonde Hair Color Ideas for Women
Stunning Beige Blonde Hairstyles
Here are the best beige blonde hair ideas that will give a new look to your hairstyle.
1. Golden Beige Blonde
The golden highlights invariably add a dash of excitement to this perfect blonde hair color with beige shade.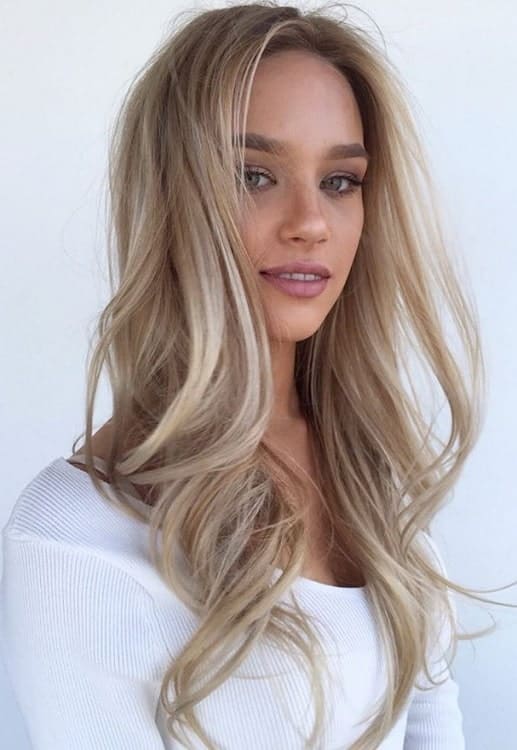 Not a very brassy one and veering closer to the butter shades, this is a medium maintenance beige blonde that celebrates the classic styling.
Get your natural curls to shine in this blonde avatar and the blonde highlights around the curly lock enhance the whole effect.
One of the lighter beige blonde hair shades, this is messy, naughty but definitely attractive all the way. Blonde with lowlights gives an edgy look.
5. Cascading Water Fall
This is an absolute no brainer. It is simple, classic and just lets the hair do the speaking.
This is low maintenance and smart asymmetrical bob option that celebrates beige blonde hair like never before.
7. Beige Blonde with Flicks
Traditional flicks in the unconventional blonde with beige shade look absolutely stunning.
8. Icy Variant of Beige Blonde
This is classy, chic and a winning beige and blonde combination all the way for those girls with light skin tone.
Alluring Layered Blonde Haircuts for Women
9. Dark Blonde
If you like to wear your hair to the medium length and it is relatively thin, this beige blonde hairstyle is a great option.
Short stylish and all about oomph, this hairstyle completely captivates the charm of beige blonde hair color shade.
11. Light Beige Blonde Hair
A light beige blonde color is gorgeous against long hair. Wear hair loose to show off length or up for a more glamorous style.
12. Ash Beige Blonde Hair
For a more natural looking color, opt for ash beige. Comb in a side part before securing the hair in a loose low bun.
13. Honey Beige Blonde Hair
For short hair and curly ringlets or loose spirals of texture, a gorgeous shade of honey blonde is just the thing to sweeten up the style.
14. Short Beige Blonde Hair
If you prefer short hair, go for a super short pixie with a buzzed texture. Keep it feminine yet edgy by glossing hair with a beige color.
15. Medium Beige Blonde Haircut
On long hair that is past the shoulders, go with beige blonde. Fill your hair with slightly messy curls or wear it sleek and straight.
16. Long Beige Blonde Hair
This shade of beige blonde is so light and perfectly flattering for light or pale skin tones. Emphasize length with super straight locks.
17. Dark Beige Blonde Hair
Dark beige is another great natural looking hair color to lighten up your locks with. This bedhead style is made by combining beachy waves with straight locks.
18. Beige Blonde Balayage Hairstyle
Balayage with blonde and beige hair color is a common color for women to choose. It makes long hair look luminous when hair is filled with soft waves.
19. Beige Blonde Hair with Lowlights
Beige blonde combines with a darker base for a youthful hairstyle. For fancy occasions, adding some tight spiraled waves is an easy way to dress up your hair.
20. Light Beige Blonde and Side Part
A side part and hair filled with beachy waves is the best way to make a beige blonde hairstyle look voluminous and healthy.
FAQs on Beige Blonde Hair
You may have heard the saying that blonde is not for everyone. Well, the truth could not be further. The trick is who is applying and how deft they are.
Q. Can Dark Skin Tone or Pale Skin Suit Beige Blonde Hair?
Ans: People with dark skin tone or a pale undertone can also opt for blonde, but they have to adjust the shade that matches their natural color. In this way, the blonde will help brighten up their face and add a pretty appealing charm.
Q. Beige Blonde- Is It A Warm or Cool Blonde Shade?
Ans: It can be both a cool and a warm shade depending on the intensity that you choose. Depending on the skin undertones you will need to decide. Think about the sand on the beach, you have white, golden and rust brown too. They all look pretty.
The beige blonde hair is all about getting the balance right and paying attention to the tone adjustment in sync with the shade of your choice. That is what will ensure that your blonde color will make heads turn.